Aside from today's -let's face it- quite forgettable blog entry, Taiko V Version's website updates once more with new content! Check out what's new after the jump.
New Songs
君の知らない物語 Kimi no Shiranai Monogatari
「化物語」より from
Bakemonogakari
ストリーミングハート Streaming Heart
NEW!
DECO*27 feat. 初音ミク DECO*27 feat. Hatsune Miku
EDY -エレクトリカルダンシングヨガー- EDY -Electrical Dancing Yoga-
NEW!
feat.鏡音リン・鏡音レン feat.Kagamine Rin/Len
Abyss of hell
NEW!
「鉄拳 レボリューション」より
from Tekken Revolution
イオシス秋の肉食祭2014 IOSYS Aki no Nikushokusai 2014
NEW!
D.watt (IOSYS) feat.Np 犬田彦 & はかせ D.watt (IOSYS) feat. Np Hiko Inuta & Hakase

On top of these songs' reveal, we also know how many other songs will be available in the game by default for each genre, with the last ones marked as '???' for now. Here's the rundown:

J-Pop - 1 song (total 7)
Anime - 2 songs (total 13)
Variety - 2 songs (total 5)
Vocaloid - 3 songs (total 13)
Classic - 3 songs (total 5)
Game Music - 11 songs (total 20)
Namco Original - 22 songs (total 28)
Grand Total - 44 songs (total 91)

Since the partial songs count we have up there is already over the initial value of 80 songs, we can safely assume that most of the game's songlist will be available to everybody from the start, just like for the previous Sony portable Taiko games.


Ys I & II Chronicles
The Legend of Heroes: Sen no Kiseki
Tekken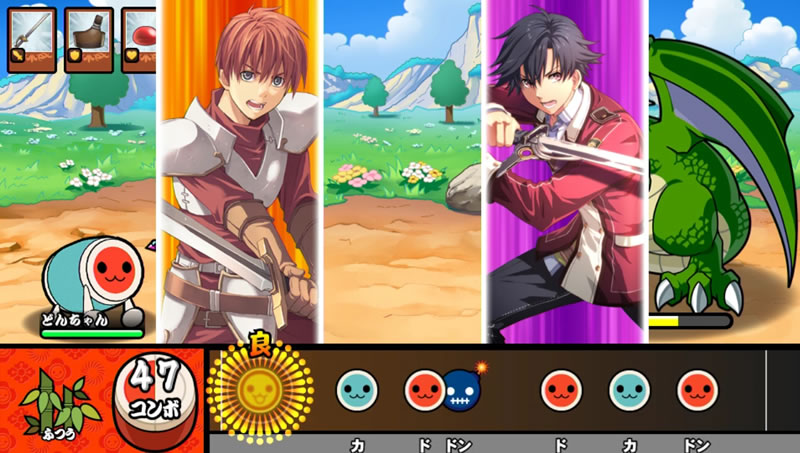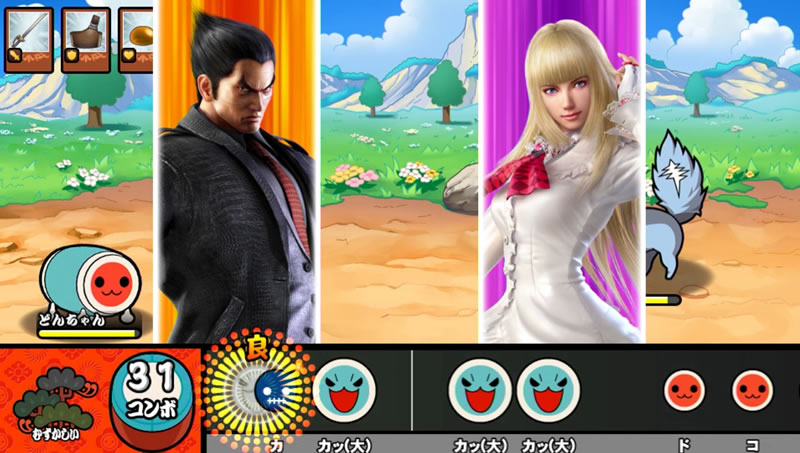 Downloadable Contents
Today's website update also opened the section dedicated to the DLC content planned for the game, which today only lists the Nippon Elekitel Rengo collaboration content. Just like the arcade games, the V Version is getting both the outfits and the custom Taiko sounds based from the comedy duo.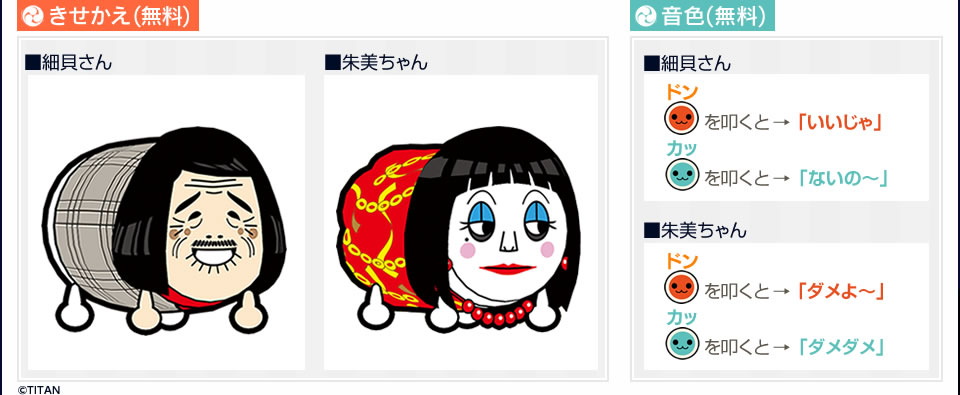 Vita! Song Campaign: A DLC Suggestion Poll
Last (and certainly NOT least) is the introduction of a little pre-release song campaign (that is technically a poll) in the website's main page, which allows people to nominate which songs should be included in the game as DLC songs in the future. The polls will last from today to
May 24th midnight
, so act fast if you want to vote! To access the survey, click the image below in
Taiko V Version's official website
:

"Tell us what song makes you go Vita! We will release the most popular ones!"
PS. Poll-filling note: The system only accepts full Japanese titles (no shorthand), including all the artists/composer/source and subtitles. We suggest you check with the official
songs database
to confirm you were 100% correct. Say you want to nominate the Ninth Symphony, you have to also include "Beethoven" after a slash:
○第九交響曲/ベートーヴェン
×だいく