As if today's freshly-discovered lot of default songs for the incoming Taiko console game wasn't enough, videogame-related website
4Gamer.net
comes in with an overall view of the game's new features, as well as bringing a new loads of screens from the future Wii U release.
All the control schemes from the previous Wii games -Wii Remote, Classic Controller (yes, this has been confirmed!), Wii Remote+Tatacon- are also available for this game, as well as multiplayer play for up to 4 players.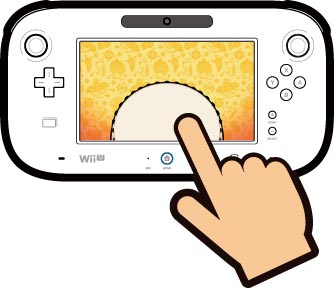 The Wii U Gamepad can also be used for playing the game by using its touch screen to control the drum, much like the Nintendo DS/3DS games. The real new change is that the game can also be playable without the TV, thanks to the Gamepad's Off-TV mode (though you can only use buttons in this mode). Two players can play in Off-TV mode at the same time with two Gamepads.
And now, it's time to discuss a little bit more about Taiko Wii U's signature multiplayer mode, whose full name is Baton Pass Performance (バトンタッチ演奏, 'baton touch ensou'). In this mode, players have to clear a song together by taking turns. A marker will indicate the player that has to switch in and play, and this will continue until the end of the song. From the screenshots below, it looks like players take turns even though they make mistakes. It seems like a competition; whoever hits the most beats wins, as well as having a co-operative element.
As the mode resembles a real relay race (say that three times fast), the background itself will have the looks of a running track as well!
Above is a sample of Baton Pass Performance played with Kyary Pamyu Pamyu's new song. As you might have guessed, the Baton Pass mode will force the four players to play on the same difficulty.
The players's order of turns can be set before playing: with the Order Change (じゅんばん交代) option, the players's turns will swap by players's order (1P, then 2P, 3P and so on), while the Random Change (ランダム交代) will choose a random player each time. Three different settings will also affect how long the player-swap marker will be displayed; displayed across the whole bar (よゆう), displayed only when it reached half the bar (ほどほど) or even displayed at the very last moment (ギリギリ)!

Last but not least, the 4Gamer.net page has some shots of songs with special dancers. Golden Bomber's Memeshikute and Super Mario Bros. will appear with the same custom dancer layout featured in the arcade counterpart, and both of them have costumes of their own! While the Golden Bomber one is already known, there is a surprise for Nintendo console lovers; a Super Mario costume is making its debut on Taiko Wii U. It's a me, Taiko!