NB. We will adjust the start-point and end-point for the Taiko no Tatsujin Special Stage when they are available.
The second day of JAEPO 2020 gives us more concrete info to work with on the 4th Generation of arcade Taiko no Tatsujin, what with more public people having a chance at the trial cabinets, and the big Special Stage event starring Etou and Number 11.
Quick Facts

from the Special Stage
(that doesn't warrant a full section)
Release date announced: March 24 2020
Song Contest to be held with new version's release
The new version will just be named "Taiko no Tatsujin" (again, for the 3rd time). "March 2020" is the identification for the modification kit. While mentioned on stage, "Nijiiro ver." (ニジイロVer.) is only a nickname
All the gameplay data, existing crowns, titles etc. are carried forward from Green ver. to the new version
Those who already achieved Donderful Combos in the past will have their deseerving rainbow crowns granted back... eventually
Score Ranks are not granted for past results
Ranking Dojo and AI Performance Battle will be available in the 4th Generation; they will be retired temporarily at the release of the new version, but is expected to come back after powering up
The 4th Generation will come to greater Asia... eventually
The change to horizontal writing was in consideration for the overseas audience (but no outside-Asia version is confirmed at this moment)
Gameplay modifiers
There are quite a few changes to the modifiers available, so here is a separate section for them:
Speed (はやさ): Instead of just Baizoku (ばいそく, 2x), Sanbai (さんばい, 3x) and Yonbai (よんばい, 4x), you can now set the speed modifier at 0.1 intervals between 1.0 and 2.0, and then 0.5 intervals afterwards (i.e. 2.5, 3.0, 3.5 and 4.0)
Performance Skip (演奏スキップ): lets you terminate a song early by certain actions
Note Placement Adjustment (音符位置調整): adjust the judgement spot to be slightly left or slightly right
Voice (ボイス): turn on or off Don-chan's chants ("50 Combo!" and so on)
Taiko Sounds (音色) is put here together instead of a separate button in 3rd Generation
Doron/Invisible (ドロン), Abekobe/Inverse (あべこべ) and the two Random (ランダム) options are the same as previous
Nabix
from the Taiko no Tatsujin Discord has made us an unofficial, annotated mock-up screen: (
also on Twitter
)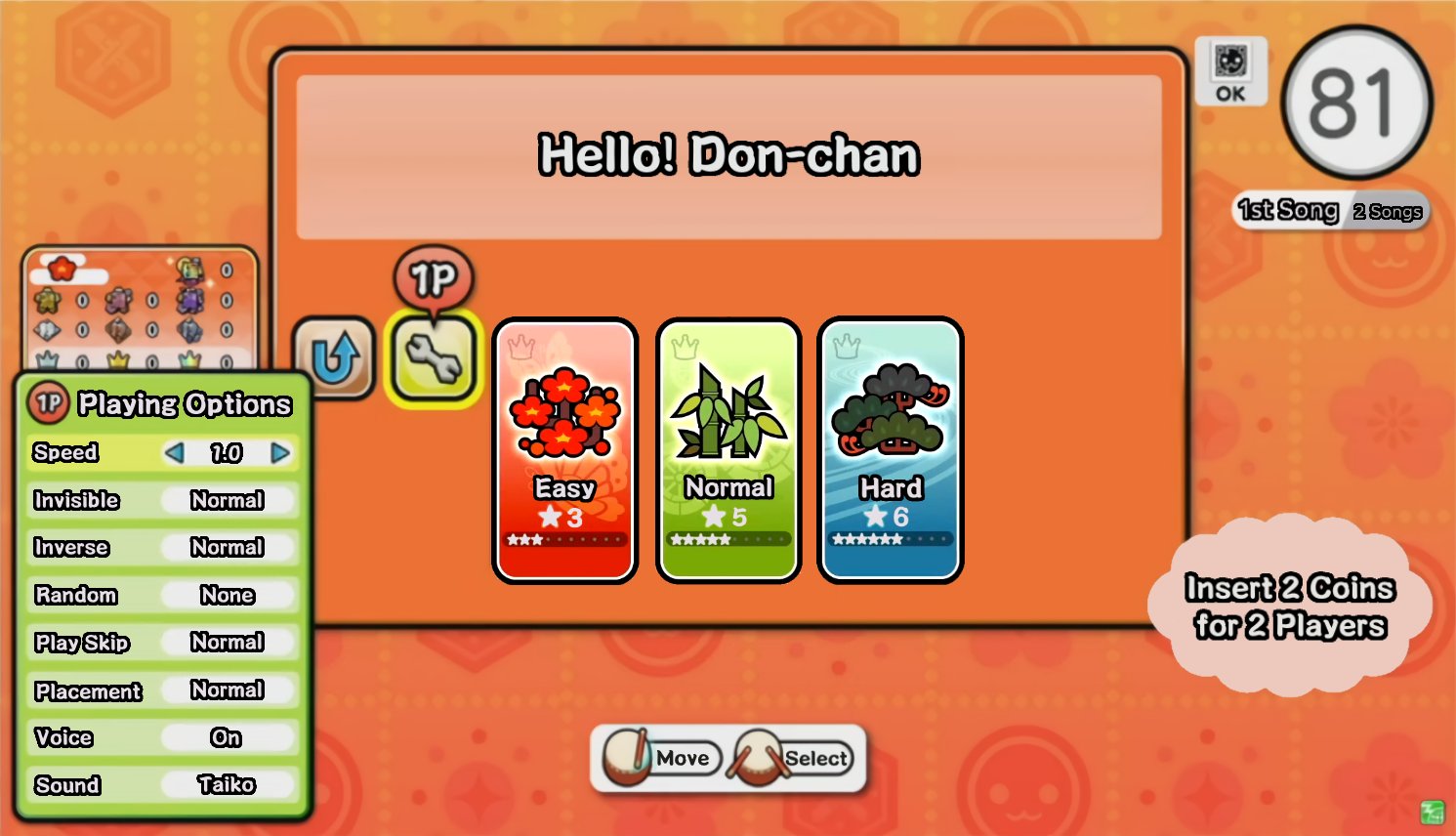 Scoring Mechanics
The attentive reader should be aware that there is no Shin-uchi (真打) option now. As we have rightfully suspected with the over-900K Muzuakshii result, the scoring mechanics have also seen large-scale revamps to resemble Shin-uchi: (
source 1
,
source 2
)
No combo scoring
All difficulties normally net around one million points at DFC
Large notes has the same points as normal note, even when hit harder
Large drumroll hits also give the same points as normal drumroll (100/hit)
Go-go Time does not change the score points
No bonus for each 100-combo
No bonus for popping balloon note or Kusudama note
Other Community Reports We Missed Yesterday
As reported by Game Watch, the arcade system board that the new version uses is a budget-down model of the new System BNA1 exclusive for Taiko no Tatsujin. The full-spec System BNA1 is a PC-based board equipped with an Intel Core i5 6500 CPU and an NVIDIA GeForce GTX 1050 Ti GPU, and is used in new games like Gundam Extreme VS 2 and JoJo's Bizarre Adventure Last Survivor.
The cabinet will show clearly how many songs available per credit at all times, including the standby roll before you insert any coins
Genre reorganization addenda:

The status on the JAEPO trial cabinets is that Kids added and Children/Folk, Variety and Classical removed.
Eikyoku/Gyouan (and maybe other Namco Sounds x Touhou Project remixes), Hung-rock (and maybe other classical remixes) and Asteroid are moved to Namco Original
Songs can now be in multiple genres: newcomers Ai ni Dekiru-koto wa Mada Aru Kai and Sacrifice are in both Pops and Anime

Top bar aesthetics: Don-chan will not spawn mini characters or grey spirits on note hit/missed any more, but there are other new top bar animation features, like Masked Kids peeking out from the panels, and Miku and friends calling out their names etc.