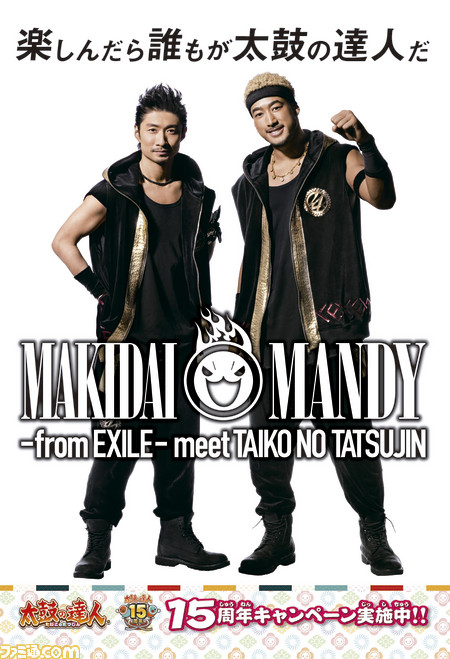 Since the past
Taiko 15th Anniversary livestream
, three special 'Festivals' were announced, starring popular brands/names and influential events to spread the Taiko magic all across Japan (and even outside it!). Yesterday, the third of these special events has been revealed, featuring Exile members MAKIDAY and Mandy Sekiguchi (関口メンディー) from Japanese band EXILE.
This partnership will heavily focus on the incoming Wii U Taiko game, which is coming out this very month! For the occasion, MAKIDAI and Mandy will be featured in some Atsumete☆Tomodachi Daisakusen commercials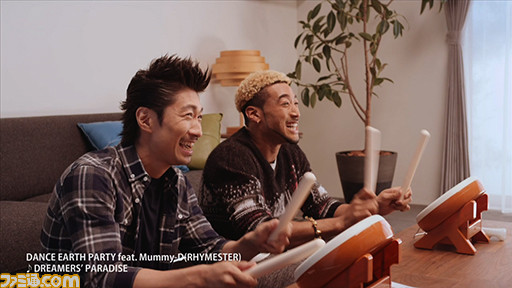 Much like for other J-Pop tie-in collaborations in the past, the third Wii U game will receive special treats in form of free downloadable content: the tie-in collaboration song
DREAMERS' PARADISE
from the latest DANCE EARTH PARTY album (which is coming out on November 25th) and two promotional outfits with mugshots of the two EXILE members

While the following content is only being communicated by general gaming-related websites like Famitsu (
link
), we get another part of the collaboration communicated through the Donder Page, in form of a promotional lottery!
Running from Taiko Wii U 3's release date to
January 6th, 2016
, this lottery can be joined in by buying any of the Taiko videogames released for 3DS, Wii U and Ps Vita (except for the twin Idolm@ster titles) or an official Tatacon.
The grand prizes are the two 'A' and 'B' winners, which will receive respectively a gold-colored and a silver-colored Tatacon with the autographs of MAKIDAY and Mandy. Other rewards include 100 'C' winners of a blanket with Taiko 15th Anniversary and EXILE decals and 300 'D' winners which will get some unspecified Taiko good related to the 15th Anniversary.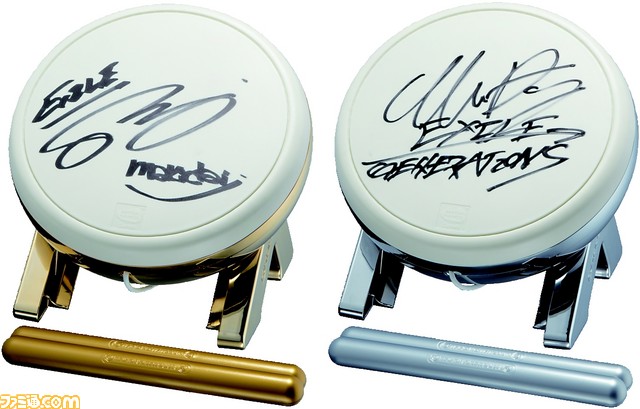 For more information about the lottery, head to the
promotional website
in the Donder Page!