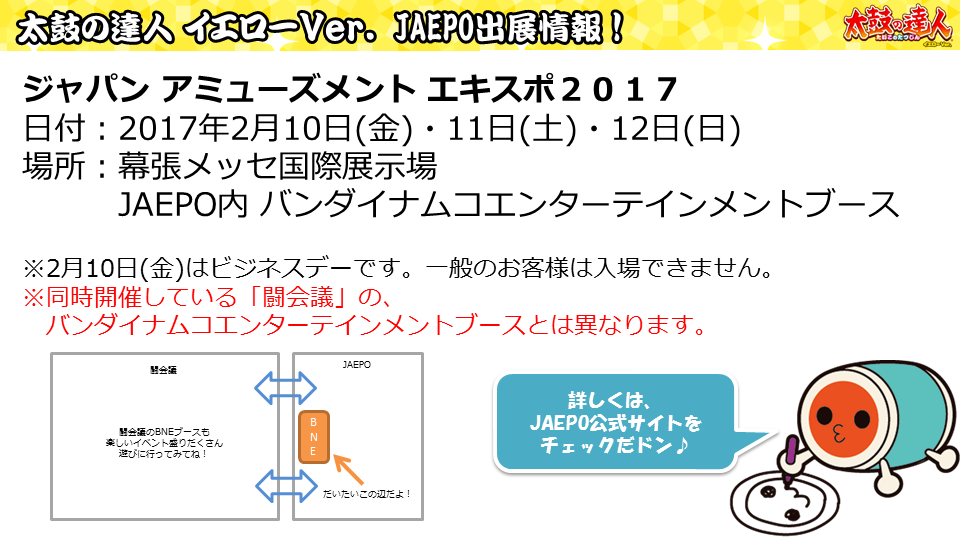 As revealed yesterday on the livestream, the details of Taiko no Tatsujin Yellow ver. attending
JAEPO 2017
next week are textually and pictorially summarized by Daifuku today.
Before all, hopefully you remember that the dates of the event (
February 10-12 2017
, and the 10th is business-only day) and the location (Makuhari Messe Convention Center). Most crucial of all is that the Yellow ver. cabinets are at the Bandai Namco Entertainment booth in
JAEPO 2017
and
not
the one at Tokaigi next door!
With the basics covered, we'll meet after the jump for the actual things you can do with the exhibiting cabinets and more.
The most attractive aspect will likely the song list. While you probably have seen it from our
Quick Takeaway
, here is it again but organized by parts:
Exhibiting Songs Part 1
First-hand Preview Licensed Songs
(full inclusion versions)

前前前世 Zen Zen Zense
Arcade debut
全力バタンキュー Zenryoku Batankyu
NEW!
シオカラ節 Shiokara-bushi
NEW!
Exhibiting Songs Part 2
Trial Play Namco Original Songs
(shorter version than actual inclusion)
願いはエスペラント Negai wa Esperanto
NEW!
Turquoise Tachometer
NEW!
   坂本英三 × 高濱祐輔 Eizo Sakamoto × Yuusuke Takahama
   未来古代楽団 feat. 霜月はるか Mirai Kodai Gakudan feat. Haruka Shimotsuki
Exhibition Songs Part 3
Trial Play Namco Original Songs, Medley-ed
(of the short versions)
忙しい人のための「新曲」メドレー New Song Medley for the Busy People
Limited
For the core Taiko fans, sorry that JAEPO will not give you the full-version glimpse of the four brand new songs
(Get the full Ryuu to Kokuen no Himegimi now from 3DS3 DLC)
. They will just be charted from the same YouTube previews since released last night. You will have to wait for the actual release and then work for those Don Medals then.
For the goodies you can take home, take a shot with the Taiko no Tatsujin campaign poster and share it on Twitter with the hashtag #太鼓の達人イエロー (Taiko no Tatsujin Yellow), show it to the staff and get one of 176 Namco Original CDs (first 88 per day only).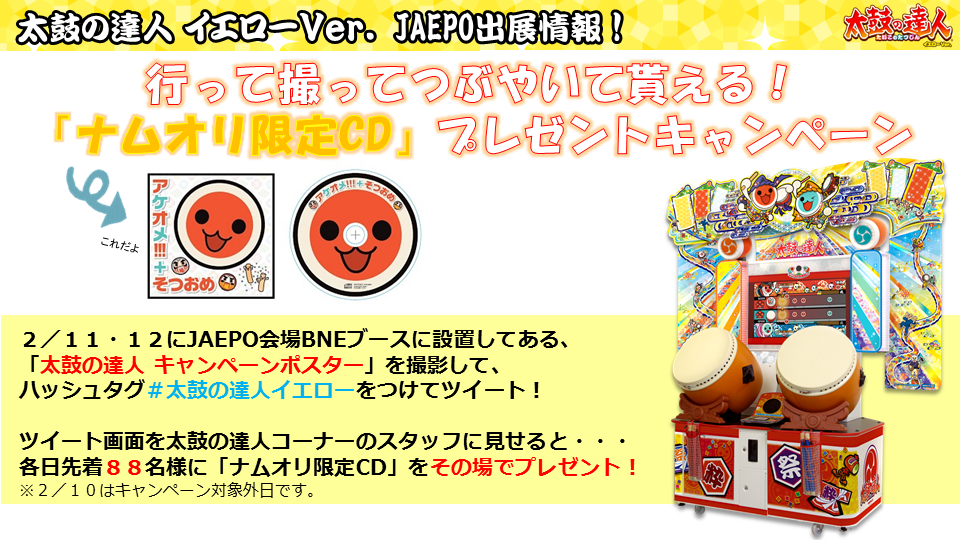 A more limited stock of those CDs (up to seven) are also available via an ongoing Twitter campaign. Retweet the following tweet and stand a chance to win one! Drawing will be done in a later "Road to Yellow ver." livestream.
— 太鼓チーム (@taiko_team) February 2, 2017
The last Taiko no Tatsujin-related thing to happen in JAEPO is the Touhou Project x Taiko no Tatsujin rubber straps produced by Eikoh, coming soon as prizes for grab. Go to their booth in the expo to look at the first samples.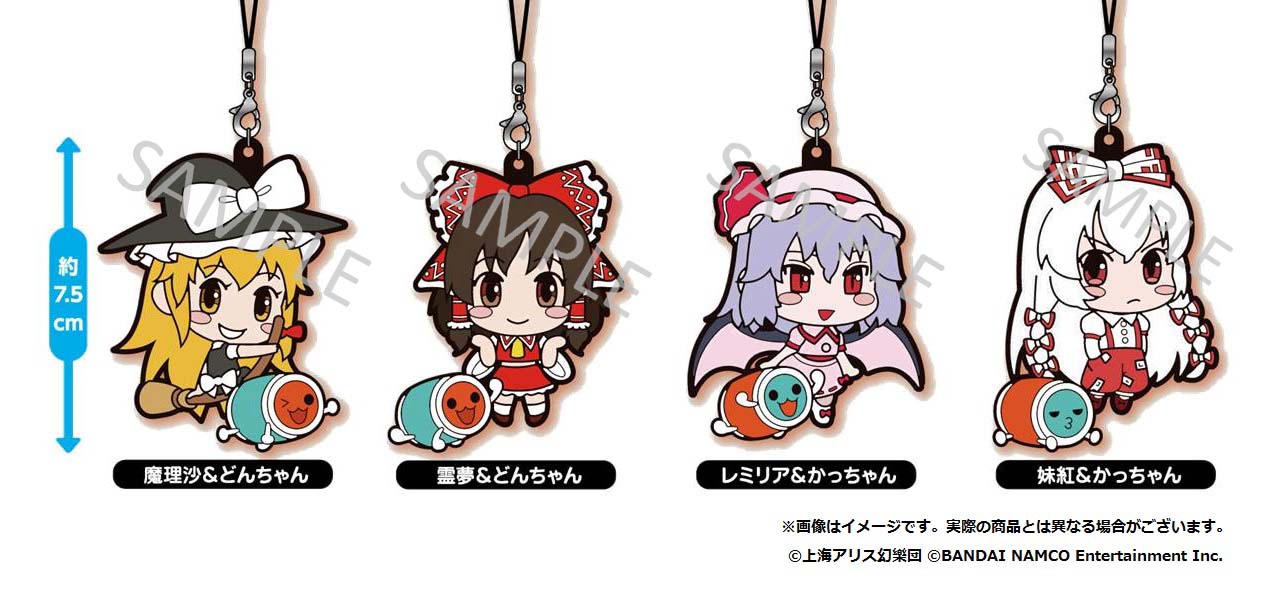 Link to original post