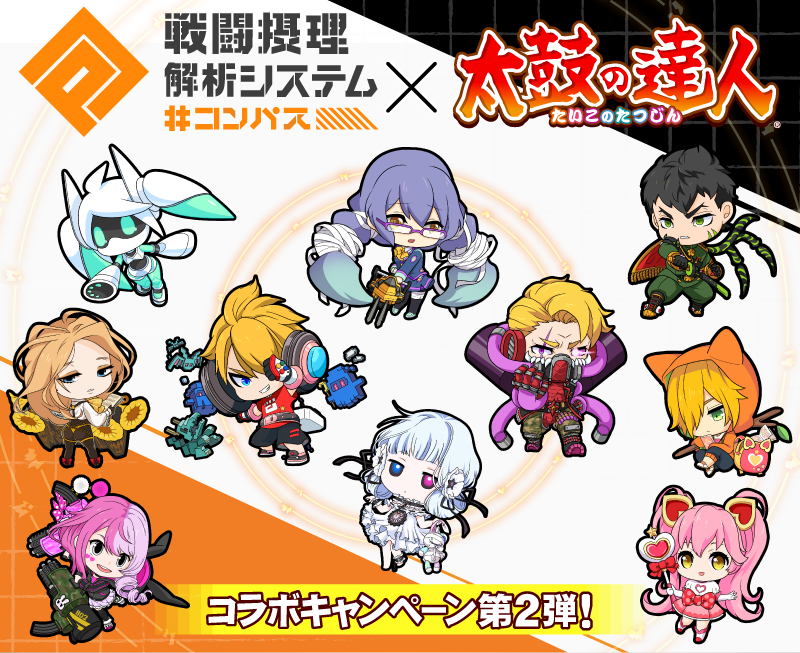 In case this post's title wording and this pic aren't enough of a hint, the Taiko arcade line is having a second collaboration serving with #C.O.M.P.A.S.S., the Vocaloid-powered multiplayer mobage from Niconico, set to release on
June 22nd
.
We also take a look into the future and be briefed on the return of a 3rd-gen arcade fan-favorite mode with Nijiiro Version's next software update
(not June 22nd though, in case it is confusing)
.
-) Taiko no Tatsujin x #C.O.M.P.A.S.S. 2nd Collaboration
Nijiro Ver. New Songs: June 22nd, 2020


Title

VC

Kire Carry On

Police Piccadilly feat. Hatsune Miku/#C.O.M.P.A.S.S.


キレキャリオン/ポリスピカデリー feat.初音ミク
「戦闘摂理解析システム#コンパス」より
★?
★?
★?
★?


VC
Retromania Rhapsody

PolyphonicBranch feat. Kagamine Rin/Kagamine Len/#C.O.M.P.A.S.S.


レトロマニア狂想曲/PolyphonicBranch feat. 鏡音リン・鏡音レン
「戦闘摂理解析システム#コンパス」より
★?
★?
★?
★?


With the addition of two more character songs from the game, the mobile game's Taiko lineage has now officially reached the double digit! Together with those two songs, two Banapassport-exclusive lottery polls are also coming for a limited time, in order to let people unlock some collab-related Petit Charas.
Three tickets -gained with credit plays that include at least one of the #C.O.M.P.A.S.S. songs- are required for each roll in either of the pools, one with the first collab's six characters and another with four newcomers, shown below: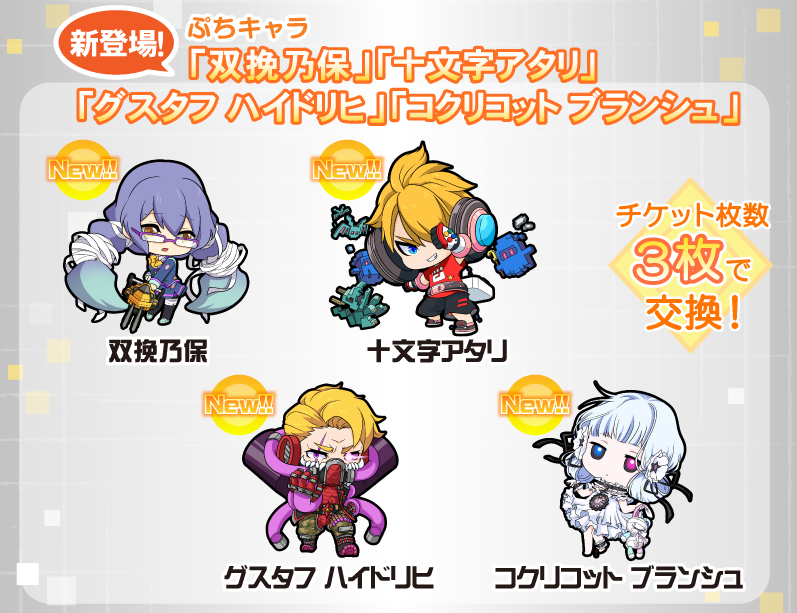 -) Nijiiro Version's Ranking Dojo mode debut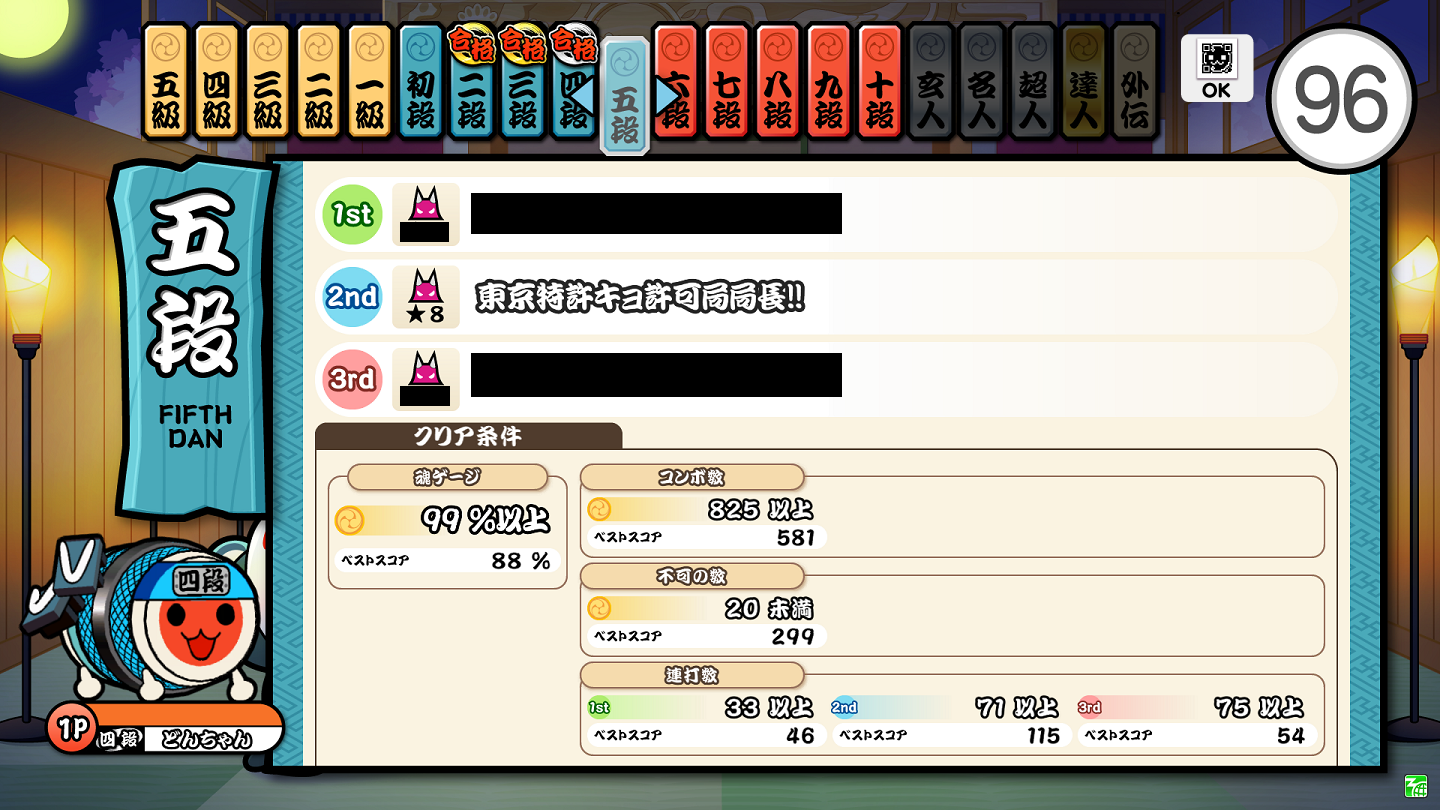 The Ranking Dojo mode is coming back and, as you can see, we got something more than a simple face lift! The renewed look and the addition of new features urge Etou to come back to talk about them in greater detail, summarizable in three main points:
1) Objective Enhancements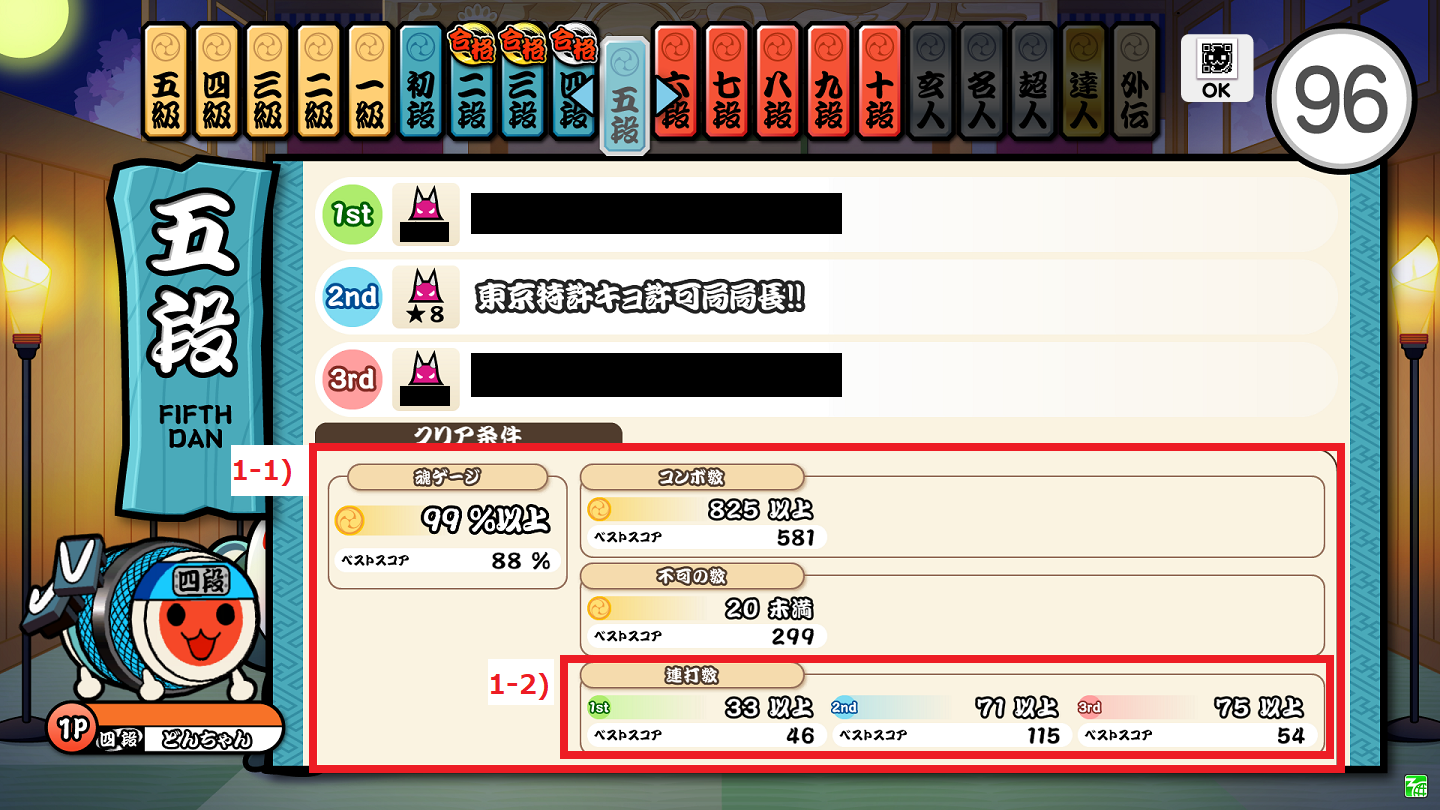 1-1
- Aside from the Soul Gauge objective, now each course has three main objectives to be cleared in order to pass each course, one more from the 3rd generation's courses;
1-2
- Clearing conditions for certain objectives may now be split into
sub-objectives
for each of the course's individual songs (ie. make less than X mistakes on song 1,2 and 3, ...).
2) Clear Record Enhancement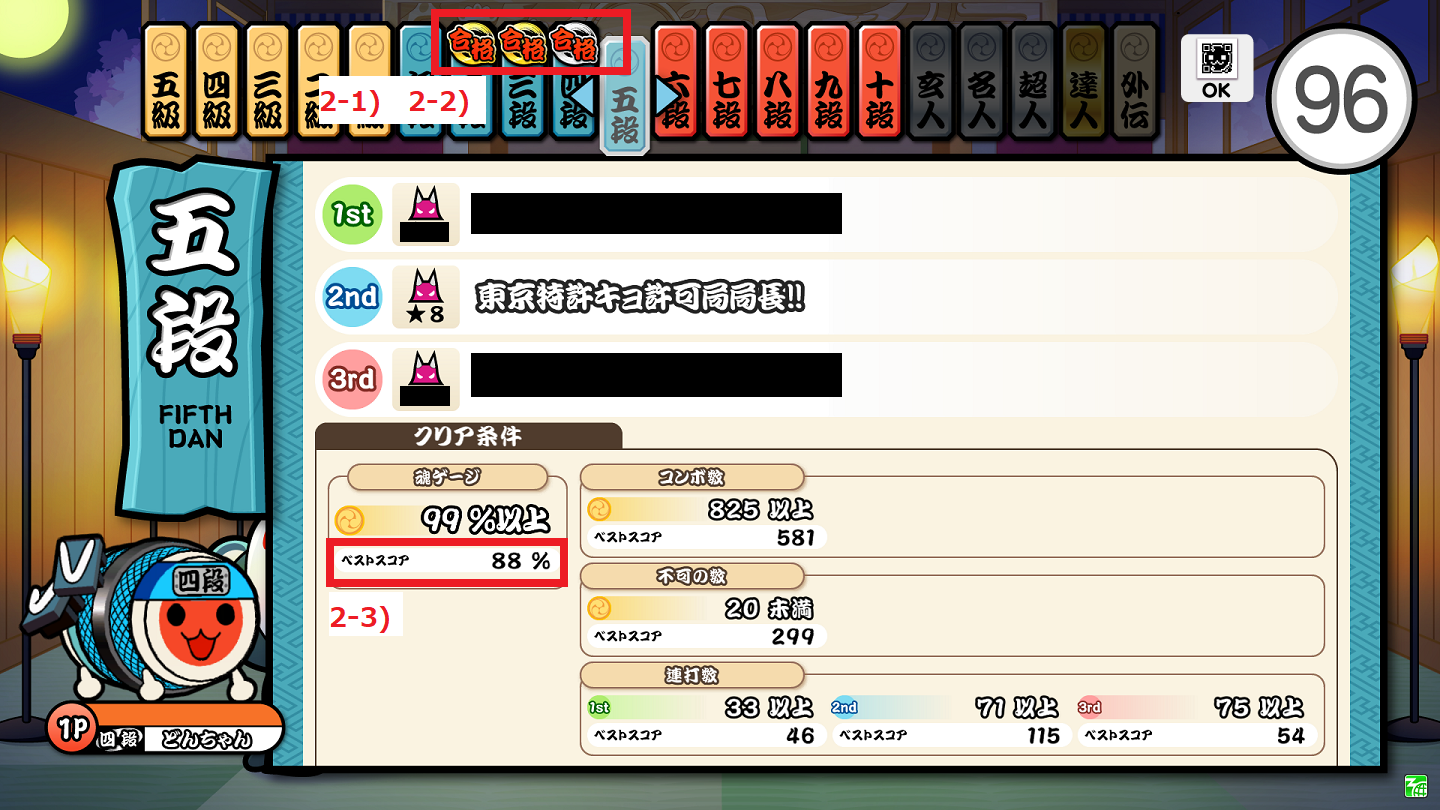 2-1/2-2
- Clear records for each course are now displayed on the course selection bar, letting you see your standing without manually selecting said trial. Each clear record, aside from the usual course pass/Gold pass status, will also display the
Clear/Full Combo/Donder-full Combo status
for the best course play, each displayed in a different way:
Pass: red letters
Gold Pass: gold letters
Clear: silver-colored circle
Full Combo: gold-colored circle
Donder-full Combo: rainbow-colored circle
2-3
- The
best personal result
of each objective and sub-objective is now displayed, right under the objective clear criteria.
3) Ranking Dojo Modifier Support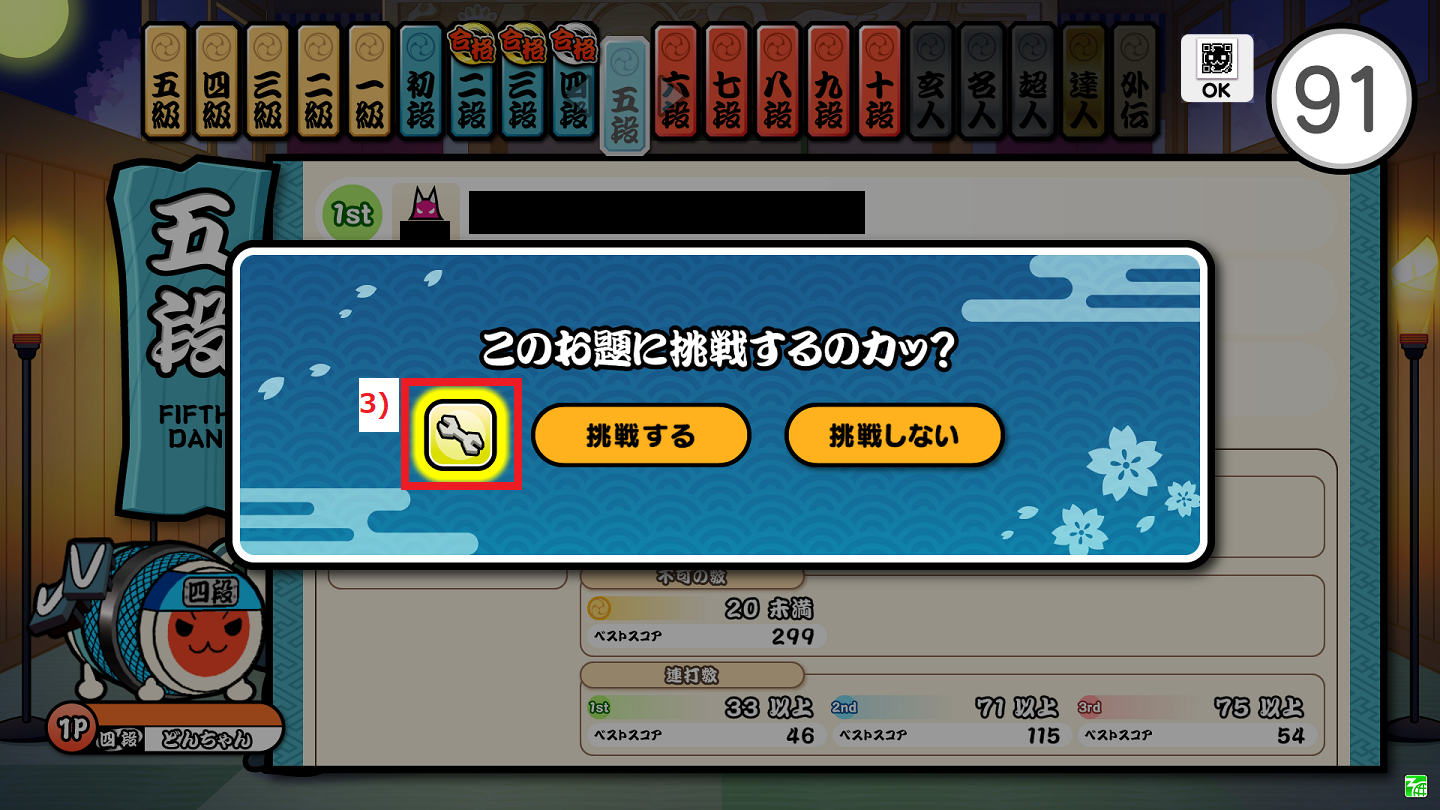 Taiko modifiers can now be used on Dojo Ranking courses, with the possibility to toggle them on/off by default on the personal Donder Hiroba page. However, the use of certain modifiers
will exclude the end result from being saved in memory
(pass status/points total):
Speed increments (from x1.1 to x4)
Abekobe
Doron
Kimagure/Detarame
The modifier pre-selection option is set to OFF by default for every song, unless it's manually set from the Donder Hiroba page.
Thinking of a difficulty development progression that is similar to Green Version's main course set for the mode, the Taiko Team will launch Nijiiro Version's Dojo Ranking mode with courses up to the Tenth Dan, with the Gaiden trials and the rest of the main courses getting added on a later date. Until the release date's coming, here's your usual teaser of what songs are waiting the players in this returning mode's latest incarnation.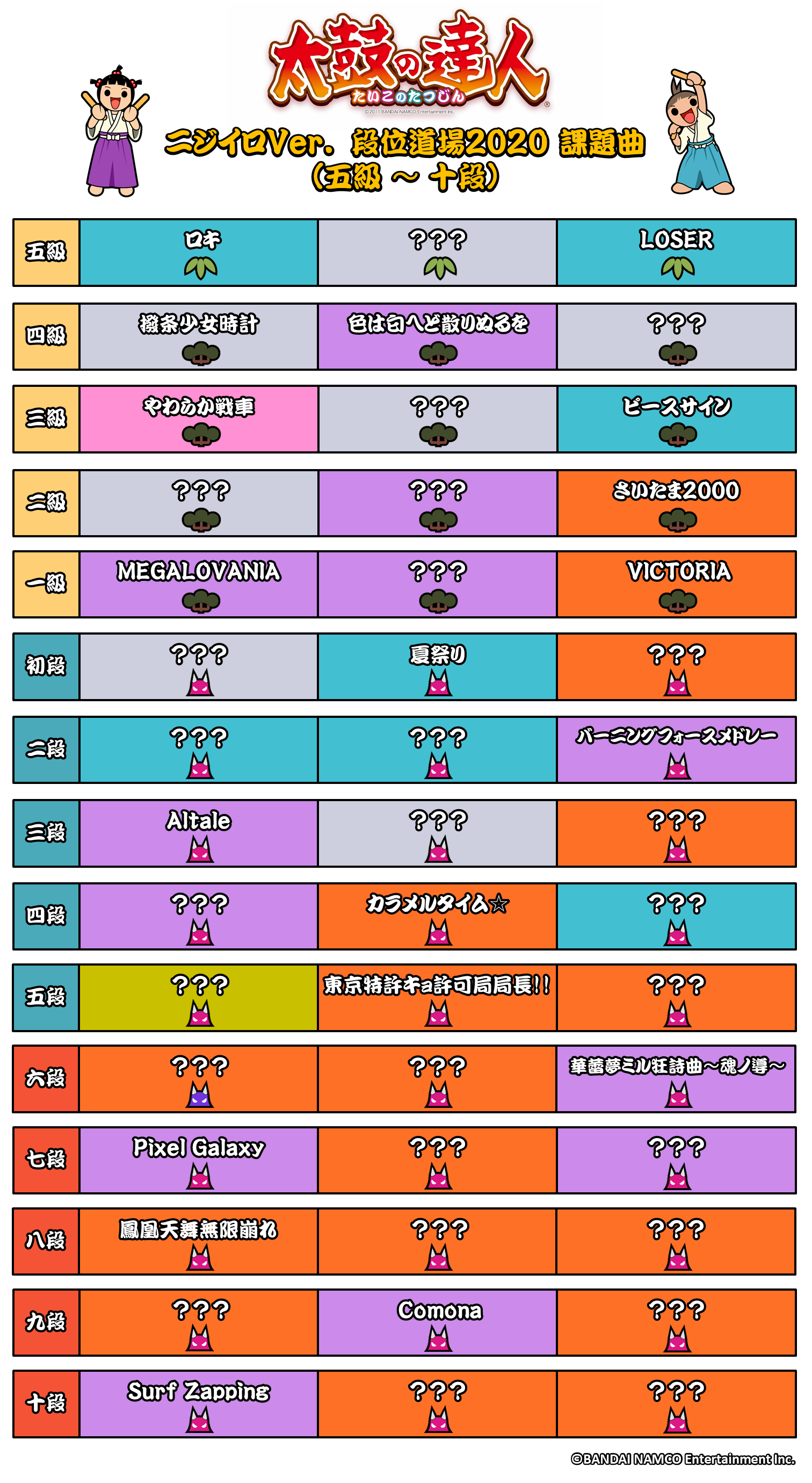 Link to original post