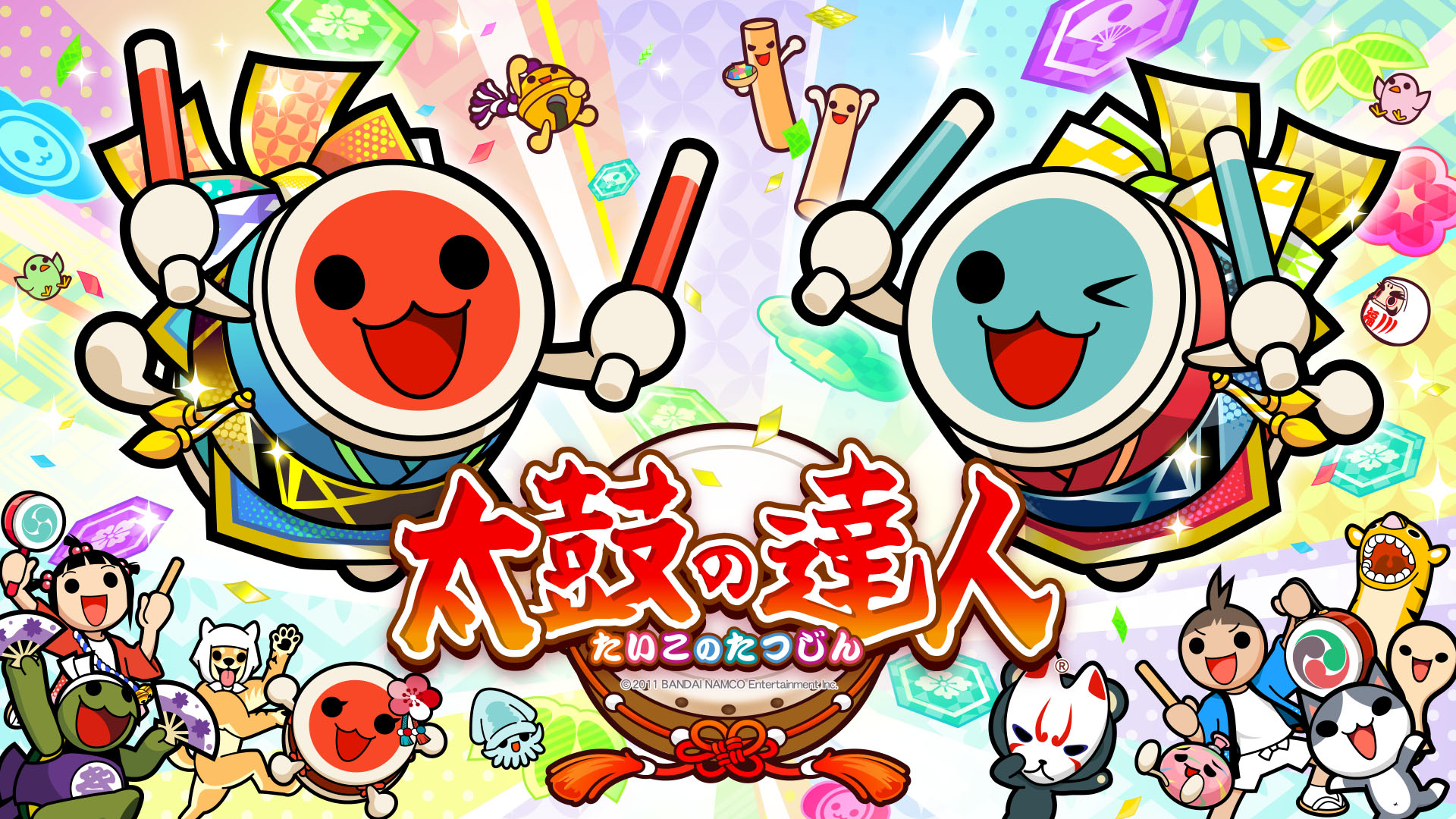 The future is finally among us! The first in the next line of Taiko arcade installments has finally arrived, with its fair share of launch-day goodies that are sure to delight every kind of player our there. While our song list page for the title is nearing its completion, we'll use this post to keep you updated on everything Nijiiro Version has in storm for its opening.
Please bare in mind that we're going to use the old genre icons for this entry, for the time being. We'll decide in a later date how we shall address the song genre change in a later day, and letting you informed of the changes we're going to implement concerning their adoption.
Last update
: 01/04/2020
Oni/Ura Oni video footage
: 9/9 (HQ)
No. of Updates
: 10 (FINAL, FOR REALS)
| | Ratings / Max Combo (Hardest mode) | |
| --- | --- | --- |
| HIMAWARI HAPPY | | From the realm of Youtube comes one of Nijiro Version's easiest launch newcomers. Let its soothing tone lull you to sleep, but mind that slight ending slow-down portion if you're aiming for the most accurate of plays! Also in the Kids genre. |
| Ima (今) | | Youtube-on-Taiko veterans HIKARI & SEIKIN are back at it again with a third playable song, whose Oni mode difficulty ranks the lowest among their released works thus far. Also in the Kids genre. |
| Pretender | | OfficialHigeoDism's hit from 2019's early months, translated in Taiko gameplay means as a slow ballad with full 1/16 charting. |
| Sacrifice (サクリファイス) | | Mafumafu's opening theme for the To The Abandoned Sacred Beatsts Anime series. Lots of 3-note cluster combinations as well as an aggressive BPM pace await its players! Also in the Anime genre. |
| Peace Sign (ピースサイン) | | Kenshi Yonezu's fourth song in Taiko gaming, sharing the Oni mode rating with Lemon... but definitely not the base BPM speed, with the newcomer being the faster of the two! |
| Otome Kaibou (乙女解剖) | | Nijiiro Version's sole launch day Vocaloid debuttant, as well as DECO*27's 4th song in Taiko gaming. A 6-star Oni like many others, but also one of our first outlets to the new Vocaloid-themed in-game visuals for the new arcade generation! |
| | | Otome Kaibou's harder Oni variant, now more keen on note barrages and 1/12 and 1/24 clusters to spruce thing up, but not too much in the Oni difficulty's 8* ballpark. |
| Bakumatsu Ishintan (幕末維新譚) | | The third Daisuke Kurosawa x GODSPEED collaborative effort of Taiko gaming, titled after the final years of the Edo period. While not being as aggressive as Dairokuten Maou, this chart's fangs will claw deep into your stamina fatigue at any second, even with notechart portions inherited from the aforementioned Edo-related Namco Original! |
UPDATE 10.
Director's Cut extended edition remastered canon conclusion: the song that has been permanently added to Nijiiro Version arcades from today is none other than
Waraeru 2000
, closing the circle from our 2nd update.
And with that, we're FINALLY calling it quits on this post! Make sure you take a gander at our Sonority Scouts post of the day...
and if you're infected today, please head to our Discord's quarantined boards to freely chat without the risk of spreading the infection to the others
UPDATE 9.
Secret fourth-wall breaking alternate ending: Since the world is already being heavily pranked by a
very infectious viral trend
, April Fools 2020 on Taiko no Tatsujin arcade will only feature
one new joke song
(which will be permanently added) (
source: @taiko_team
). The past years' joke songs will
NOT
have their usual time-limited unlock this year (
source: @taiko_team
).
UPDATE 8.
After credits screen: These temporarily removed songs across the version change will be returning from 2020/04/01 onwards. (
source: @taiko_team
)

女々しくて
Memeshikute

さちさちにしてあげる♪
Sachi Sachi ni Shite Ageru♪
MANKAI☆開花宣言
MANKAI☆Kaika Sengen
WiSH VOYAGE
NATSU☆しようぜ!
NATSU☆Shiyouse!
NO DOUBT
Heavenly Visitor
Angelic Angel
それは僕たちの奇跡
Sore wa Bokutachi no Kiseki
僕らは今のなかで
Bokura wa Ima no Naka de
くまもとサプライズ!
Kumamoto Surprise!
スーパーマリオブラザーズ
Super Mario Bros.
Holding Hands
Unite The Force
Walking Through The Towers
タイコロール
Tai-color
UPDATE 7.
With all the newcomer songs getting HQ video rips being linked on this very page (save for Peace Sign, due to the usual copyright-dodging antics of YT uploaders for select songs) and nothing new on the surface, we can claim this update post to be concluded. Tomorrow we'll un-pin this post from the top
(which for us means setting the posting year back to 2020, as Blogger has no 'pin this post' just yet,
or at least none that I know of
)
, with Nijiiro Version's song list page (and related sub-pages) getting posted in the coming days.
UPDATE 6.
Quick rundown of the latest Taiko no Tatsujin song contest's rules
, whose winners are going to be playable on Nijiiro Version later this year. Audio previews of the contest entries will be able to be heard by the public once that enough entries have been gathered.
UPDATE 5.
According to the hypothesis and testing by our
Taiwanese compadre
, the requirement for the (rainbow) Kiwami score rank is not a fixed score, but approximately the
ceiling score plus drumroll rate at 16.6 per second
. That means Kiwami is not guaranteed even if you get a Donderful Combo, if you tanked in drumrolls.
UPDATE 4.
First video post of Zoku Shimedore 2000
; 940 notes on Oni over music clips from all 2000 songs released so far, starting from Joubutsu 2000 onward.
UPDATE 3.
Twitter Snippets on Daisuke Kurosawa's third solo album
, which will also hold his latest Taiko no Tatsujin contribution's extended version.
UPDATE 2.
While there's no brand new contend behind Day 1 unlockables being reported (Rewards Shop/Start Dash campaign), some entries of the Donder Hiroba unlockable title list mentioned something new that is currently not available on Nijiro Version, only for the affected titles to be deleted from the website afterwards.
The unreleased content being discovered in this fashion are
Waraeru 2000
from Taiko PS4's DLC catalog and a couple of brand new 10-star Ura Oni modes for a couple of songs:
Taiko Drum Monster
and
Mekadesu.
, which also appear listed in the arcade game's current song listing (
link
). Star ratings for Zoku Shimedore 2000 also appear on the latter link.
UPDATE 1.
Starting update, with LQ videos of all the newcoming content from launch day.