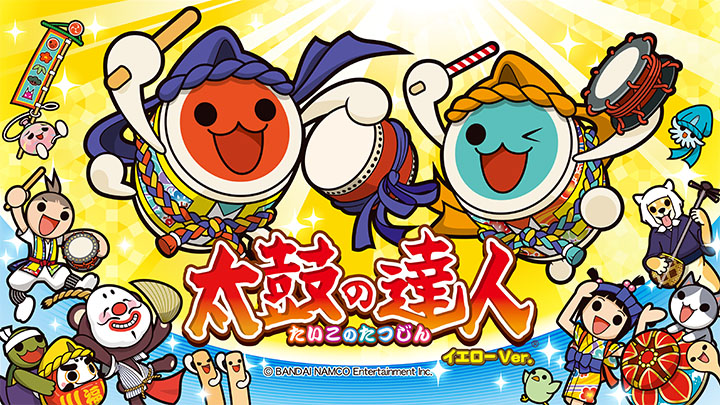 The weekly blog update deals with the next seasonal song list refresher for Yellow Version, as the May 31st update is up to add more than the Namco Original song march of last week...
Starting with some positive stuff, three beginner-friendly tunes are being added between the J-Pop and Anime genre, in conjunction with the Dojo Ranking's (partial) re-opening:

Ashita Mo (明日も)
"Dokomo's Student Discount" CM Song
NEW!
Road Movie (ロードムービー)
Crayon Shin-chan: Invasion!! Alien Shiriri
NEW!
Cocotama Happy~Paradise! (ここたまハッピ~パラダイス!)
Kamisama Minarai: Himitsu no Cocotama
NEW!
The other side to this coin, however, is the future removal of 6 other tracks from all modern Taiko arcades. Apparently the
Yellow Version launch removal round
wasn't enough for this firmware, so here's a 2nd deletion stage, with the following songs not being playable anymore on
June 28th
:
Nijiiro no Sensou (虹色の戦争)

RPG

AC0 exclusive

Punishment

9mm Parabellum Bullet

Also: AC 12.5-13-14 / PSP DX

Also: Wii U2 (DL ended) / iOS

SURPRISE-DRIVE

Kamen Rider Drive

Also: Wii U2 (DL) / 3DS2 (DL)

Matryoshka (マトリョシカ)

Hachi feat. Hatsune Miku and Gumi

Also: Wii5 / PSP DX (DL ended) / Wii U1 (DL ended) / 3DS2 / iOS

Boogie Boogie Funassyi (ぶぎ ぶぎ ふなっしー♪)

Funassyi Official Theme Song Vol.2
As usual, the removal will be done in multiple steps, with the 6 songs becoming un-selectable for Donder Hiroba tournament/challenges within other Banapassport friends from
June 8th
, up to the deletion of all the DH-related data on
June 28th
(favorite song setting, scores and crowns).
Addendum (27/05/2017): In addition to the deletion notices reported above, the Funassyi Taiko Sound will also be removed from the Katsu Medal Rewards Shop on June 28th; those who purchased it beforehand will still be able to use it.
Link to original post