For the last pre-release website update, the first monthly DLC song packs are being unveiled, as well as the identity of the previously-teased songs from cryptic tweets earlier this week. Are you ready?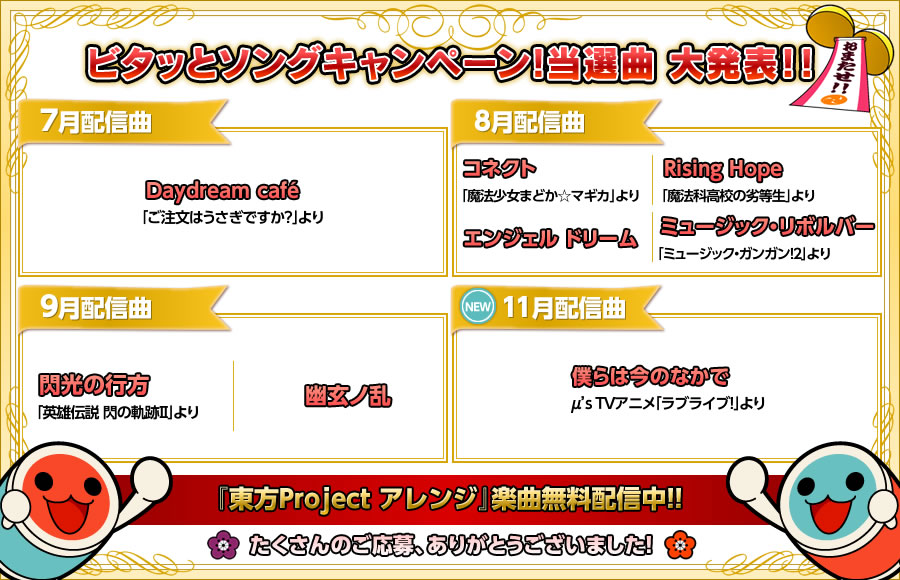 First, we finally have our first winning songs from the suggestion poll, with Anime song
Daydream café
from Murasaki arcades and newcomer
Rising Hope
, the opening theme from Mahouka Koukou no Rettousei (魔法科高校の劣等生) which is making its Taiko debut on V Version by popular demand! Lokamp's nose was also proven right, as the third song is Zeami's
Music Revolver
from Music GunGun! 2.
As you can see from the picture above, the songs are being released in two different months. Why is that, you ask? Because apparently, V Version is grouping their DLC content in song packs! It just happens that the last two songs are saved for the next month.
What about the launch window, then? Well, V Version will launch with two different Popular Song packs, each priced at 500 Yen (+ taxes). Each pack is made of 5 songs from the current arcade line, featuring both console firsts and overall Taiko debuts! Here's their content:
Popular Song Pack 1
Ai Uta (愛唄)
Daydream café
Atatakai'n Dakara♪ (あったかいんだからぁ♪)
Chain Chronicle Normal Battle Medley (チェインクロニクル 通常バトルメドレー) (+ Ura)
DEBSTEP!
Popular Song Pack 2
maximum the hormone
Sousei no Aquarion (創聖のアクエリオン)
Ultraman X (ウルトラマンX) (+ Ura)
Sengoku BASARA BGM Medley (戦国BASARA BGMメドレー)
Joubutsu 2000 (万戈イム一一ノ十)
This pack is also notable for a number of reasons, most notably for including the very-recent 10* Ura Oni challenge from the Anime genre, adding yet another, never-heard-before medley on Taiko and reviving a canceled Taiko 0 song, saving it from its eternal slumber.
The leftover, mysterious songs on V Version's base songlist haven't been revealed yet, but this juicy DLC bombshell is enough alone to sweeten the deal! For those who haven't heard V Version's extended-cut CM, its website now hosts a link to the video from the official
Banadai
Bandai Namco Youtube page, in which it was published last week.
Only 7 days to the game's release! Get ready.