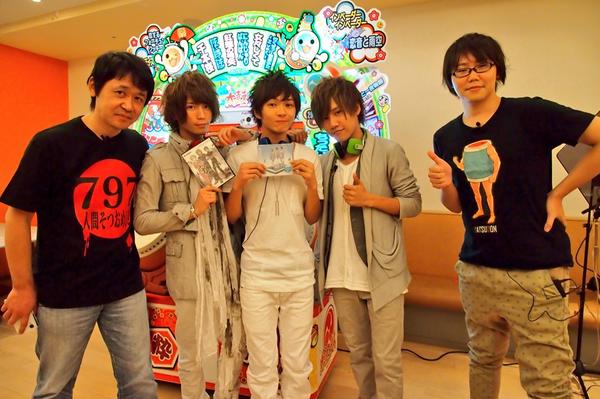 It's that time again! Surprisingly earlier than usual, here's our recap of last Friday's Taiko Team live stream, in which we had both special guests and updates on the current Taiko games.
However, the streamer is the same one of the last time, which means once again that pictures may look grainy or yellow at times. Apologies for that!
Let's get to business! The first thing introduced is the stream session's Comments Challenge goals.
Since we really never talked about those extensively this time around, here are the English translations:
10000 comments: Twitter icon
20000 comments: 500 points given to everyone for the Rewards Shop
30000 comments: new Title part!
50000 comments: new smartphone wallpaper
76500 comments: Etou wearing a Tatsudon T-shirt will be in Taiko no Tatsujin RPG Da-Don!
87600 comments: Kimidori's Dojo Ranking songs will be publicly shown on the stream (except Tatsujin level)
100000 comments: Total Eclipse 2035 will be available to play on Kimidori for a limited time!
Needless to say, all the goals were reached in the stream! The only problem is that Kaori Aihara's very first NO song was delayed one day after the initial release date (September 28th), but also extending its availability for another week, until
October 12th
. The title part chosen near the end is Cheese (チィーッス), as decided by the audience (
link
).
Coming up with Etou and pals next is Taiko Team mascot Daifuku, bringing something in her Taiko-themed tote bag...
It's a box of the next upcoming Wii U Taiko game: Taiko no Tatsujin Tokumori! With that, some info is displayed about the game's price, its several bundle forms (boxed/digital download game only and boxed game + Tatacon) and the starting tracklist for the Namco Original genre, of which we already knew about thanks to the
TGS '14 presentation
.
But what was that Tote Bag talk about? Well, turns out that it's actually a promotional item for the Taiko x Funassyi collaboration, available in two variations until the promotional event's end.
Next up is a short talk about the Taiko 3D Projection attraction at the Huis Ten Bosch amusement park. The arcades in there will be getting 5 new songs among the ones introduced by Taiko Kimidori, including Professor Sakamoto's very own entry to the Vocaloid genre.
A small promotion for the ZOLA Project Vocaloids was also aired.
Poor Takemoto misspelled the unit as 'ZORA' for the post-stream snapshot with the band, but as I (Lokamp) myself am awfully lurking into typo zone more than often (and Twitter followers already made a bunch of Legend of Zelda-related jokes about the error), I digress. Sorta.
While their appearance doesn't mean anything new for the Taiko scene, they played their latest song on Taiko right after Etou's interview, making for three very different performances.
After the ZOLA boys left the stream, a surprise comes in the form of a video from Blue Marble. They're here (in video form) to promote Girls Pop Mania, the latest Taiko mini-album with a live recording of super star shooter's extended version from one of their concerts. Sadly though, no post-stream videos are anywhere to be found...
The video also advertised some of Blue Marble's next concerts as well! Here are their scheduled events for October 2014:
After this intermission, the brand-new stream segment about the Namco-affiliated composers kicks off, featuring theremin-player Torine as their first guest. Etou's interview ranged from the composer's Taiko contributions up to the thought process behind the creation of a song, using SORA-V Cosmic Bird as an example by deconstructing the several instrumental parts one by one, in a similar fashion to
Masubuchi drumming to Joubutsu 2000
and
Linda AI-CUE showing the various rhythm segments of Donkama 2000
.
As for her songs on Taiko so far, here they are! Aside from the few things that we mentioned in the last Song of the Week feature, we come to know that Torine is also the composer and singer of Namco Original Ne~e Oshiete, which first appeared on Taiko Wii U Version.
Still, the live session performance with the Theremin was featured as planned. For the first time on stream, here is Torine playing it.
Sounds all fine and dandy so far, isn't i-WHAT
That's right- Masubuchi Yuuji joined the fun as the drummer for a 2-minute jam session, to the music of Choujikuu Adventure and SORA-V Cosmic Bird. Here's a video of their performance (just make sure to raise the volume-it's a quiet video!)
After Torine left, it was Taiko Kimidori time. Basically it;s everything we've come to know over the past week, including the limited unlock. On the subject topic, another clip from Day by Day! was played, but it looks like no one on Youtube has posted any recordings from this clip.
Near this time, the Comments Challenge reached the goal about unveiling each of the Dojo Ranking courses on Kimidori, up to Juudan. And here they are!
If the pictures aren't very clear, here's a Youtube recording of the exact portion.
Due to time restrains, the usual stream break was skipped in order to invite Taiko 3DS 2 game director Sasaoka. You know what this means... right?
For those who guessed 'DLC packs talk', here's a pat on your shoulder! As usual the first one being featured is the latest one for this September.
And now, here's the real treat: October's DLC pack! This one puts the focus on game-exclusive tracks, such as
Kessen!!
from Puzzle & Dragons Z and unmo's
Jikuu Chou Jikuu 1-Ka
from the current Taiko arcades. A special shout-out goes to
Yawaraka Sensha
as well,returning to a console game for the first time since Nanadaime on Play Station 2! Its Ura chart is also being acknowledged in a console game for the very first time (on Nanadaime, it was only playable as Taiko Tower 9 on Hard mode)
But there seems to be something more about this pack... and that little circle hints it! With this pack, the head gear
PuzDra TAMADRA (パズドラ たまドラ)
will be included in this pack, featuring everyone's favorite adorable Awakening material monster.
As for this pack's extra Story Mode chapter, this time around we'll go back to the Portable DX Story Mode, as the Taiko brothers meet Miko once again, as well as a certain, prehistorical threat from the past...
However, this pack holds a last ace on its sleeves... Masubutchi! After Linda AI-CUE, this friendly composer will break the fourth wall as a canon character of the Taiko universe! Perhaps he'll assign to Don-Chan and team yet another devilish task to fulfill.
Last and (again) probably least is the closing feature with the Taiko Team trying to get rare drops with Taiko RPG Da-Don's Rare Monster Gacha, being arguably luckier than the last time with only 3 drops!
A silly choreography of SORA-V Cosmic Bird by Etou and pals closes yet another stream, with Torine coming back for another hilarious closing.
See you next time! (unless this cold won't terminate me earlier... *coff* *cough*)