The fifth Wii game is now a concrete reality, as
Famitsu
featured some preview screens on their website (and will preview the game once more in their upcoming magazine). Let's see the game's first official images!
We start our sneak peak with an image of the regular playscreen, as usual. It looks like the same layout featured in the previous Wii games too, but look at Don-chan: it looks like our chibi drum will have the same animations featured in the latest arcade and 3DS! The song used is Kimi o Nosete, the ending theme for Laputa: Castle in the Sky, seen in the rumor songlist just below.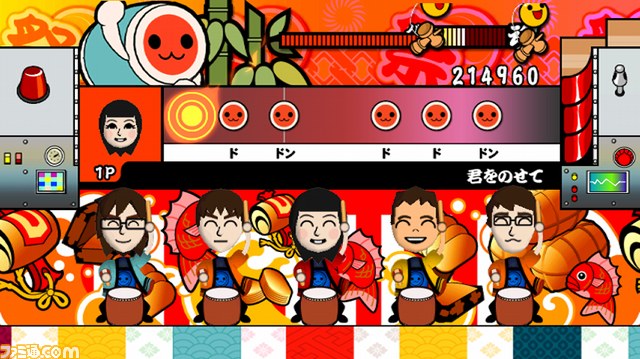 Then another screen with the special dancers for the Overture of Dragon Quest X, the latest game from the namesake RPG saga. Dragon Quest X was released for Nintendo Wii just a few weeks ago and it's going to be released on Wii U too. Don-chan is wearing a Slime outfit!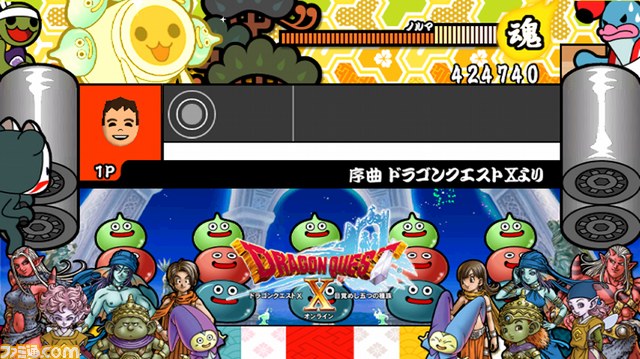 The next screens feature a couple of minigames from Chogouka-Ban's minigame mode, the "Exhilarating Moment! Don-chan Commotion" mode (瞬間爽快! どんちゃん騒ぎ). The first minigame revolves around balancing towers of Wada-Inu by hitting the Taiko drum, trying to grab the helicopter on top.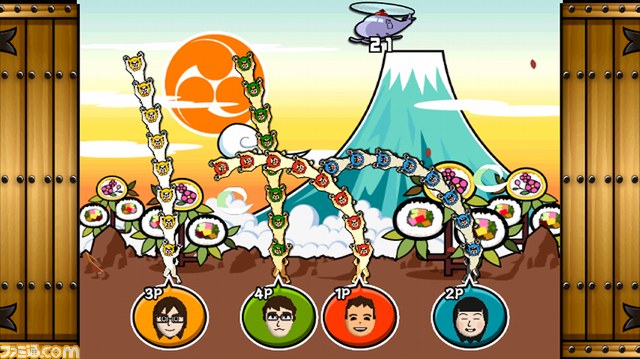 The second minigame is more focused about timing: trap the little chicks by hitting the Taiko at the right time!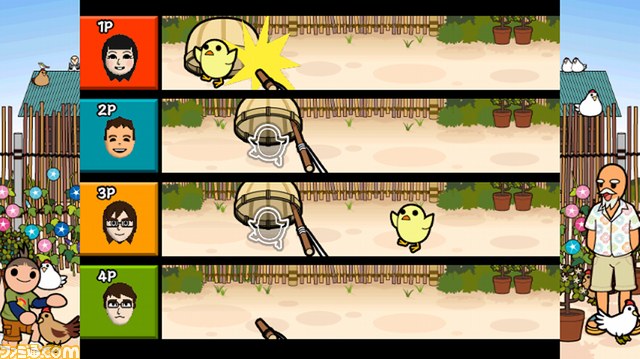 Like the past two Wii games, multiplayer is available for up to 4 players, as the image below shows. No title nor lyrics for the song showcased.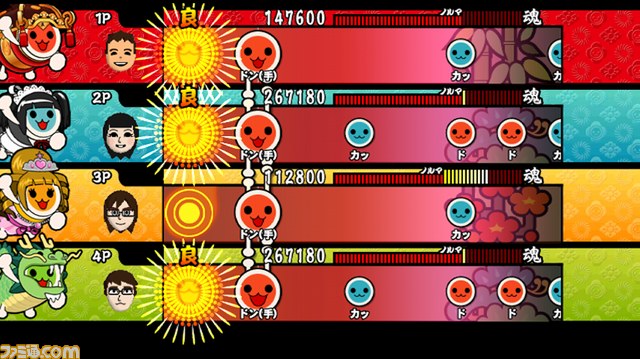 More images and infos about the incoming fifth Wii game will be available on Famitsu's September issue (or, if we're lucky enough, on tomorrow's Taiko Blog entry!)