.....Taiko no Tatsujin Wii: Kettei-ban is not the final Taiko Wii?
While Nintendo is going to make its jump to a new generation of home consoles by the end of this year (hopefully), it looks like Namco planned yet another Taiko game for the Nintendo Wii! Though no official news has popped up, some details about the game are already available.
According to a tweet from Twitter user
sinobintage
, the game Taiko no Tatsujin Wii Chogouka-Ban (太鼓の達人Wii 超ごうか版) (literally, Super Deluxe Version) will hit Japanese stores this year on November 29th, featuring 100 songs (like Kettai-Ban) and over 30 festival-themed minigames, developing Taiko Wii 3 and PS2's focus on minigames like never before!
On
sinobintage's blog
there is also part of the game's default songlist, featuring both old and new licensed songs from the latest Taiko games.
J-Pop
・Manatsu no Sounds good! (真夏のSounds good!)
・Heavy Rotation (ヘビーローテーション)
・Kaze wa Fuiteiru (風が吹いている)
・Tsuke ma Tsukeru (つけまつける)
・Ikuze! Kaito Shojo -Z ver.- (行くぜっ!怪盗少女 Z ver.)
・S
・Memeshikute (女々しくて)
・Bakuchi Dancer (バクチ・ダンサー)
・Rinda Rinda (リンダリンダ)
・EZ DO DANCE
Anime
・Yajirushi ni Natte! (やじるしになって!) (Pokemon B/W2 opening theme)
・Kimiwonosete (君をのせて)
・We Go! (ウィーゴー!)
・Totsugeki Rock (突撃ロック)
・Jounetsu de Mune Atsu! (情熱で胸アツ!)
・Haru Uta (ハルウタ)
・Busters Let's Go! (バスターズ レディー ゴー!)
・Zutto Zutto Tomodachi (ずっとずっとトモダチ)
・I★my★me★mine
・Let's Go! Smile Precure! (Let's go ! スマイルプリキュア!)
・Yume o Kanae te Doraemon (夢をかなえてドラえもん)
・Anpanman no March (アンパンマンのマーチ)
・Orion o Nazoru (オリオンをなぞる)
・Cruel Angel's Thesis (残酷な天使のテーゼ)
Variety
・Senbonzakura (千本桜)
・Dai Kaizou!! Gekiteki Before/After Medley (大改造!! 劇的ビフォーアフターメドレー)
・Oshiri no Yama wa Everest (おしりの山はエベレスト)
・Otemoyan (おてもやん)
・ABC no Uta (ABCの歌)
Classic
・Carmen Prelude (カルメン組曲一番終曲)
・Ode To Joy (第九交響曲)
Game Music
・Overture, from Dragon Quest X (序曲 ドラゴンクエストXより)
・Dragon Ball Heroes (ドラゴンボールヒーローズ)
・Hatsune Miku no Shoushitsu -Gekijouban- (初音ミクの消失 劇場版)
There's some new songs, along with quite a few repeats, some of them being the second or even third inclusion of the song on Nintendo Wii (glares at Doraemon). Besides some change of genres for some recent songs, there will be special dancers for Doraemon, Dragon Quest and Hatsune Miku's songs.
Even if all the information above still have no official source, this thing shown below is probably the closest we'll ever get to an official confirmation as of now. The admin of the Glaroid Room blog kept an eagle eye on the official Taiko blog, and spotted an unused category for Taiko Wii Chogouka-ban in the sidebar.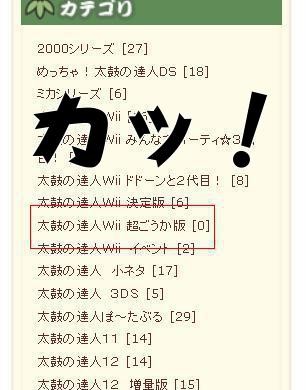 Does this mean that a reveal is not too far off from now? Could it even be tomorrow? Or is the whole thing an elaborate hoax?