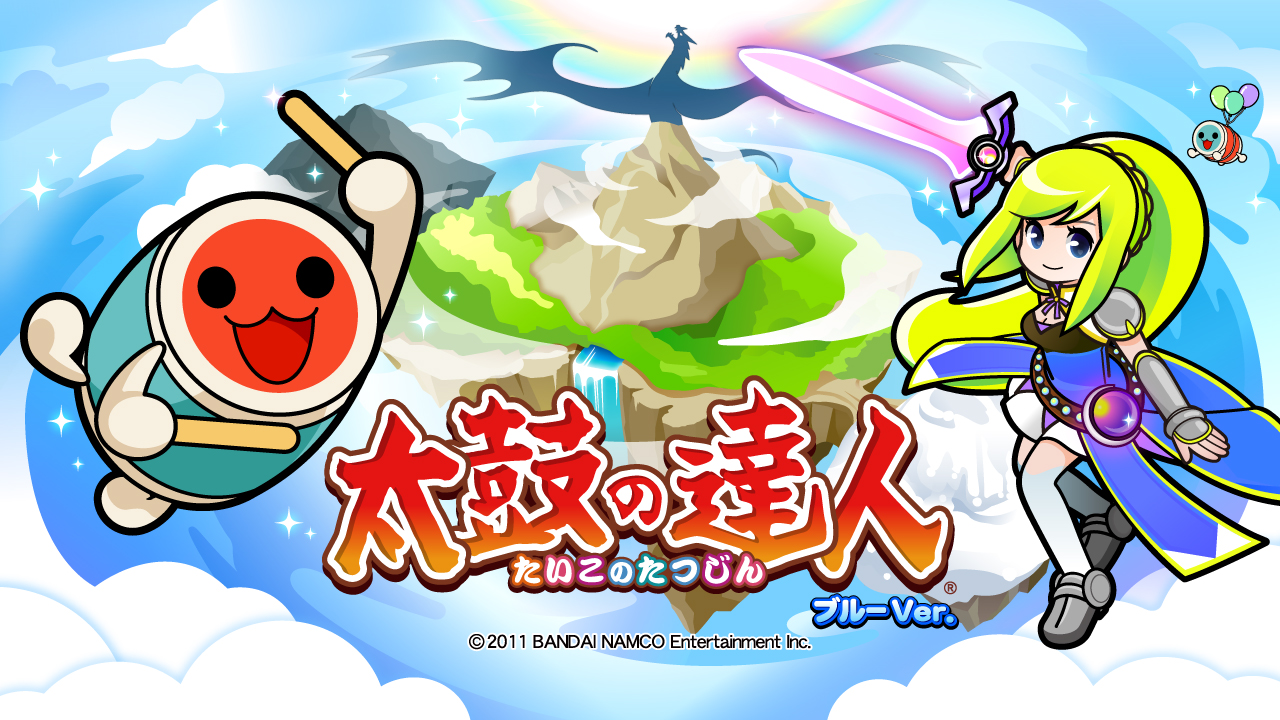 Before we bring in some
greenery
to the Taiko no Tatsujin arcade scene, we will have to make through the harsh winter climate coming
December 19
to Japanese cabinets.
(what Asia)
But first, licensed default picks available on the day of the update:


Title
Glass o Ware!

NEW!


ガラスを割れ!
★?
★?
★?
★?


Inochi Mijikashi Koise Yo Otome

NEW!


命短し恋せよ乙女/MOSHIMO
★?
★?
★?
★?


Over "Quartzer"

Kamen Rider Zi-O

NEW!


  「仮面ライダージオウ」より
★?
★?
★?
★?


The latest Kamen Rider inclusion will also be used for an upcoming collaboration with the anime, featuring the usual schtick that playing the song on a Banapassport nets you the collab outfit. Taiko Team cannot share the outfit image for now, but they say it will be somewhat different from previous ones. ...okay?
Now for the main event of the
Blue ver. Winter Rewards Shop
(ブルーVer.冬ごほうびショップ), switching in four new songs to the arcade:


Title
Comona

Arcade debut

[1300]
  「ACE COMBAT 04」より
★3
★5
★7
★9


Pan vs Gohan! Dai-kessen!

NEW!

[1500]
  

Yuuya Kobayashi (IOSYS) feat. miko & Momiji Yamamoto


パン vs ごはん!大決戦!
  コバヤシユウヤ(IOSYS) feat. miko & 山本椛
★5
★7
★7
★10
★10
Colorful

Shogo/Shougo Nomura

NEW!

[1500]
カラフル/しょご/野村渉悟
★4
★7
★8
★10


λ7708

NEW!

[1500]
  Taiji
★5
★7
★8
★10


(click song name for official YouTube preview)
Consider this an official reminder that the Blue ver. Autumn Rewards Shop will be ending with this update, and all your remaining Don Medals will once again be reset. If you want those four songs for keeps, do act quick or you will have to spend Katsu Medals from the Donder Hiroba instead.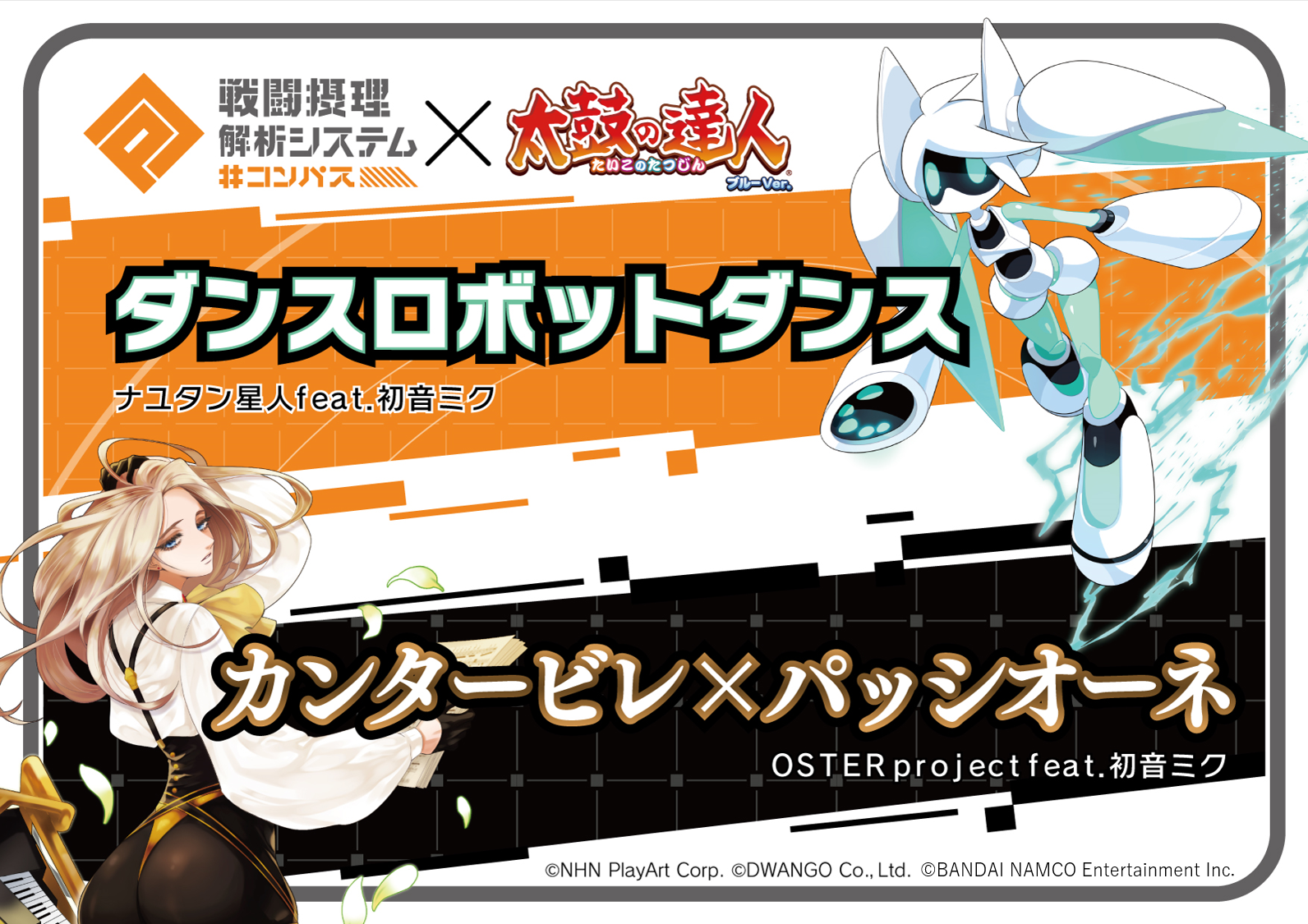 Meanwhile, in case for some reason you haven't keep up with our
other
posts
on this blog, Taiko no Tatsujin are in the heat of a collaboration with the mobile game #C.O.M.P.A.S.S., featuring these two character songs newly added to Blue ver.:


Title
Dance Robot Dance

NayutalieN

feat. Hatsune Miku/#C.O.M.P.A.S.S.


ダンスロボットダンス/ナユタン星人 feat.初音ミク
  「戦闘摂理解析システム#コンパス」より
★3
★4
★4
★9


Cantabile×Passione

OSTER project

feat. Hatsune Miku/#C.O.M.P.A.S.S.


カンタービレ×パッシオーネ/OSTER project feat.初音ミク
  「戦闘摂理解析システム#コンパス」より
★2
★3
★4
★7


(509)

★9


(892)
(yes this counts as the First Video post for Cantabile×Passione)
The new development for this is that Taiko no Tatsujin Blue ver. cabinets (together with Synchronica and Groove Coaster) are coming in exhibition at the
#C.O.M.P.A.S.S. Fest 2nd Anniversary
(#コンパスフェス 2nd ANNIVERSARY) event on
December 23
featuring the above two songs for free trial play.
Link to original post
...wait what is
that
on the Suggested Videos list? Why does it also have the
December 19
date and the ominous "this song is available to unlock through gameplay" text?


Title
Hung-rock

Arcade debut


ハンロック
★4
★6
★7
★10