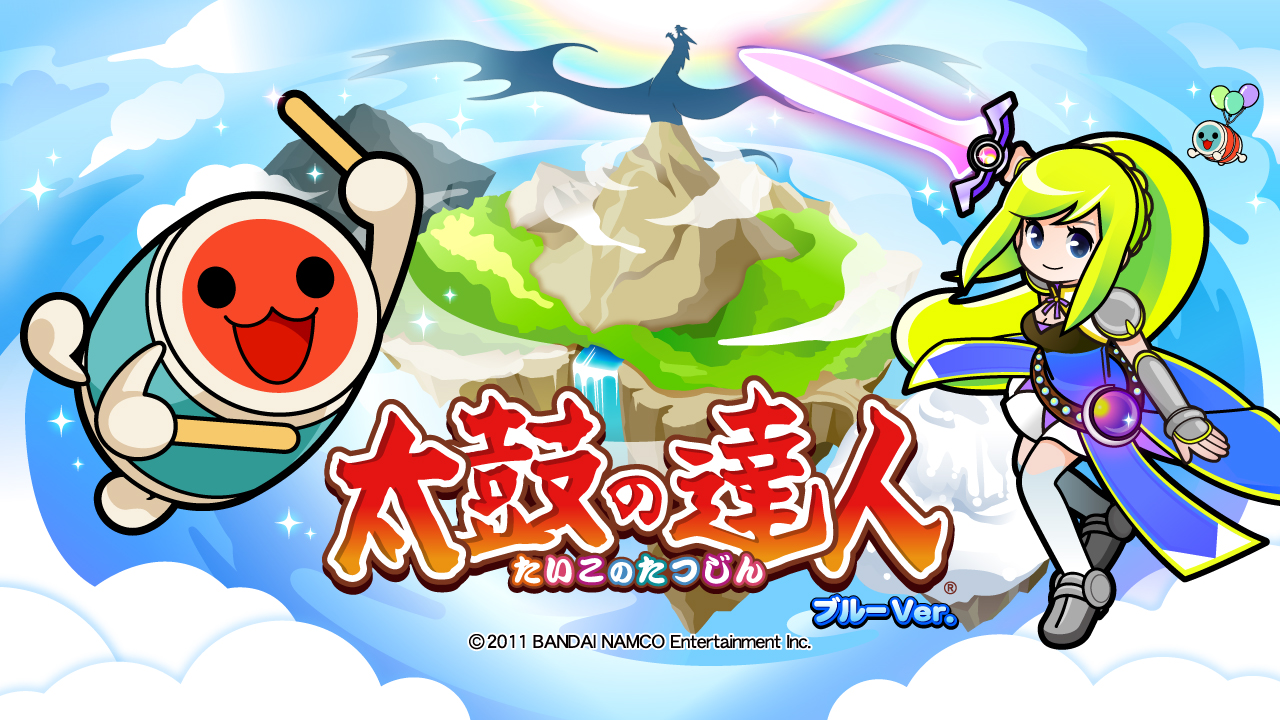 Surprise surprise, the people behind the Taiko games
remembered that they have an official blog to update every once in a while
... er, I mean- new Blue Version update time!
Blue ver. Version Update: August 8th, 2018


Title
Ryusei

Sword Art Online Alternative: Gun Gale Online

NEW!


流星
  「ソードアート・オンライン オルタナティブ ガンゲイル・オンライン」より
★?
★?
★?
★?
--
Taiyoukei Disco

NayutalieN feat. Hatsune Miku

NEW!


太陽系デスコ/ナユタン星人 feat.初音ミク
★?
★?
★?
★?
--
Minuet
メヌエット
★5
★7
★8
★9
--
Karma (Tatsujin Mix)

Tekken 6 BLOODLINE REBELLION


  鉄拳6 BLOODLINE REBELLION
★5
★6
★8
★9
--
Where is the Target?

Rolling Thunder 2

Arcade debut


  ローリングサンダー2
★4
★6
★7
★9
--





Furi-furi♪Nori-nori♪

Arcade debut


  

Taiko no Tatsujin Nintendo Switch Version! Theme Song


フリフリ♪ノリノリ♪
  「太鼓の達人 Nintendo Switchば~じょん!」テーマソング
★3
★4
★6
★7
★9
Numujika ac.10
ヌムジカac.10
★4
★5
★8
★9
--




The nicknamed
Number 11
(11号) intern is back with the latest scoops on the new contents Blue Version is getting with an
August 8th
update. Starting with the new songs, we have a blend of both old and new tunes to gawk at, with that one Vocaloid track lighting up some deja-vu-related memories from the
latest rounds of arcade leaks of past July's end
...
It's also worth mentioning that this update will relocate the
Youtube Theme Song
Variety track to the J-Pop genre.
Blue ver. Dojo Ranking Main Courses (up to 10-Dan)
Also in high rumor talk in the past few days
was the eventual implementation of Blue Version's main Dojo Ranking courses with its next arcade... and sure enough, today's blog entry confirms it so! The feature is also being introduced in the blog entry by Taiko Team leader Etou (エトウ), nonetheless.
In a nutshell, the latest main rounds of the skill-oriented feature will have its entries to be based on Yellow Version's main courses, only being updated with some of Blue Version's song additions. As usual, we also get a semi-complete rundown of the featured songs in picture form, up to the aforementioned 10-Dan course.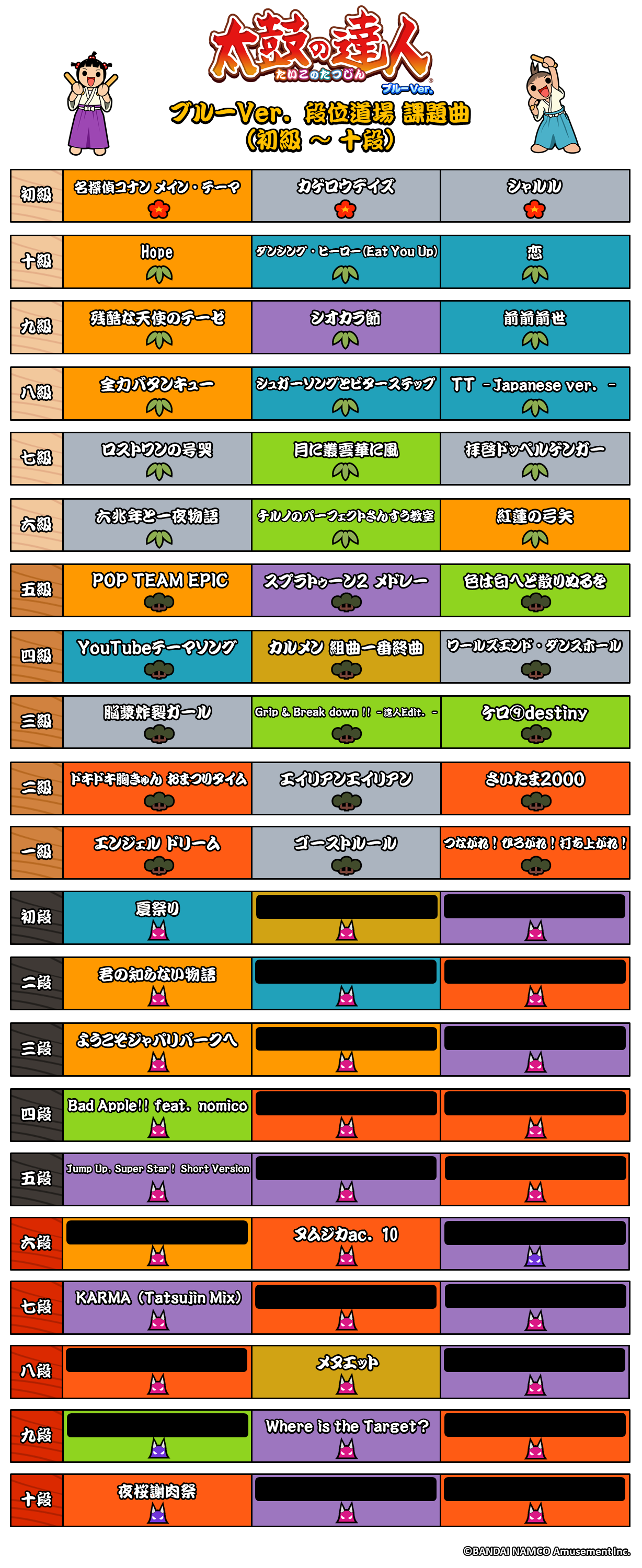 With the Yellow Version main courses graduating soon, the implementation of its hardest trials as Dojo Ranking Gaiden trials is also being worked on for a future update.
Performance Battle Mode Update: More Special Attacks and Limited Courses
Etou's cameo in today's blog entry is also here to introduce some new elements for Blue Version's Performance Battle mode, starting with the implementation of new special attacks for Amitie, the mode's heroine. Together with her default
lightning-based special attack
, she can now be equipped with different elemental magic for new effects, such as the case of the Earth spell displayed below.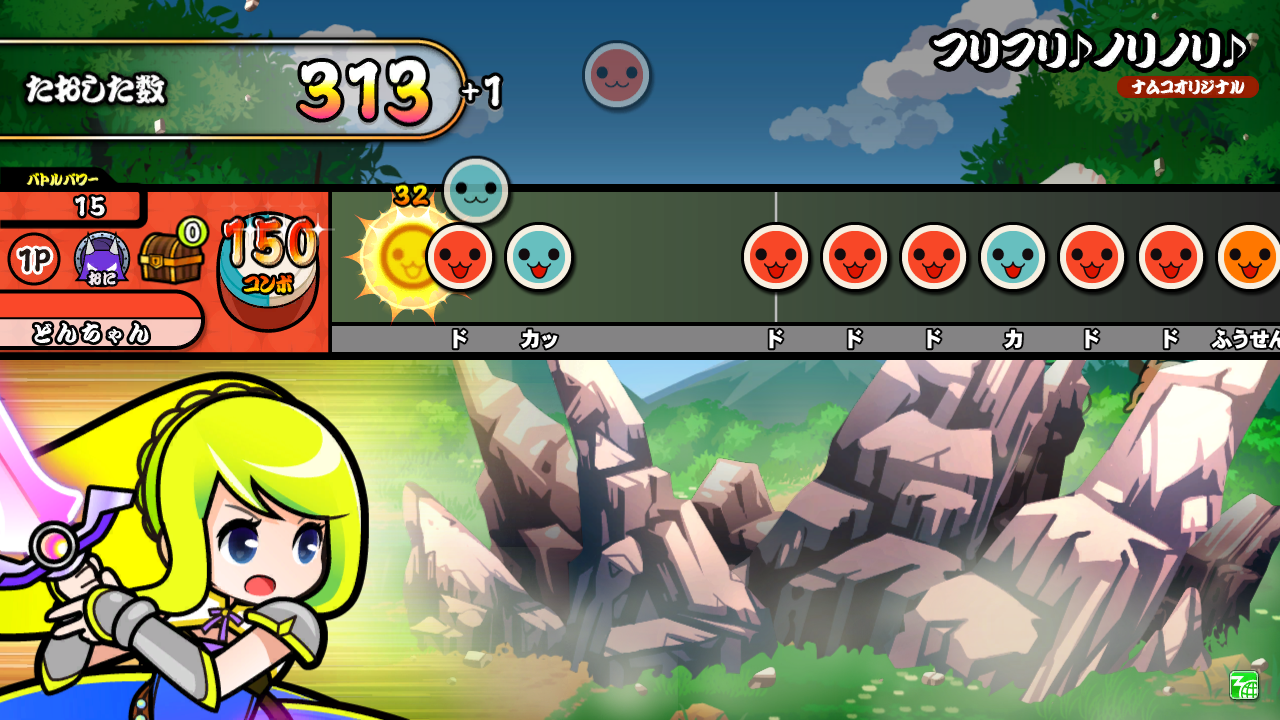 In order to use the new special attacks, players will have to obtain them in the Performance Battle mode in form of random chest drops that may be dropped by the defeated enemies while playing.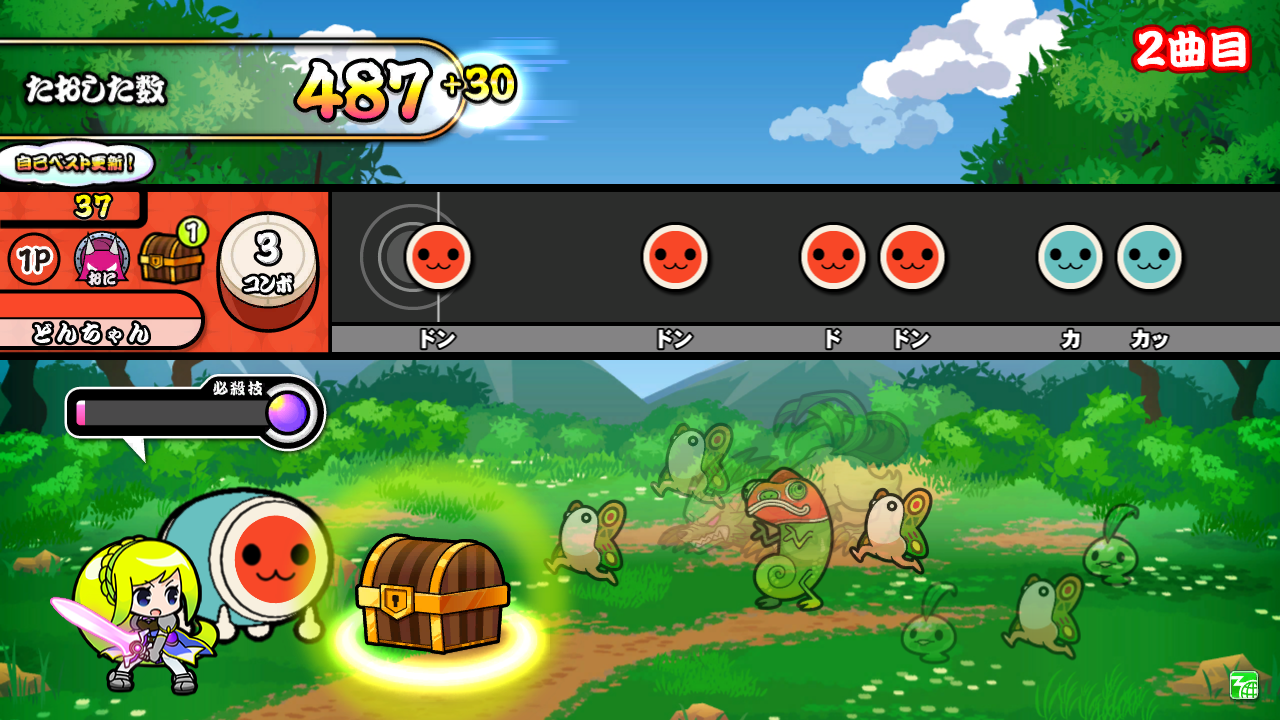 Each special attack has to be unlocked by collecting a fixed amount of Magic Stones, collectable as random chest drops and appearing like this:

Last but not least, the Taiko Team is planning some time-limited scenarios for the Performance Battle mode! The first of those will have players face off against the first 3DS Taiko game's main antagonist: the evil clown Maou. Only players who have gained access to the 2nd stage will be able to join the event, so make your progress if you're behind!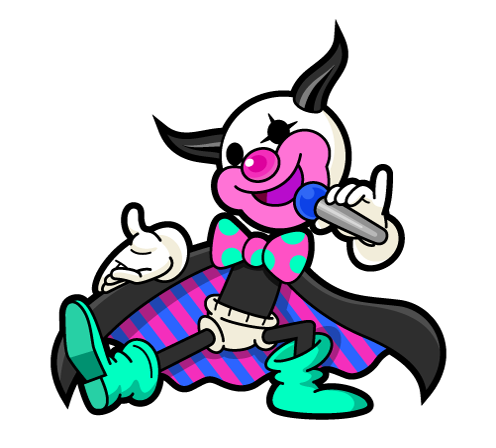 Link to original post