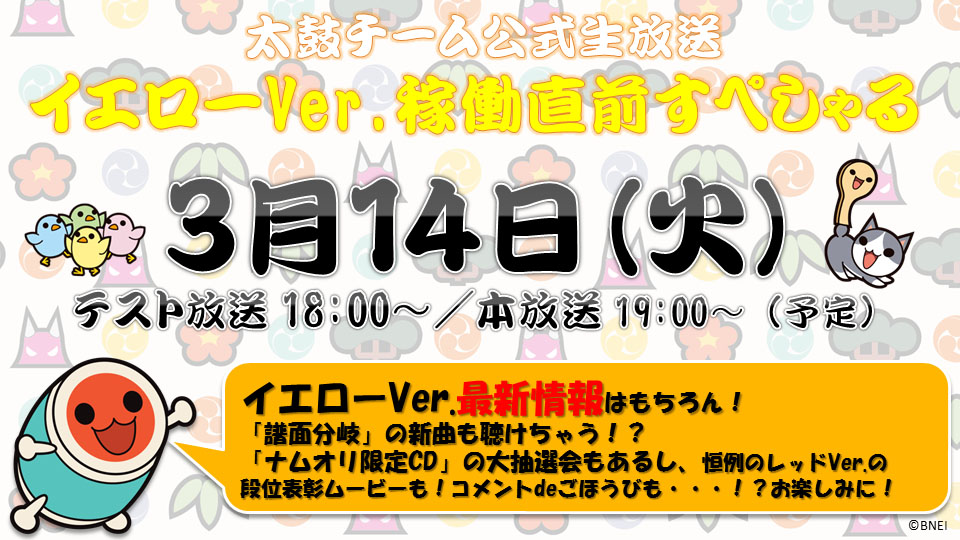 A new arcade version is upon us, and with that is also a new livestream session with the Taiko Team talking about all you need to know about its Day 1 schedule! The full schedule of the broadcast awaits after the jump.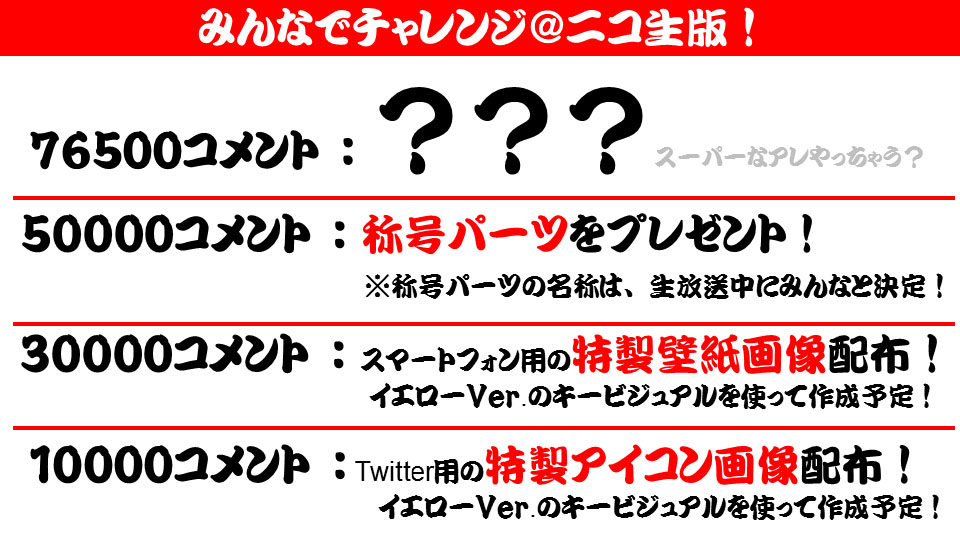 Before that, however, let it be known that the Comments Challenge is coming back! Together with the usual goal rewards (10K for a Twitter icon, 30K for a smartphone wallpaper and 50K for new title parts), we also have a 76500 comments goal whose reward will be revealed during the livestream run.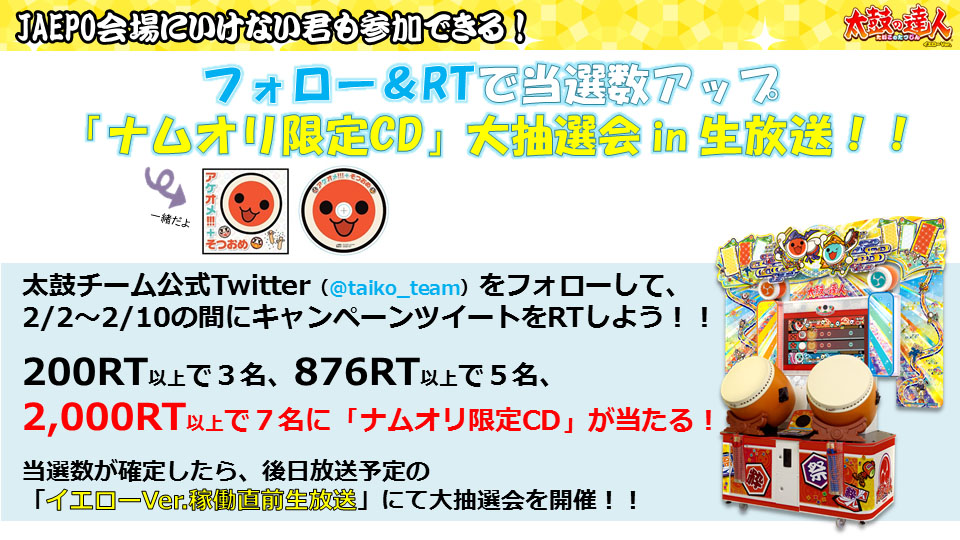 It's also imperative to remember that the 2000 retweet goal for the Yellow Version launch campaign was reached! As such, 7 broadcast viewers who'll figure out a secret word during the run will be randomly picked to be receiving the JAEPO-distributed Namco Original CD of this year.
With these out of the way, here's a more formal presentation of the schedule:
Taiko no Tatsujin Official Broadcast
When
: March 14, 2017 - 18:00-18:50 (test portion) 19:00-until the Taiko Team hosts had enough
Who
: Taiko Team members including Etou, Takemoto, Anne, Daifuku
What
:
-)
Test Portion
(~18:00)
Before the real deal goes live, let's test the equipment and hear more about a certain story that is only being discussed during this segment. We'll also have the latest portion of "that" funny sub-series, too!
-)
Opening & Today's Menu
(~19:00)
As usual, a summary of the scheduled topics to talk about will be brought up one last time, right after the real livestream's beginning.
-)
Red Version Stage Award
(~19:10)
Together with the final Dojo Ranking data for the Red Version firmware, there will be the usual celebratory movie for all the players who pushed their skills to go as far as they can through the main Dojo Ranking trials! You still have a few days left, if you want to join the fray...
-)
Yellow Version Corner
(~19:30)
See all of what Yellow Version is about to offer from its launch day, including some early trivia about Yellow Version's own Dojo Ranking trials!
-)
Let's Decide the Notecharter Sentai Collaboration Song's Name!
(~19:45)
The song whose charting team was decided on
September last year
is now complete, but it still lacks a name! With the newly-found knowledge that this track is going to be part of the Butou series of songs (formerly known as the 'Garyoutensei series' in our blog), the streamers will be asked to come up with a meaningful 4-Kanji title for it. Do it for Daifuku!
-)
Break Time
(~20:10)
Get ready for the aforementioned Red Version Stage Award movie during the break!
-)
Namco Original Limited CD Lottery
(~20:20)
During this portion, the 7 random winners for the JAEPO-exclusive Namco Original CD will be picked. Be sure to find out the secret word during the broadcast if you want to join the pool!
-)
Other Taiko Notices
(~20:45)
Together with other Taiko-related news, this part will feature the viewer-driven polls for the limited title parts, if said comment goal is being reached. Let's push all goals towards this late-night-oriented broadcast's running time!
-)
Ending
(when the Taiko Team crew feels tired enough)
The usual.
See you when this broadcast actually goes live!
Link to original post