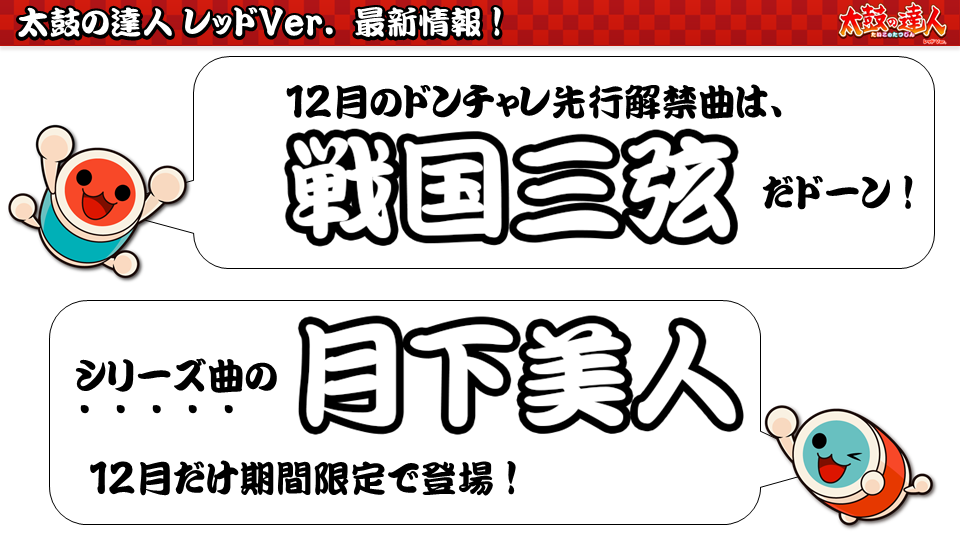 December appears to not be content of
calling on blasts from the past
and decides to have an addition go in for limited time.
AC0R Limited Songs: December 1 2016
月下美人 Gekkabijin
(~2016/12/31)
That is also the second song to make a scene on AC0R this month from the series of
Garyoutensei songs
, officially known as the
Butou Series
(ぶとうシリーズ). Butou as in dancing (舞踏
butou
) or fighting (武闘
butou
)? You decide, because only Taiko God knows.
While the series has ended with Hyakkiyakou, the
traditional Japanese vibe + instrumental + idiomic titles + forked path
formula have been taken well by fans. So perhaps now is a good timing to hint that an upcoming series may be trying to take similar concepts, but will be completely different nonetheless. Stay tuned to when this become reality!
Link to original post
Mini Across Japan feature:
All three songs that should have appeared today on Asia ver. (Taiko Ranbu Kaiden / Fuun! Bachio Sensei / Gekkabijin) are duly added.
[post 1]
[post 2]