Coming to the end of yet another year, it's crucial for anything in life to look back at what has come in order to be set on to take what's next; that is still very true to the Taiko no Tatsujin series progression for us, so here we are again with another recap post about the 366-days cycle that has come and gone.
Join our written flashback about Taiko gaming for 2016 after the jump!
January 2016
The series at the start of the year was in quite the middle ground position in both arcade and console fronts, as a lot of the previously-announced contents and events began to take place from the year's very beginning. For the (then) newcomer White Version we've had the Taikai mini-tournament and its exclusive unlocks (with some of these pictured at the top of this page), while the then-active console games for Ps Vita and Wii U stepped in the new year with a continued DLC distribution plan. All while the Taiko Team's top members were preparing for their yearly visits to the World Hobby Fair and Tokaigi!
It's also worth mentioning that White Version was released in General Asia arcade rooms outside Japan, since apparently we've
forgot to talk about the General Asia
Murasaki transition in last year's recap...
(sorry about that)
February 2016
With the arcade scene being enriched with the release of the MyBachi official set of portable Taiko drumsticks for arcade play (and us keeping up the pace with some of the most outdated features of the blog), the real deal for the last February has been the launch of an Android-friendly version of iOS platforms's Taiko Plus, even though some significant features from the former app like purchasable song packs and Oni/Ura Oni modes (for unsupported models only) are missing.
Other remarkable events for the month were the Team's livestream return for the year and the beginning of the WCS2016's song distribution plan for the tournament, together with more console DLCs and some past/present/future collaboration talk with some of the unit EXILE's members.
March 2016
With one new song coming to General Asia arcades before Japan after the Taiko 11/12 days and a new slew of collaboration continuations/song removals, White Version has had yet another busy month, while the additional content trend for Ps Vita/Wii U titles was still going rampant and the rest of March was all about the latest scoops of a certain other Taiko portable game which had to wait a few more months in order to see the light of day...
Also, we got one of our blog entries plagiarized by someone else.
Fun stuff!
April 2016
WCS 2016-related arcade updates and April Fools tomfoolery aside, this month has been another one of anticipation about future games/events's arrival, as the stream of news about this year's main portable Taiko entry continued to flow through and the returning Spring conventions of the Niconico Chokaigi and the Hakurei Shrine Reitasai advertised the coming of some Taiko magic between the month's end and the next one's beginning.
During this month, we've also introduced a sister feature branch to the Sympho-Neighbours branch, with the Sonority Scouts posts being about shared rhythm games topics of a really contemporary nature!
May 2016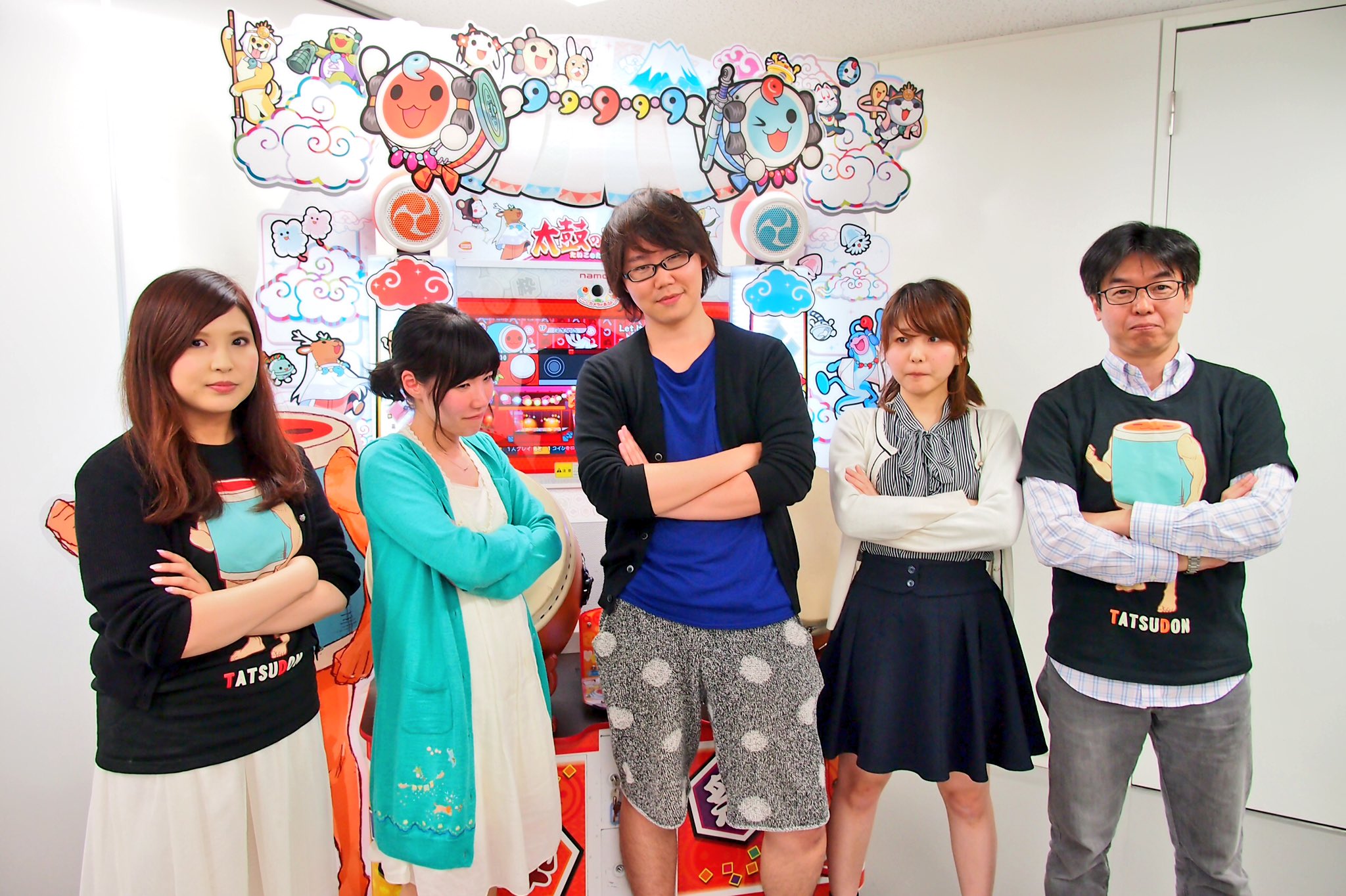 Yet another busy month full of updates about future and interesting Taiko things to come... It has also been one of our own most busy months for real-life commitments too, so much so that we weren't even able to live report that month's Taiko Team livestream properly.
Watching that picture up there again, it's like if the Taiko Team figures are folding their arms right at us...
June 2016
Together with a Taiko-spawn song being featured in an external rhythm game franchise, last June is best remembered to the Taiko scene for the release of Dokodon! Mystery Adventure, the third installment for Nintendo 3DS whose difficulty curve and song selection feels pretty much like a Nintendo-fueled continuation to the legacy set the year prior with Ps Vita's V Version! Incidentally, the DLC support for that game was ended during the same month.
This has also been another month that was geared towards major future content updates, with White Version's firmware successor warming up for its release and a certain returning cross-over tournament setting up all the preparations needed for a third installment...
July 2016
Before that, however, the month of July has seen the rise of Red Version, the color used for the current incarnation of the ongoing HD Taiko arcade gaming generation filled with many kinds of collaboration events and lots of Don Challenge song unlock recycles. The highly-heated World Championships 2016 have also ended with the former 2013/2014 champion managing to defend the title while spotlighting new songs from prominent artists in the general rhythm games scenario.
Other interesting features for this past July include the first arcade events for the newly-released Red Version (including the first new rhythm game crossover event in years with Capcom's crossbeats REV. series) and one of our staff members starting to have
waaaaay
too much Touhou running on his head as a result to summer blog maintenance...
August 2016
Believe it or not, our humble blog turned 6 years! While we've been -once again- really busy to jump in anniversary-related events this year (which were slated to the following month), the post-arcade firmware launch month was jam-packed with updates to the recently-expanded console and arcade fronts, while the Taiko Team abandoned their former blog website in favor of a new, more modern-looking one.
Can't forget the continuing arcade events featuring Taiko 3DS 3 and the Puzzle & Dragons series, too!
September 2016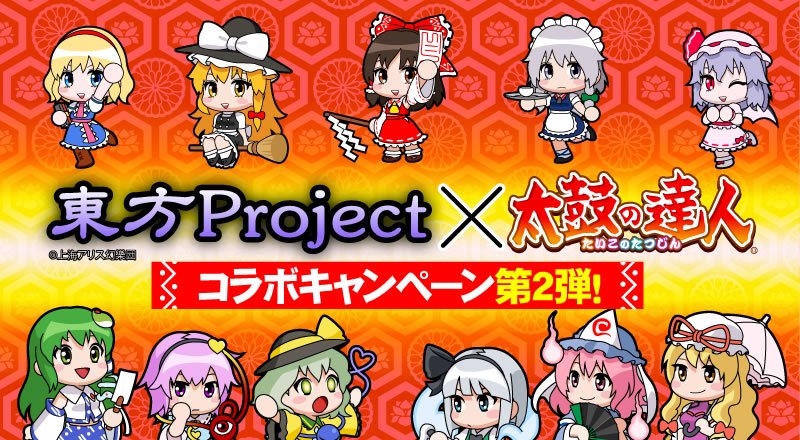 Aside from Red Version getting released to General Asia countries and some rather unfortunate occurrences (namely, the new DLC distribution plan's closure for the Wii U game Atsumete Tomodachi Daisakusen and Red Version's first round of song removals), last September went by mostly with updates of exciting things to come in Red Version for the coming months.
For the more positive additions, we can recall the very first BMS song's inclusion in Taiko, the series' continued involvement in the aforementioned returning cross-over music game tourney and a 2nd Touhou Project collaboration due to the next month's Autumn Reitasai incursion.
B̴̢̙͚̠͘u̵͜҉̝̭̺̗͕̘t҉̵̱̠̪͎̜͕̼͎̗ ̩̗̩͇̬͔̼͢ͅb̵̠̥͈̘͈͙̼́͡o̸̸̳̗̳̖͠y̴̖͇̩ ͇̼́o̞͎͖h̸͚̦͇͕ ̛̛̹̼̹̲͞ͅb̧̛͏̞͉͕̭͔̝̯ͅơ̷͈͇̖̺͉ͅy̜͖̫ ̹̤̦̬̻͜i҉̻̤̺͔̣͠f͚̬͔̯͢͜ ҉̯͓̤t̜͖̣͍̬͉̜́h̵̥̳̯̺͚̜̥́e̴̸̩̝ ̢̣͇̤̕͟a̵͚̖͉̬̣c̨̼̺̣̲t̝̩̮̦̖̜̯̝͖u̶̢̟͍͉̮͍̤̗͟ͅa͎͓̰̖̟̖͇̰̬͜l̤͎̪͓̮͚͙͘ ͓T̙̀̀ơ̵̧̱̪͎̺͓̤͔u҉̨͎͓̩͍͚̖h͙̹͕̞o̧̫̠ṳ͖̀ ̶̛̳̺̟̖g̱̬̮̞̲ͅa̷͙̘̬͕͝m͜҉̞̱̰e̜͝s͟͏͕̮ ̙́͡a̶̶̢͎̫̞̯̻͔̥̹̼r̭̫̱̞̥͕͕e͏̰͈̻͎ ̘̭̥͎̳̮̪̗͚͘͝r͔͢e̸̛͔̫̲a҉̶̳̣l̙͔͠l̡̟͍͓͕̞̀y̨͉̻̹͎͇͟ ̛͖̱͙̺̼͚͖͉̹͜h̜͈̙̠̠͚͠a͕̯̤̘̯͉͢r̡̨͕d҉͢҉͚̙̩
October 2016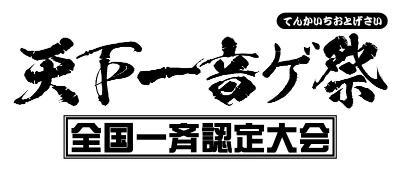 The Tenkaichi Otogesai tournament is back and it's better than... well, last year at least, as crossed-over songs as a feature makes its triumphant return but it's a really stingy exchange yet again with each franchise getting only two new playable tracks overall, when compared to the first edition.
Aside from that, it has been yet another update-oriented month about things to come in the near future, between arcade/console games updates (starring another Chain Chronicle collaboration among other things) and the Taiko Team beginning to advertise more prominently the launch of new original songs with both Youtube preview clips and tweets about returning composers being put in charge of new Taiko songs's creation.
November 2016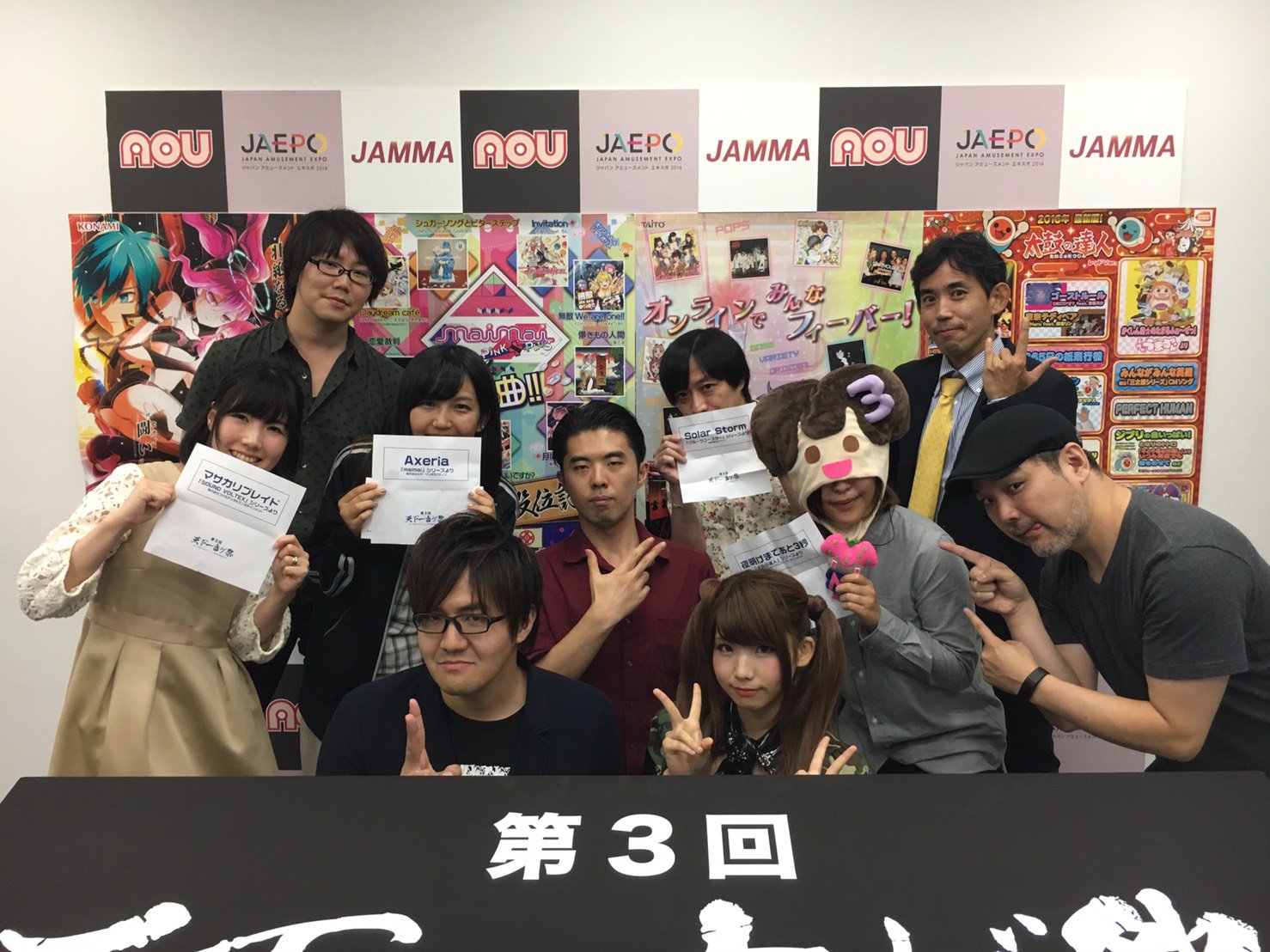 Last November has been the first one in a long while without any major pre-holidays console release, so what happened on the year where there wasn't none?
The answer is... not that much, really, as we've witnessed another relatively-lukewarm period of quick updates about ongoing games/events and future features, with some of the highs being the Taiko livestream edition of the 3rd Tenkaichi Otogesai (+ the related crossed-over track release for AOU-affiliated arcades) and Beat Mario sharing the joy of his wedding to the world via social feeds.
December 2016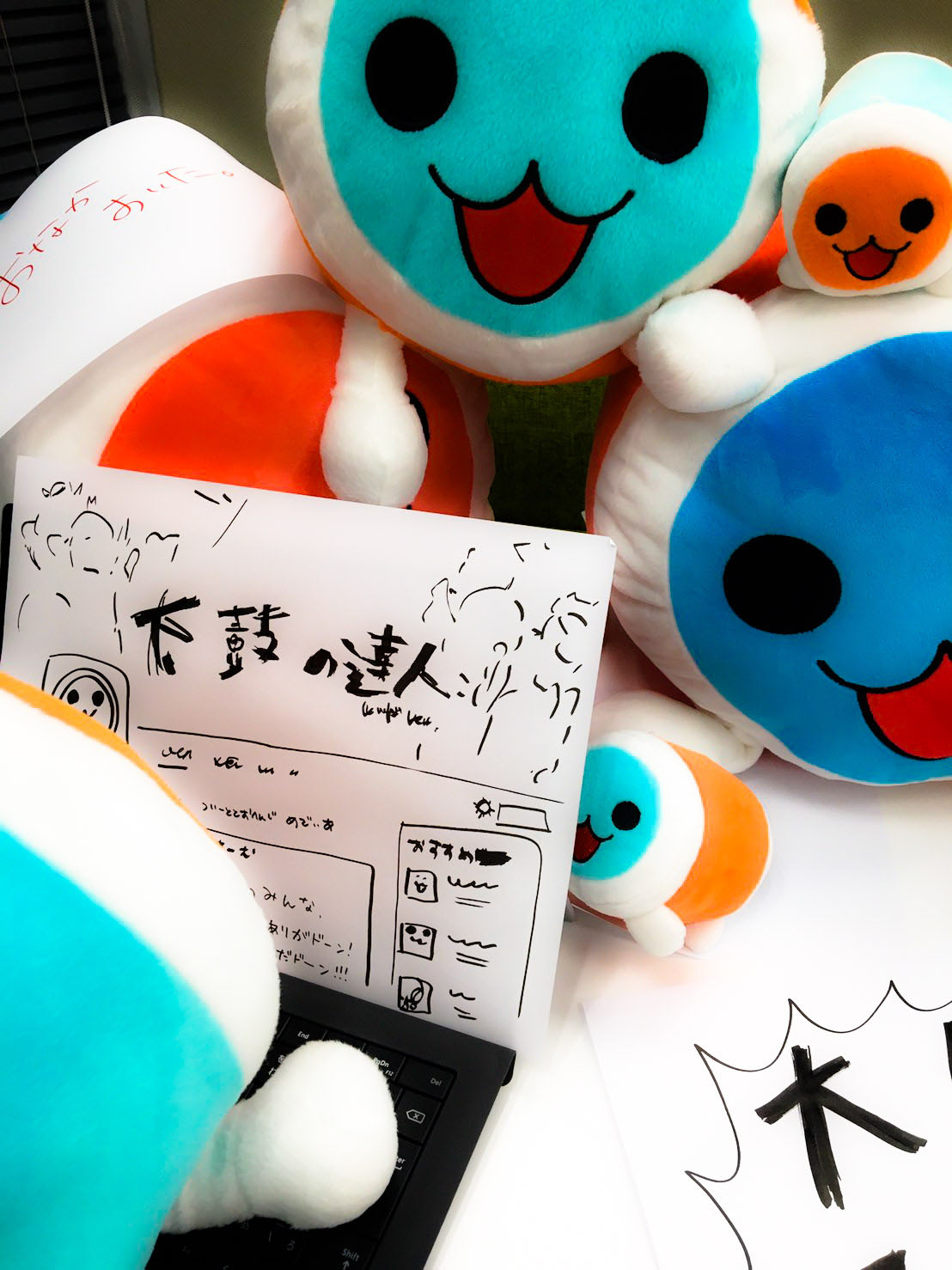 In the spirit of great part of the year's previous event-less months, December has kept arcade and console Taiko gaming's flame alive with updates/new content's distribution, while hinting at new collaboration events (namely, an event featuring the returning iDOLM@STER Cinderella Girls games). Not to mention that Red Version's firmware successor is already lurking in the air...
------------------------------------------
Overall, this closing year for the Taiko no Tatsujin series has mostly been a period of time when there has been a background feel of something happening behind the scenes for the most part, due to a more regular stream of news coming from the Taiko Team members themselves and monthly content support for the most modern games for both arcade and console players, although if the news flow itself was on a very average kind of "excitement degree" during the frames of time that were far away from the year's major games's pre-release/launch window span.
It surely is a step up from the very first days of the Taiko Team's public activity with their first public interactions back in the Taiko 10/DS 2 period, but with the new original song production ratio being not that wide when compared to other Japanese music game series competitors, how will the series raise their stakes in the coming year? Right now, we of the Taiko Time staff are far from knowing that answer like anyone else, but rest assured that we'll be there to document what the Taiko no Tatsujin series is brewing to its players in 2017...
Until then, have an exciting year conclusion and clear resolutions for the next months!
(I for one am happy I can just copy/paste one of mine from last year)