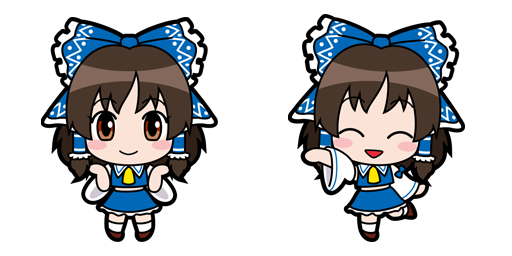 Yesterday, we forgot to talk about the latest Taiko Team blog entry, which focuses on the returning Autumn Reitasai's Taiko-related content for this year.
While we already know the more meatier content thanks to the past livestream run like the limited blue Reimu Petit Chara shown above (
see the rest here!
), after the jump we'll be focusing of the minor new bits that have been announced with this blog entry.
About the incoming Autumn Reitasai itself, there will be a special live event where Taiko Team sister Daifuku will play together with other unexperienced donders in order to improve the game of both contestants! This 'Beginner-only' corner will take place from 12:30 a.m. for about 40 minutes.
For those who are still trying to unlock the leftover Touhou Project rewards in the ongoing, extended campaign return (which will end on
November 13th
), the week after this Sunday's Touhou-related convention will make players earn double the tickets for rolling in both limited gachas!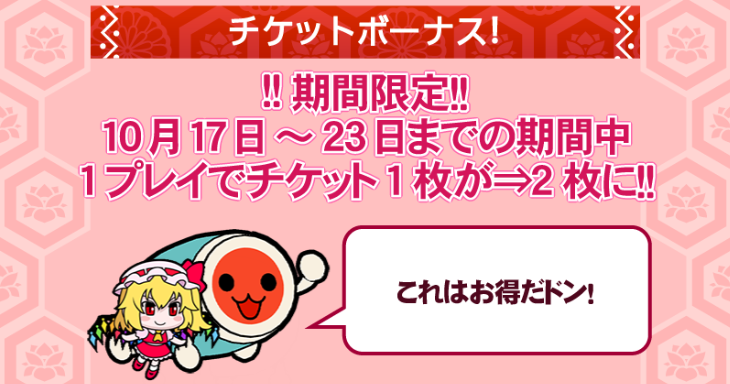 Ending the article are a couple of whited-out revelations from recurrent Touhou Project song notecharters Marimo Institute and Arihotto, whose favorite characters in Touhou lore and Petit Gacha candidates are respectively
Koishi Komeiji
and
Suika Ibuki
. The latter isn't currently available as a Petit Chara... maybe next time?
Link to original post