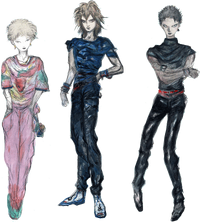 Originally released as a promo-only piece of software on June 2013 for the Vocaloid brand's 10th anniversary, ZOLA PROJECT is a Vocaloid unit from YAMAHA Corporation that stars the members YUU, KYO and WIL.
The word ZOLA in the title stands for "Zenithal Operated Liaison Aggregation". The unit's designs were made by Final Fantasy series character designer Yoshitaka Amano (天野 喜孝), in the attempt of visually catering to a bigger listener fan-base in the Vocaloid sphere. Although if the identities of the real-life voice actors of the ZOLA PROJECT unit are gated behind their respective voiced member, this hasn't stopped the singers to publicly appear in many occasions and events, one of which being actual guest stars for one of the Taiko Team's livestream broadcasts!
Like for Yuzuki Yukari, ZOLA PROJECT's venture into Taiko gaming happened due to a contest-winning track.
Back to Vocaloid Corner
Back to Song Series Showcase page