The 'end-of-the-month' V Version update has been delayed by a day from the usual Thursday, as today's reveals will be quite juicy for Taiko and Touhou aficionados alike!
Before the collaboration talk, we have to talk about the next Popular Song pack which will also come next month, packed for once of all challenging songs already featured in previous Taiko arcade/console games. Coming out on
October 1st
, the
Popular Song Pack 6
holds the following songs:
My Soul, Your Beats!
Kill Me no Baby! (キルミーのベイベー!)
Hatsune Miku no Shoushitsu -Gekijouban- (初音ミクの消失 -劇場版-) (+ Ura)
Venomous (+ Ura)
Nightmare Survivor (ナイトメア・サバイバー) (+ Ura)
(Please don't trust what V Version's website tells us- MSYB, Miku no Shoushitsu and Venomous won't be changing genres to J-Pop, GM and NO respectively, as the pictures in the Pop Song Pack 6 page testify.)
And now to the main course of the month: the Touhou Project collaboration! V Version will get a special song pack which will pack in the Hakurei Reimu outfit and three tracks from the arcade scene: Beat Mario's Night of Knights, Demetori's arrangement of Necrofantasia and Akeboshi Rocket (明星ロケット), by Kishida Ryouran and The Akeboshi Rockets. And yes: the last one isn't available in the Taiko arcade scene yet! Needless to say, Touhou custom dancers will be here to join the fun as well.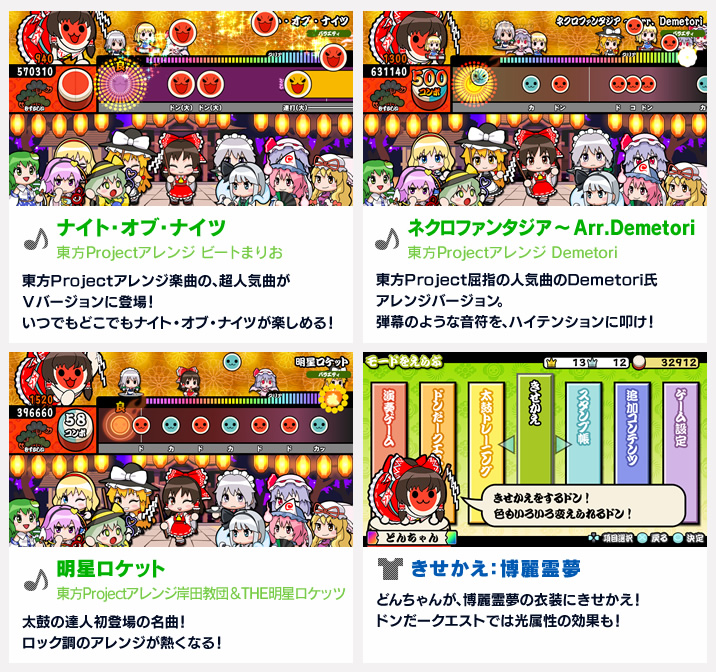 The Touhou-themed pack will be publicly released on November 5th, but all the attenders of this year's Hakurei Shrine Autumn Reitasai (on October 18th) will be able to receive an early bird download code for the pack free of charge, in order to let the most avid of Touhou fans to enjoy some bullet-hell arrange magic one month in advance. The public November 5th pack will also be free to download until January 6th next year, after which date the pack will be priced like the other ones before it.
---------------------------------------------
Believe it or not, this wasn't even the full extent of the latest Touhou Project collaboration event! Come back in a few hours to see what comes to the arcade side...