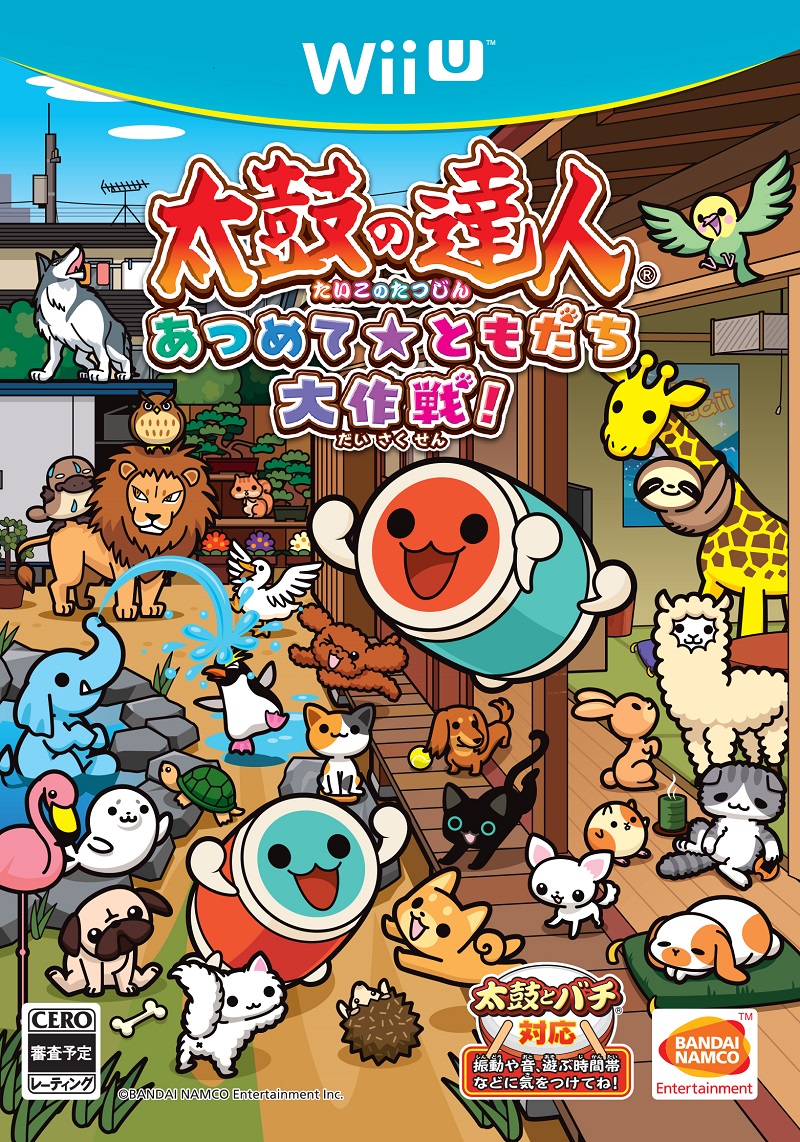 Atsumete★Tomodachi Daisakusen! (lit. Gather Buddy Attack!) is the third Taiko videogame for the Wii U home console, and the second console game to be released in occasion of the 15th Anniversary of the Taiko no Tatsujin franchise; as such, the Game + Tatacon bundle of this title also includes
a set of promotional goods
related to the anniversary celebrations.
This installment inherits the signature multiplayer modes from the previous Wii U games (Baton Pass from Wii U Version and Intro Don! from Tokumori), with the addition of the new 'Buddy Attack' single player mode, in which Taiko sibling Kat-Chan tries to become a popular star by befriending wild animals from the streets with music. Content unlocking through the Mekadon Gacha and DLC supports make their return, as well as the coming of Nintendo-exclusive features to the game like Miiverse support and, for the first time ever, compatibility with Nintendo's Amiibo figurines.
Unlike the last Wii games (and the previous Wii U title), Atsumete★Tomodachi Daisakusen's tagline shouts about the game having a lot of never-heard-before songs on Taiko; while this fact is certainly true for nearly all the genres, the ones which have benefit the most are the licensed ones. Since their inception in console gaming, this is also the first Taiko title without any Idolm@ster songs and custom dancers for the Vocaloid genre's tracklist.
Stamp Album
Downloadable Content
~Theme song~
| | |
| --- | --- |
| No. of songs | 87 (total 134) |
| No. of secret songs | 34 |
| No. of songs with Ura (1P) | 13+10 |
| No. of free downloadable songs | 46 |
Title
366-Nichi (366日)
HY
x2
x3
x5
x7 (video)
Robinson (ロビンソン)


Spitz

x3
x3
x4
x7 (video)
Joyful (じょいふる)


Ikimono Gakari

x3
x4
x6
x6 (video)
Sakuranbo (さくらんぼ)


Ai Ootsuka

x4
x4
x4
x8 (video)
Follow Me


E-girls

x3
x5
x6
x7 (video)
Gimme Choco!! (ギミチョコ!!)
Babymetal
x4
x6
x7
x8 (video)
Gimme Choco!! (ギミチョコ!!)
Babymetal
-
-
-
x10 (video)
LISTEN TO THE STEREO!!


GOING UNDER GROUND

x3
x5
x5
x7 (video)
LISTEN TO THE STEREO!!


GOING UNDER GROUND

-
-
-
x7 (video)
ANTI-HERO


SEKAI NO OWARI

x3
x4
x5
x8 (video)
ANTI-HERO


SEKAI NO OWARI

-
-
-
x9 (video)
R.Y.U.S.E.I.


Sandaime J Soul Brothers

x3
x5
x7
x8 (video)
DREAMERS' PARADISE
DANCE EARTH PARTY feat.Mummy-D(RHYMESTER)
x3
x4
x5
x7 (video)
Kimi ga Kureta Natsu (君がくれた夏)


Leo Ieiri

x3
x4
x5
x6 (video)
Oh! Rival (オー!リバル)


Porno Graffiti

x3
x4
x7
x8 (video)
360°
miwa
x2
x3
x5
x7 (video)
OLA!!!


Yuzu

x4
x4
x6
x7 (video)
Muteki no Girfriend (無敵のガールフレンド)


Sakurako Ohara

x2
x3
x4
x5 (video)
Anata ni Koi wo Shite Mimashita (あなたに恋をしてみました)


chay

x3
x4
x4
x6 (video)
RPG
Sekai no Owari
x3
x3
x4
x6 (video)
Hello, world!
BUMP OF CHICKEN
x4
x5
x6
x7 (video)
Netsujou no Spectrum (熱情のスペクトラム)
Ikimono Gakari
x3
x4
x5
x8 (video)
Ai o Komete Hanataba o (愛をこめて花束を)


Superfly

x3
x3
x4
x5 (video)
Ai Uta (愛唄)


GReeeeN

x2
x2
x2
x3 (video)
Title
Kimi no Shiranai Monogatari (君の知らない物語)


Bakemonogatari

x3
x4
x3
x7 (video)
Kill Me no Baby! (キルミーのベイベー!)
Kill Me Baby
x4
x5
x8
x9 (video)
Kimi o Nosete (君をのせて)
Laputa

: Castle in the Sky

x2
x3
x4
x6 (video)
sakura


Eureka Seven

x3
x4
x6
x7 (video)
only my railgun


Toaru Kagaku no Railgun

x3
x5
x6
x7 (video)
Ultraman X (ウルトラマンX)
x1
x3
x5
x7 (video)
Ultraman X (ウルトラマンX)
-
-
-
x10 (video)
Warera Omou, Yue ni Warera Ari (我ら思う、故に我ら在り)


Kamen Rider Ghost

x3
x4
x5
x7 (video)
Hard Knock Days


One Piece

x3
x4
x5
x6 (video)
Jiriki Hongan Revolution (自力本願レボリューション)
Assassination Classroom
x4
x6
x6
x7 (video)
START DASH SENSATION


Aikatsu!

x2
x3
x4
x5 (video)
Ashita no Hikari (アシタノヒカリ)


World Trigger

x2
x3
x6
x8 (video)
DAY×DAY


Gintama

x4
x5
x6
x8 (video)
Dream Parade (ドリームパレード)
PuriPara
x3
x4
x4
x5 (video)
Kaze (風)
Naruto Shippuden
x3
x4
x5
x6 (video)
Getta Banban (ゲッタバンバン)


Pokémon XY

x2
x4
x5
x6 (video)
Lapis Lazuli (ラピスラズリ)


The Heroic Legend of Arslan

x2
x3
x5
x7 (video)
Believe in yourself


baby steps

x3
x4
x4
x6 (video)
Miracle Go! Princess PreCure (Miracle Go! プリンセスプリキュア)
x3
x4
x3
x8 (video)
database


Log Horizon

x4
x6
x6
x7 (video)
Kaitou Miracle Shounen Boy (怪盗ミラクル少年ボーイ)


Mysterious Joker

x3
x5
x5
x7 (video)
Title
Eikyoku/Gyouan (郢曲/暁闇)


Touhou Project x NAMCO SOUNDS - Linda AI-CUE

x3
x7
x8
x10 (video)
Kero⑨Destiny (ケロ⑨destiny)


Touhou Project Arrange - Silver Forest

x4
x6
x6
x9 (video)
Kokihi no Shinzou -SCARLET HEART- (深緋の心臓 -SCARLET HEART- )
Touhou Project × NAMCO SOUNDS - kyo feat. Asana (IOSYS)
x3
x5
x6
x8 (video)
Iro wa Nioedo Chirinuru o (色は匂へど 散りぬるを)


Touhou Project Arrange - Yuuhei Satellite

x2
x4
x5
x8 (video)
Sakura (Haru) (さくら(春))
x3
x5
x7
x7 (video)
Honnouji no Hen (本能寺の変)


Egg-splosion

x3
x5
x6
x8 (video)
Atatakai'n Dakara♪ (あったかいんだからぁ♪)


Kumamushi

x3
x5
x4
x7 (video)
Lassen Gorelai (ラッスンゴレライ)


8.6 Second Bazooka

x3
x5
x5
x7 (video)
Lassen Gorelai (ラッスンゴレライ)


8.6 Second Bazooka

-
-
-
x9 (video)
RAINMAKER


New Japan Pro Wrestling Kazuchika Okada Entrance Theme

x3
x4
x5
x8 (video)
Vocaloid

(9+2 songs)
Title
Wanya World (わんにゃーワールド)


feat. Kagamine Rin ・Kagamine Len starring Shimoda Asami

x4
x5
x6
x9 (video)
Kagerou Daze (カゲロウデイズ)


Jin

x3
x5
x7
x7 (video)
Kagerou Daze (カゲロウデイズ )


Jin

-
-
-
x8 (video)
Karakuri Pierrot (からくりピエロ)


40mP

x4
x6
x7
x8 (video)
Tokyo Teddy Bear (東京テディベア)


Neru

x4
x6
x6
x8 (video)
IMITATION BLACK


SCL Project (natsuP) feat.Vana N'Ice

x3
x5
x5
x7 (video)
IMITATION BLACK


SCL Project (natsuP) feat.Vana N'Ice

-
-
-
x9 (video)
Houkago Stride (放課後ストライド)
Last Note.
x3
x5
x6
x5 (video)
Juumensou colorful ver. (十面相 colorful ver.)


YM

x3
x5
x3
x6 (video)
Juumensou colorful ver. (十面相 colorful ver.)


YM

-
-
-
x8 (video)
Luka Luka Night Fever (ルカルカ☆ナイトフィーバー)
samfree
x3
x6
x7
x8 (video)
Luka Luka Night Fever (ルカルカ☆ナイトフィーバー)
samfree
-
-
-
x9 (video)
M.S.S. Planet
M.S.S. Project
x3
x5
x7
x8 (video)
BORDERLESS
ZOLA PROJECT
x4
x6
x5
x8 (video)
Kohi no Aji to (珈琲の味と)


Harunaba

x4
x5
x6
x9 (video)
Title
Charlie Dash! (チャーリー ダッシュ!)
x4
x7
x8
x10 (video)
Carmen Prelude (カルメン 組曲一番終曲)


Bizet

x3
x5
x5
x7 (video)
Ninth Symphony (第九交響曲)


Beethoven

x3
x3
x3
x6 (video)
Bolero (ボレロ)


Ravel

x2
x5
x4
x7 (video)
L'Arlésienne (アルルの女)


Bizet

x4
x5
x6
x7 (video)
First Movement from Symphony No.25 (交響曲第25番ト短調より 第一楽章)


Mozart

x5
x5
x6
x7 (video)
Die Forelle (ます)
x3
x4
x5
x7 (video)
Maow (まおぅ)


feat. Yuwa (pLumsonic)

x3
x6
x7
x8 (video)
Alborada del Gracioso (道化師の朝の歌)


Ravel

x5
x7
x7
x8 (video)
Symphonic Medley No.1 (シンフォニックメドレー第1番)
x3
x5
x7
x8 (video)
Tritsch Tratsch Polka (トリッチトラッチポルカ)


Johann Strauss

x4
x4
x6
x8 (video)
Chikochiko (千鼓千鼓)
x4
x6
x8
x9 (video)
Puchipochi (プチポチ)
x5
x7
x8
x10 (video)
Title
BLAZING VORTEX


Critical Velocity

x5
x6
x7
x7 (video)
BLAZING VORTEX


Critical Velocity

-
-
-
x10 (video)
Yoake Made Ato 3-byou (夜明けまであと3秒)


Synchronica

x4
x5
x7
x9 (video)
RAGE v.self
x3
x4
x6
x8 (video)
Animal Crossing New Leaf Medley (とびだせ どうぶつの森 メドレー)
x3
x4
x5
x7 (video)
Dragon Ball Heroes (ドラゴンボールヒーローズ)


God Mission Series Theme Song

(

ゴッドミッションシリーズ テーマソング)
x3
x4
x5
x7 (video)
Baladium's drive
Klonoa: Door to Phantomile
x3
x4
x5
x7 (video)
Baladium's drive
Klonoa: Door to Phantomile
-
-
-
x9 (video)
Yokai Dochuuki Ondo (妖怪道中記音頭)
x4
x3
x3
x6 (video)

Yokai Dochuuki Ondo (妖怪道中記音頭)
-
-
-
x10 (video)
Soul Calibur II (ソウルキャリバーⅡ)
~Brave Sword, Braver Soul~
x3
x5
x5
x7 (video)
Soul Calibur II (ソウルキャリバーⅡ)
~Brave Sword, Braver Soul~
-
-
-
x7 (video)
Night And Day


Ace Combat 2

x4
x6
x8
x9 (video)
Mojipittan Medley (もじぴったんメドレー)
x4
x4
x3
x7 (video)

Lovely-X (ラブリーX)
x4
x5
x6

x7 (video)
Lovely-X (ラブリーX)
-
-
-
x8 (video)
Knuckle Heads (ナックルヘッズ)


~Ouburoukou~ (

~鷹舞狼吼~)
x4
x5
x7
x9 (video)
Picopico Mappy (ピコピコ マッピー)
Mappy Medley x Prof. Sakamoto (マッピーメドレー×サカモト教授)
x4
x6
x7
x8 (video)
BLUE TOPAZ
Rave Racer
x4
x5
x7
x8 (video)

EAT'EM UP!
R4 -RIDGE RACER TYPE4-
x3
x5
x6
x8 (video)
Tales of the Abyss (テイルズ オブ ジ アビス)
The arrow was shot
x5
x6
x7
x8 (video)
Wonder Momoi (ワンダーモモーイ)
x4
x5
x6
x7 (video)
Koi wa Mizuiro (恋はみずいろ)


Mizuiro Blood

x3
x4
x5
x7 (video)
KAGEKIYO


~Genpei Toma Den Medley~ (~源平討魔伝メドレー~)

x4
x5
x7
x8 (video)
KAGEKIYO


~Genpei Toma Den Medley~ (~源平討魔伝メドレー~)

-
-
-
x10 (video) (2P video)

Where is the Target?


Rolling Thunder 2

x4
x6
x7
x9 (video)
Namco Original

(23+16 songs)
Title
Maou no Showtime (マオウのショウタイム)
x4
x6
x7
x9 (video)
Shikou no Ran (紫煌ノ乱)


Zeami

x5
x6
x8
x10 (video)
Hataraku 2000 (はたラク2000)
x5
x7
x8
x10 (video)
Karyu (夏竜 ~Karyu~)
x4
x6
x7
x8 (video)
Karyu (夏竜 ~Karyu~)
-
-
-
x9 (video)
Senpuu no Mai- Heaven (旋風ノ舞【天】)
x4
x6
x8
x10 (video)
Senpuu no Mai- Earth (旋風ノ舞【地】)
x4
x6
x7
x9 (video)
Black Rose Apostle
x5
x6
x8
x10 (video)
Black Rose Apostle
-
-
-
x10 (video)
mint tears
x4
x6
x7
x10 (video)
Evidence of evil


AJURIKA

x5
x7
x8
x10 (video)
Yozakura Shanikusai (夜桜謝肉祭)
x4
x6
x8

x9 (video)
Yozakura Shanikusai (夜桜謝肉祭)
-
-
-
x10 (video)
Love Fantasy (恋幻想(Love Fantasy))


HONOKA

x4
x6
x6
x8 (video)
Yokuderu 2000 (よくでる2000)
x5
x6
x7
x9 (video)
Zero no Rhapsody (零の狂詩曲)
x4
x6
x7
x9 (video)
Xa


Tatsh

x5
x6
x7
x9 (video)
Xa


Tatsh

-
-
-
x10 (video)
Natsumono☆ (ナツモノ☆)


Tanqun Democracy

x3
x4
x6
x6 (video)
Ignis Danse
x4
x7
x8
x10 (video)
Issho ni Asobo♪ (いっしょにあそぼ♪)
x3
x5
x7
x8 (video)
Kyou wa Taiko-youbi (きょうはたいこ曜日)


Taiko no Tatsujin Appare! Sandaime theme song

x2
x4
x5
x5 (video)
Kimi to Hibiku Harmony (キミと響くハーモニー)
x3
x4
x5
x6 (video)
Kimi to Hibiku Harmony (キミと響くハーモニー)
-
-
-
x8 (video)
Inu Hoeru (犬吠える)
x4
x5
x5
x6 (video)
Atashi Ikasama Koi wa Ikasama (あたしイカサマ恋はイカサマ)
x4
x5
x6
x6 (video)
Sports Digestdon (スポーツダイジェスドン)
~Fill In The Sky~

x4
x5
x6
x7 (video)
Sports Digestdon (スポーツダイジェスドン)
~Fill In The Sky~

-
-
-
x9 (video)
Many wow bang!
x4
x4
x7
x7 (video)

Many wow bang!
-
-
-
x9 (video) (2P video)
Maigo no UFO (迷子の U F O)
x4
x6
x6
x7 (video)
Amanda
x3
x4
x5
x8 (video)
Shugaku Travelers (シューガク トラベラーズ)


Yuka Uchiyae

x4
x5
x5
x8 (video)
Nagisa no Andromeda (渚のアンドロメダ)
x4
x4
x5
x8 (video)
Kaze no Fantasy (風のファンタジー)
x4
x6
x6
x8 (video)
Kathiawar no Cutlass (カッティアワールの宝剣)
x4
x5
x7
x8 (video)
Gashadokuro (がしゃどくろ)
x5
x6
x7
x8 (video)
Mahoujin -Summon Delta- (魔方陣 -サモン・デルタ-)
x4
x6
x7
x9 (video)
Sacred Ruin (セイクリッド ルイン)
x5
x6
x7
x9 (video)
Sacred Ruin (セイクリッド ルイン)
-
-
-
x10 (video)
Shin Garyoutensei (真・画竜点睛)
x4
x5
x6
x9 (video)

Shin Garyoutensei (真・画竜点睛)
-
-
-
x9 (video)

Meena no Oyashiki (ミーナのおやしき)
x4
x5
x7
x9 (video)
Hayabusa (隼)
x5
x7
x8
x9 (video)
Yami no Tamashii (闇の魂)
x5
x7
x8
x9 (video)
Yuugen no Ran (幽玄ノ乱)
x5
x7
x8
x10 (video)
Kechadon 2000 (ケチャドン2000)
x5
x6
x8
x9 (video)

Tenjiku 2000 (てんぢく2000)
x4
x7
x8
x10 (video)
Norudon 2000 (ノるどん2000)
x4
x6
x7
x10 (video)
Back to console Taiko list