A new year is upon us! A time to look forward to future events, and recollect our memories of the past 12 months.
And what an awesome 12 months it was; so much happened for our beloved Taiko no Tatsujin, it rivals even the cherished 10th Anniversary events! So many new releases, events and collaborations have occurred on both arcade and console that it's hard to keep track of them all! Let's look at 2014 month by month, shall we?
January 2014
Taiko Momoiro is just one month old, but it had already started roaring on what usually is a silent month for gaming, with its localization in other Asian countries (the first networked HD Taiko!) starting with Taiwan, then Hong Kong, Malaysia and Thailand, and even reaching Brazil and Kenya later in the year! The top picture of the article is from the Taiwanese launch event, inaugurated by modern Taiko games programmer Takemoto.
The Japanese Taiko scene is burning too with its own business, as a couple of software updates and two continuing/returning collaborations (Momoiro Clover Z and Puzzle & Dragons) have kept expectations high, even in the console department with free DLC songs for the Taiko Wii U.
February 2014
The month of February also rode the collaboration wave for, with a slew of new merchandise at Winter World Hobby Fair 2014, additional tie-ins with McDonald's, Puzzle & Dragons Z and a silent yet steady localization of the latest Mario Kart Arcade GP title in America, with Don-Chan and everything else. The month has also been an emissary of future and bigger events, with the inclusion of more IA/Touhou songs, and Idolm@ster songs being featured in Maimai, everyone's favorite 'washing machine' rhythm game from Sega.
But not everything is fun and games for the month; February also saw the death of Luvkraft composer Ishibashi 'mirawi' Wataru, composer for nearly all the Chata and Kaori Aihara songs on Taiko games up to March '14. The news was spread on the Internet three months later and recollected on our blog later on, after a random find by our staff. His last composition for Taiko was a Donchare Namco Original named Mahou no Kissaten, sung by Kaori Aihara.
March 2014
With mild updates in the arcade front, the birth of Taiko mini soundtracks and Taiko Wii U users enjoying four exclusive Game Music tracks from classic Nintendo games as part of a Famicom Remix event, the key word for the previous March has been loud and unanimous: HYPE. A Nicovideo livestream for the third NicoNico Super Conference has spread the announcement of a three-piece rhythm game collaboration between Bandai Namco, Sega and maimai, simply known as the Game Music Triangle.
Starting the month after, the event linked the arcade releases of Groove Coaster, maimai and Taiko no Tatsujin with new songs, ultimately resulting into the release of three original Game Music arrangements from the three game companies' history and three remixes from the aforementioned arranges. Which, in retrospect was slightly disappointing as most fans were expecting original song exports from each of the games into the others. But that craving would be satiated some time later....
April 2014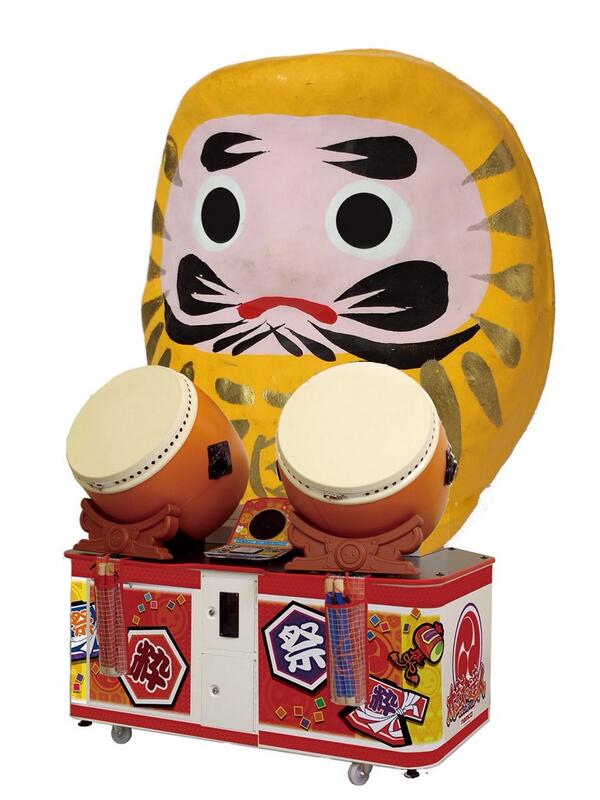 With the April Fools' round yellow Daruma and the starting collaboration triangle, the Taiko scene of this month surely started in a good shape! Puns aside, further livestream sessions expanded the GMT's presence, as well as Touhou tracks for the yearly Hakurei Shrine Festival and the debut of Yuru-kyara songs with Kumamon on the home console scene. Last but not least, the shape of a brand new portable Taiko game and a certain composer's real identity have become clearer and clearer...
Last April has also been a great month for our blog as well, as we welcomed long-time readers
nigelliusnitrox
and
CoroQuetz
as regular contributors for the blog. Thanks for your help, guys!
May 2014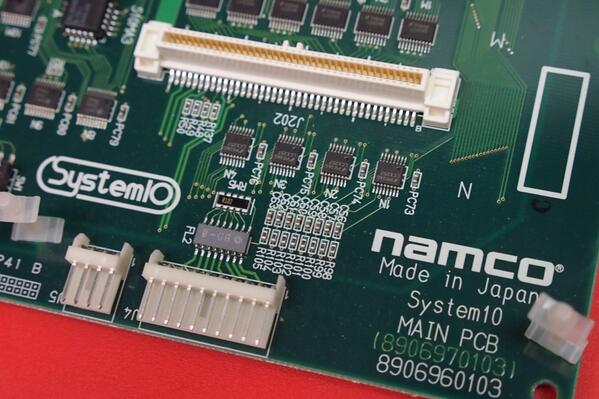 2013's May was an uneventful month for Taiko fans. This May, the pre-release information for the second Taiko game for Nintendo 3DS and the expanded audience for Momoiro Asian arcades made the Taiko Team more active in the social front as well, on both the usual Twitter account and a new Facebook presence, with MC Linn of EkiBEN 2000 fame handling the translation of Taiko Team's announcements into Chinese for the Asian fanbase.
Aside from that, the climate on Taiko games was simply gliding under the wind of excitement from the previous months, with the final GMT songs and some other public exhibits of the arcade. It has also been the month of mobile spin-offs for the franchise, with an Au Smart Pass-exclusive app about outfit customization and the announce of another Taiko-themed game for iOS (Taiko RPG da-don!) taking a page from Puzzle & Dragons' book.
June 2014
This has been a jolly month both for console and arcade Taiko players! While the former category saw the release of the much-anticipated second 3DS title for the franchise (with paid DLC!), the latter group rejoiced as 2013's much-delayed Taiko tournament finally came to a close, featuring Momoiro's final boss songs, and the explosive reveal of both Zeami as Tatsh, and together with it, his challenge to the winner of the tournament with his latest devilish creation, Yuugen no Ran.
One more huge item was revealed at the tourney, one that would be release just the month after.
July 2014
The Taiko arcade's rainbow of colors grew larger on July, as a brand new firmware was released, complete with many songs from Taiko 3DS 2, system tweaks, custom song folders and generally-speaking, a whole lot more new content. The 3DS game continued its expansion as well, with the introduction of monthly DLC packs with extra Story Mode chapters. For the record, we're getting the last DLC pack of this cycle by January 2015's end, so get ready!
Meanwhile, our blog received yet another additional feature for our readers' pleasure: our own Twitter account! Drop by in for periodical, fast updates on what's going on in this blog.
August 2014
Being the month of this blog's creation back in 2010, August always means business to us. However, the announce of yet another cross-over rhythm game collaboration in the same year has set the bar at a new, unprecedented height! Started in the following months by the Japanese Arcade Operator Unit, the Tenkaichi Otogesai tournament tied together the three GMT rhythm games and Konami's jubeat series in a legendary sharing of crossed-over songs, featuring one famous boss tune from each of the participating games and 4 brand new songs made by different composers from the four franchises involved, featuring nature's four elements as the driving theme.
Among the other hot topics for the month, we also had some Super Smash Bros. talk in the composers department and another slew of rumors for an additional console game for the year...
September 2014
The previous month's rumors were not spread to give false hopes: a second Taiko videogame for Wii U was actually coming! ... it's just that we had two more months of waiting ahead. Until then, September had a more-relaxed attitude, focusing on crossed-over activities with livestreams, the Tenkaichi Otogesai, PazuDora (yet again) and a series of contests starring the hyper-energetic Funassyi, Funabashi prefecture's unofficial mascot.
October 2014
Another kind-of-random month follows, as the most exciting Taiko-related news come from either future events or outside of Taiko. Falling in these categories, we had a new slew of Touhou songs exclusive to the Autumn Hakurei Shrine Festival, the Tenkaichi Otogesai's beginning and the first location test for new rhythm game from Bandai Namco (Synchronica), which is partially relying on Taiko no Tatsujin's popularity both for advertisement and for a certain flagship song's presence...
November 2014
Our quest of updating the out-dated content on this blog becomes harder and harder for us, as a second console Taiko game hit the scenes with roughly 30 songs more than its predecessor at launch. Also note-worthy throughout the month were the final Tenkaichi Otogesai songs and new collaborations with Puyo Puyo games and enka singer Sachiko Kobayashi, the latter of which is still running (at the time of this feature's publishing date).
December 2014
The Autumnal laid-back tones make their comeback, with little to no new major features other than the additional content/news being revealed in two different streams and a Taiko x Meiji collaboration aimed to the arcade machines. On the distance though, we can already see the perspective of yet another firmware upgrade for the Taiko arcades, coming in 3 months...
--------------------------
That wraps up 2014 in Taiko gaming. With the usual focus on collaboration and general advertisement throughout the year, it still has been a stellar year for Taiko gaming in any way: while introducing lots of new tunes and a big share of new features throughout new arcade updates and games, it's also the first year since the foundation of Taiko games' lore leeching into multiple rhythm game franchises at the same time (and vice-versa!), thanks to two legendary cross-over events.
We hope that you guys enjoyed the ride as much as we do! Let's hope for an even brighter 2015.