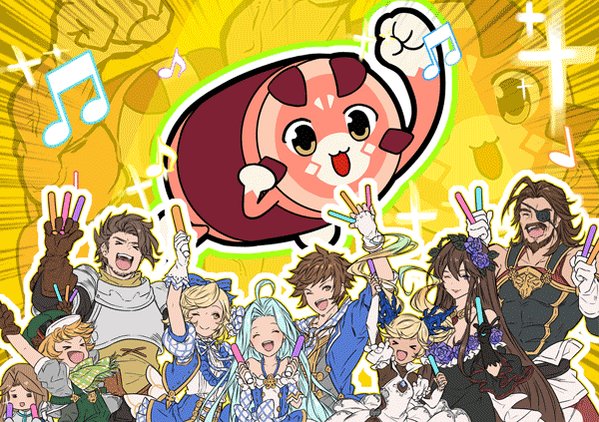 Available for download and playable on iOS and Android devices on April 1 2018 only, the
Oira
(オイラ) app is part of the April Fools 2018 shenanigans for Cygames' hit mobile RPG Granblue Fantasy. The ominous dimly-lit face on the title screen is that of "Oira"(オイラ), the wonky humanoid form of GF's series mascot and dragon Vyrn (ビィ) as seen in some official media like the 4-koma comics and past April Fools events. The visual premise is to roll "Oira" into a Don-chan-like drum shape (sometimes with uber-buff arms and legs), and giving all notes the "Oira" face as well.
The game features actually playable Taiko no Tatsujin-style notecharts for 15 songs from the Granblue Fantasy series. Songs that already appeared in actual Taiko no Tatsujin (Kimi to Boku no Mirai and Sora no Michishirube) also get exclusive notecharts just for this game. Unlike most modern Taiko no Tatsujin games though, most songs only have two to three difficulties. Each song either comes with a set of fully choreographed custom dancers, or features a tense battle between the Drum Master-class character and a fearsome GF enemy. After each play, you also have a choice to share your performance on your social media, with special result-image template exclusive to each difficulty (not just each song).
There is good evidence that instead of just a one-way mock-up by the GF makers, this game is also recognized by Taiko Team: Cygames has openly stated that the app is made in supervision by Bandai Namco Entertainment in an
official news post
, and BNE is also listed as a "Special Thanks" in the ending credits.
Kinda puts it into perspective when 2018 was the most underwhelming April Fools Taiko no Tatsujin has had for years.
Note:
The difficulty names are actually
EASY
,
NORMAL
,
HARD
,
EXTREME
and
MANIAC
in order, but we are using the normal Taiko difficulty icons here due to spacing limitations.
Title



KuroVyrn no Tsubasa
黒ビィんの翼
★1









★10



Kimi to Boku no Mirai
キミとボクのミライ



★1
★4









Sora no Michishirube
ソラのミチシルベ



★2
★5









Sanba-garasu Otoko-uta
三羽烏漢唄



★3
★6









GO



★2
★5









Yozora no Shizuku
ヨゾラのシズク



★1
★4









Never Ending Fantasy



★3
★5









Mahou no Note
マホウのノート



★2
★6









Nanoka Kakete Sekai o Tsukuru Yori Kawaii Onna no Ko Hitori Tsukutta Hou ga Ii
7日間かけて世界を創るより可愛い女の子1人創った方がいい



★3
★6









Sora no Parade
ソラのパレード



★1
★5









The Dragon Knights



★2
★5









Cafe de Party Night
  

Us Solving Captain's Troubles In Literally Seconds Version SP


カフェdeパーリナイ
  ダンチョのお悩み俺らがまるっと秒で解決編SP



★3
★6









Souku Hana no Mai
蒼紅華之舞



★3
★6









Kurogin no Tsubasa
黒銀の翼



★3
★7
★9






The Ultimate
ジ・アルティメット



★3
★7
★10