It's update day for the Nintendo Switch Taiko game's webside once again! Not only the official PV embeded above is being added, but we also got new details about the available control schemes and its song list. We also have a definitive release date for the game:
July 19th
!
See you after the jump for the rest of the newly-revealed features.
Starting from some collaboration-related talk, some Nintendo characters will become elegible of the game's Performance Character feature! Both the
Inkling (Squid Form)
from Splatoon and
Kirby
can be chosen as characters to play with, alongside the Taiko siblings and other characters.
Judging from the 'Lv.1' label on these screens below, it appears that the additional characters' Performance Skills can be improved in some way or another...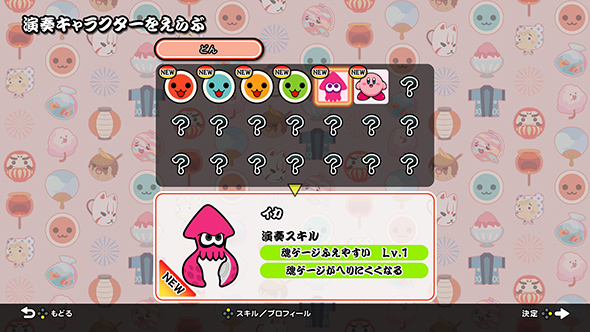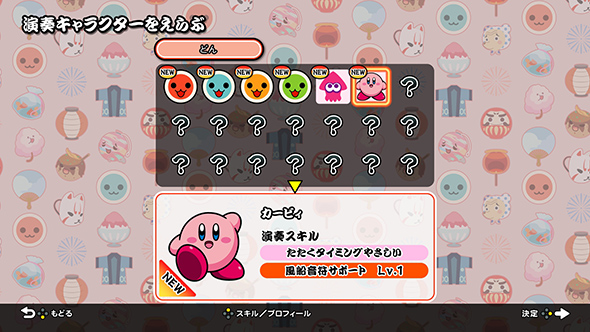 As Kirby becomes a playable character, it only makes sense to feature one of his songs in the Nintendo Switch Game! Taiko 3DS3's
Kirby's Dream Land Medley
will be returning in this game, but we'll have a more extended talk on the song selection later on this page.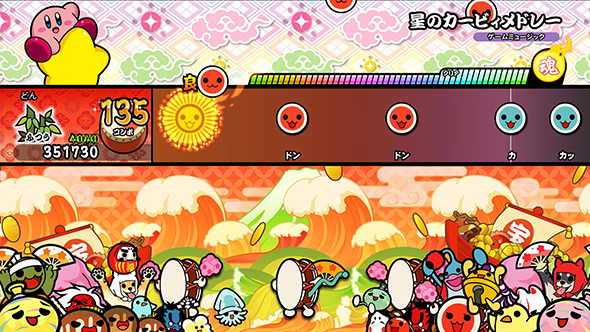 From the trailer, we can also gather that the game's minigame mode is going to have 20 different minigames, playable from 1 up to 4 players.
Also from the trailer, we can see some of the other control schemes for the series' Switch-debut title: off-docked play with the Switch's touchscreen and with a dedicated Taiko Tatacon controller for the Switch, sold separately.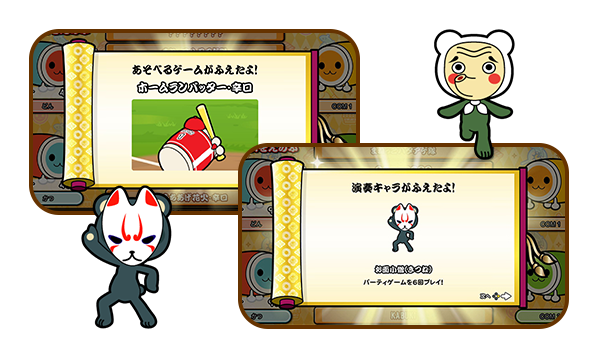 Today we've also got our first taste of downloadable content, coming in form of both time-limited collaborative efforts and preorder-exclusive from selected retailers.
For the former side of the isle, we have a brand new song from the
Shinkansen Henkei Robo Shinkalion
Anime series, which will be downloadable for free from the game's launch day until
August 31st
. The song is titled
Shinka Riron (進化理論)
and its download will be paired with the addition of the E5 Hayabusa (E5はやぶさ) as an additional Performance Mode character.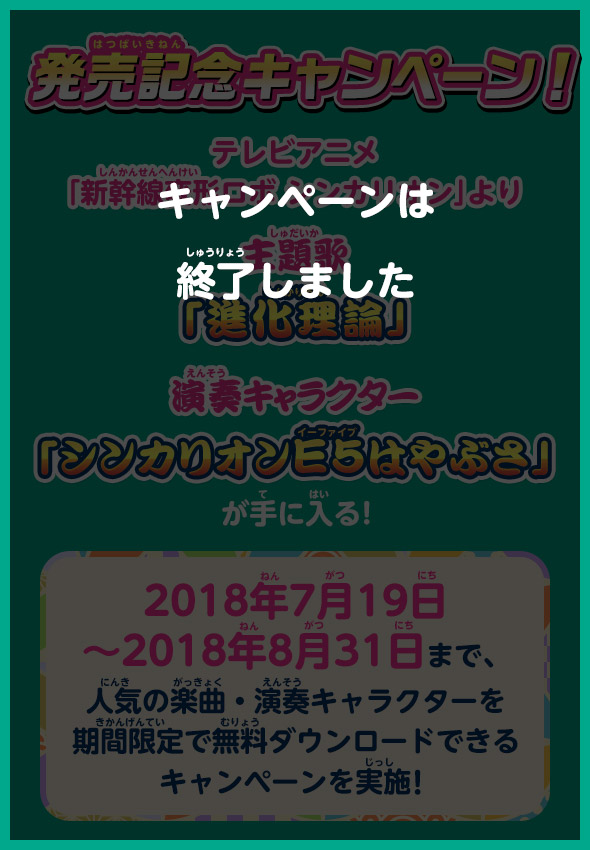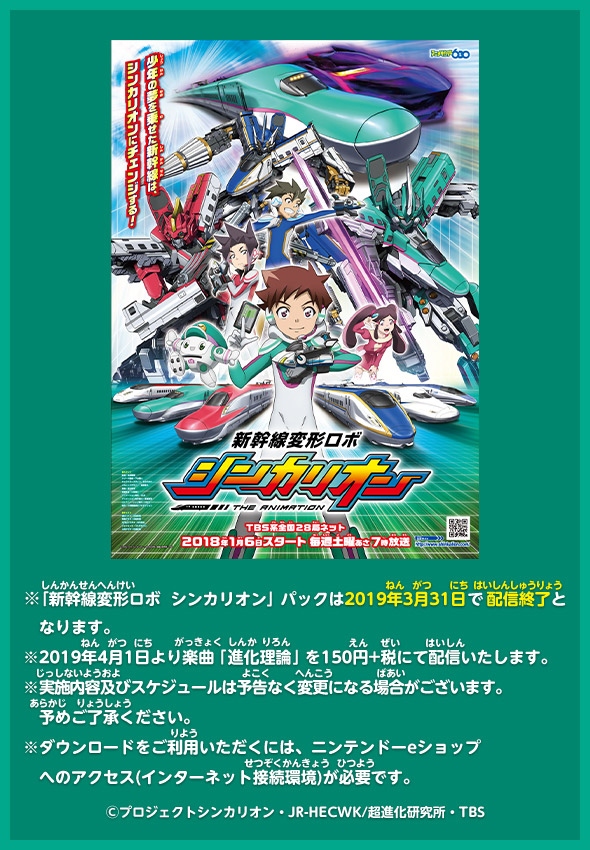 For the preorder-perks side, on the other hand, we have 9 returning songs from the Classic genre, one for each of the collaborating retailers. On this post we're only posting the involved songs, while we're going to add the related retailers in a dedicated page in the future.
Toy Symphony (おもちゃのシンフォニー)
Excerpt from Symphony No. 7 (交響曲第7番から)
Montagues and Capulets (モンタギュー家とキャピュレット家)
March from The Nutcracker (行進曲「くるみ割り人形」から)
Jupiter (木星)
La Campanella (ラ・カンパネラ)
Requiem from Dies Irae (レクイエム 怒りの日より)
First Movement from Symphony No.25 (交響曲第25番ト短調より 第一楽章)
Hungarian Dance No.5 (ハンガリー舞曲第5番)
One piece of downloadable content that everyone can get for free, however, is this golden Don-Chan, whose Performance Skills will let players go through songs with a lessened health depletion rate! Details for its distribution are still pending.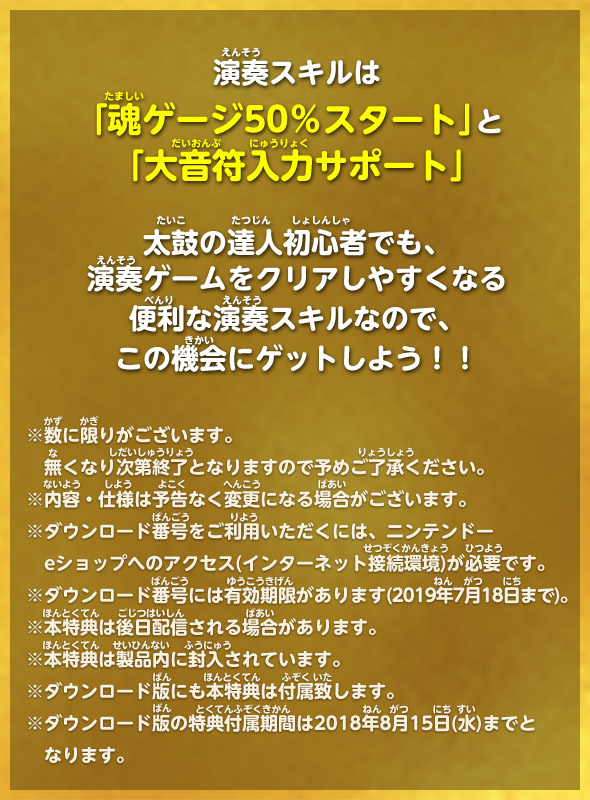 Last but (most definitely) not least, a new update for the game's default song list!

Mita-koto mo Nai Keshiki (見たこともない景色)
Console Debut

Sugar Song to Bitter Step (シュガーソングとビターステップ)

Memeshikute (女々しくて)

Silent Jealousy

One Night Carnival

TRAIN-TRAIN
POP TEAM EPIC
Console Debut
Lupinranger VS Patranger (ルパンレンジャーVSパトレンジャー)
Console Debut
Yokai Taisou Dai Ichi (ようかい体操第一)
Kimi ni 100 Percent (キミに100パーセント)
We Are! (ウィーアー!)
Odoru Pompokolin (おどるポンポコリン)
Sanpo (さんぽ)
Anpanman no March (アンパンマンのマーチ)
Juumensou colorful ver. (十面相 colorful ver.)
Onigiri wa Doko Kashira♪ (おにぎりはどこかしら♪)

Jounetsu Tairiku (情熱大陸)

Alphabet Song (ABCの歌)

Iro wa Nioedo Chirinuru o (色は匂へど散りぬるを)

Bad Apple!! feat.nomico

Omae Butamen! (おまえブタメン!)
New!
Flight of the Bumblebee (熊蜂の飛行)
Turkish March (トルコ行進曲)
(Beethoven)
Kirby's Dream Land Medley (星のカービィメドレー)
PAC‐MAN CHAMPIONSHIP EDITION 2
New!
Anzu no Uta (あんずのうた)
Console Debut
Furi-furi♪Nori-nori♪ (フリフリ♪ノリノリ♪)
New!
(theme song)
World Heritage: Prelude (和有るど経りて維持・序)
New!
Tabetemo Tabetemo (タベテモタベテモ)
New!
void setup
New!
Écran le Blanc (エクラン ルブラン)
New!
Tonde Mite (トンデ・ミテ)
New!