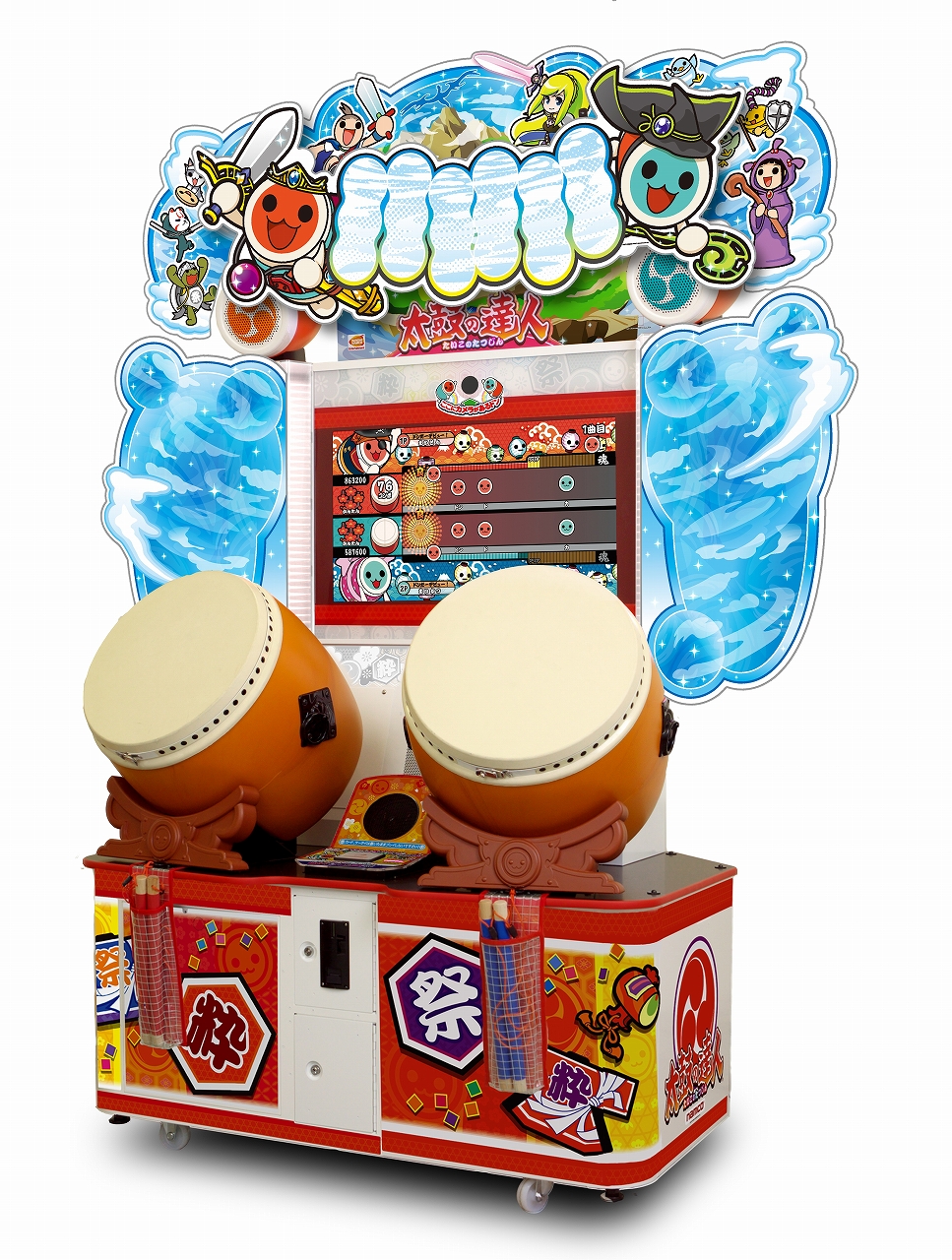 The 10th firmware of the post-numbering arcade Taiko generation, Blue Version made it to non-Japanese arcades roughly a week after the Japanese launch, making its debut with a generous slew of song licenses from both the discontinued Yellow Version's pool and JP Blue Version's own launch lineup.
With a good chunk of the Donder Hiroba-related functionalities still out of reach for the greater Asia players, this Blue Version variant is also expected to host the upcoming Battle mode from the JP arcades.
Using Banapassport
Promotional song list
Dojo Ranking mode
Issho ni Waiwai Ensou mode
Note: Senbonzakura (千本桜) is not available in Korea due to licensing problems.
No. of songs
574 + 20 (594 total)
No. of secret songs
29
No. of songs with Ura (1P)
83+11
No. of songs added through online updates/
Rewards Shop
0
No. of deleted songs
0
Title
Hero
Namie Amuro
x2
x3
x3
x7 (video)
Dancing Hero (Eat You Up) (ダンシング・ヒーロー(Eat You Up))
Yoko Oginome
x3
x3
x5
x7 (video)
Koi (恋)
Gen Hoshino
x2
x3
x3
x6 (video)
Koi (恋)
Gen Hoshino
-
-
-
x1 (video)
Mita-koto mo Nai Keshiki (見たこともない景色)
Suda Masaki
x1
x2
x4
x6 (video)
Mita-koto mo Nai Keshiki (見たこともない景色)
Suda Masaki
-
-
-
x8 (video)
TT -Japanese ver.-
TWICE
x3
x5
x5
x7 (video)
Taakane no Hanako-san (高嶺の花子さん)
back number
x2
x4
x4
x6 (video)
Yatte-miyou (やってみよう)
WANIMA
x3
x4
x5
x6 (video)
Tomo ni (ともに)
WANIMA
x3
x4
x5
x7 (video)
Beauty and the Beast (美女と野獣)
Kun Natsumi & Yamazaki Yasaburo
x2
x3
x3
x4 (video)
Ashita Mo (明日も)
MUSH & Co.
x1
x2
x3
x2 (video)
STAY TUNE
Suchmos
x2
x3
x5
x7 (video)
Yuuwaku (誘惑)
GLAY
x3
x4
x5
x7 (video)
HOWEVER
GLAY
x2
x3
x3
x6 (video)
Shin Zombie (シン・ゾンビ)
GLAY x Taiko no Tatsujin Tie-In Song
x3
x4
x6
x9 (video)
Zen Zen Zense (前前前世)
RADWIMPS
x3
x4
x6
x8 (video)
Natsu Matsuri (夏祭り)


Whiteberry

x3
x2
x6
x6 (video)
Tentai Kansoku (天体観測)
Bump of Chicken
x3
x5
x4
x6 (video)
Kurenai (紅)
X-Japan
x3
x4
x7

x8 (video)
Christmas Song (クリスマスソング)
back number
x3
x4
x5
x7 (video)
Sugar Song to Bitter Step (シュガーソングとビターステップ)


UNISON SQUARE GARDEN

x3
x4
x5
x8 (video)
Watari-dori (ワタリドリ)
Alexandros
x3
x4
x6
x9 (video)
R.Y.U.S.E.I.


J Soul Brothers

x3
x5
x7
x8 (video)
Sukina Hito ga Iro Koto (好きな人がいること)
JY
x3
x4
x6
x7 (video)
Silent Majority (サイレントマジョリティー)
Keyakizaka 46
x2
x4
x4
x6 (video)
Koi Oto to Amazora (恋音と雨空)
AAA
x3
x4
x5
x7 (video)
Ikenai Taiyou (イケナイ太陽)
Orange Range
x4
x4
x5
x7 (video)
Sakuranbo (さくらんぼ)


Ai Ootsuka

x4
x4
x4
x8 (video)
Umi no Koe (海の声)


Kenta Kiritani

x2
x3
x5
x6 (video)
Swan
Alexandros
x3
x4
x6
x8 (video)
Tomo Yo~Kono Saki mo Zutto… (友よ ~この先もずっと…)
Ketsumeishi
x2
x4
x4
x5 (video)
365 Nichi No Kami-Hikouki (365日の紙飛行機)
AKB48
x3
x3
x4
x5 (video)
Himawari no Yakusoku (ひまわりの約束)


Motohiro Hata

x3
x4
x5
x7 (video)
Soup
Sakura Fujiwara
x3
x5
x6
x8 (video)
Gimme Choco!! (ギミチョコ!!)
Babymetal
x4
x6
x7
x8 (video)
Gimme Choco!! (ギミチョコ!!)
Babymetal
-
-
-
x10 (video)
Minna ga Minna Eiyuu (みんながみんな英雄)
Ai
x2
x3
x4
x6 (video)
Watashi Igai Watashi ja Nai no (私以外私じゃないの)


Gesu no Kiwami Otome

x4
x6
x6
x8 (video)
Highschool♡love
E-girls
x3
x4
x5
x6 (video)
Gomenasai no Kissing You (ごめんなさいのKissing You)
E-girls
x4
x5
x6
x7 (video)
DREAMERS' PARADISE
DANCE EARTH PARTY feat.Mummy-D(RHYMESTER)
x3
x4
x5
x7 (video)
ANTI-HERO


SEKAI NO OWARI

x3
x4
x5
x8 (video)
ANTI-HERO


SEKAI NO OWARI

-
-
-
x9 (video)
Dragon Night
SEKAI NO OWARI
x3
x4
x6
x8 (video)

RPG
SEKAI NO OWARI
x3
x3
x4
x6 (video)
Mottai Night Land (もったいないとらんど)
Kyary Pamyu Pamyu
x3
x5
x6
x7 (video)
Invader Invader (インベーダーインベーダー)
Kyary Pamyu Pamyu
x3
x4
x6 (2P video)
x6 (video) (2P video)
Ninjyary Bang Bang (にんじゃりばんばん)


Kyary Pamyu Pamyu

x3
x5
x6
x8 (video)
Memeshikute (女々しくて)


Golden Bomber

x3
x4
x5
x8 (video)
Dance My Generation


Golden Bomber

x2
x3
x6
x7 (video)
Dance My Generation


Golden Bomber

-
-
-
x7 (video)
Kuroi Neko no Uta (黒い猫の歌)
back number
x3
x3
x4
x6 (video)
Hana Furumai (華振舞)


Wagakki Band

x4
x5
x7
x9 (video)
I my moko


Haruko Momoi

x3
x5
x6
x8 (video)
Sachi Sachi ni Shite Ageru♪ (さちさちにしてあげる♪)


Kobayashi Sachiko

x3
x5
x7
x7 (video)
Sachi Sachi ni Shite Ageru♪ (さちさちにしてあげる♪)


Kobayashi Sachiko

-
-
-
x10 (video)
Love Song wa Tomaranai Yo (ラブソングはとまらないよ)
Ikimonogakari
x3
x4
x4
x6 (video)
KISS KISS BANG BANG


Ikimono Gakari

x4
x4
x5
x5 (video)
Joyful (じょいふる)


Ikimono Gakari

x3
x4
x6
x6 (video)
Kiseki (キセキ)


GReeeeN

x3
x2
x3
x2 (video)
Ai Uta (愛唄)


GReeeeN

x2
x2
x2
x3 (video)
Linda Linda (リンダリンダ)
The Blue Hearts
x4
x6
x5
x5 (video)
Silent Jealousy
X-Japan
x4
x6
x7
x8 (video)
Silent Jealousy
X-Japan
-
-
-
x10 (video)
Title
Doraemon no Uta (ドラえもんのうた)
x1
x2
x3
x3 (video)
Yume o Kanae te Doraemon (夢をかなえてドラえもん)
x1
x1
x2
x4 (video)
Hope
One Piece
x2
x3
x5
x7 (video)
POP TEAM EPIC
Pop Team Epic
x2
x3
x4
x8 (video)
GLORIOUS RO@D
The Idolm@ster SideM
x2
x3
x3
x7 (video)
Be The One
Kamen Rider Build
x1
x2
x4
x5 (video)
Doko Made Mo ~How Far I'll Go~ (どこまでも 〜How Far I'll Go〜)
Moana and the Legendary Sea
x2
x3
x5
x6 (video)
Mezase Pokemon Master -20th Anniversary- (めざせポケモンマスター -20th Anniversary-)
Pokemon the Movie 20: I Choose You!
x2
x4
x6
x8 (video)
Mezase Pokemon Master -20th Anniversary- (めざせポケモンマスター -20th Anniversary-)
Pokemon the Movie 20: I Choose You!
-
-
-
x8 (video)
Genkai Toppa×Survivor (限界突破×サバイバー)
Dragon Ball Super
x3
x3
x3
x3 (video)
Genkai Toppa×Survivor (限界突破×サバイバー)
Dragon Ball Super
-
-
-
x8 (video)
Road Movie (ロードムービー)
Crayon Shin-chan: Invasion!! Alien Shiriri
x3
x4
x4
x5 (video)
SHINE!! Kirakira☆PreCure a la Mode (SHINE!! キラキラ☆プリキュアアラモード)
x2
x3
x4
x6 (video)
LUCKYSTAR
Uchuu Sentai Kyuranger
x3
x3
x5
x6 (video)
Yokuoso Japari Park e (ようこそジャパリパークへ)
Kemono Friends
x2
x2
x4
x7 (video)
Mirai wa Joe! Joe! (未来はジョー!ジョー!)


Duel Masters

x2
x2
x3
x6 (video)
Kagerou (カゲロウ)
Gintama
x2
x4
x4
x7 (video)
GO
Granblue Fantasy The Animation
x2
x4
x5
x7 (video)
Aozora no Rhapsody (青空のラプソディ)
Miss Kobayashi's Dragon Maid
x3
x4
x5
x8 (video)
Aozora no Rhapsody (青空のラプソディ)
Miss Kobayashi's Dragon Maid
-
-
-
x9 (video)
GEED no Akashi (GEEDの証)
Ultraman Geed
x3
x3
x4
x7 (video)
Guren no Yumiya (紅蓮の弓矢)
Shingeki no Kyojin
x5
x6
x6
x8 (video)
A Cruel Angel's Thesis (残酷な天使のテーゼ)


Neon Genesis Evangelion

x4
x4
x6
x7 (video)

A Cruel Angel's Thesis (残酷な天使のテーゼ)


Neon Genesis Evangelion

-
-
-
x8 (video)

Reason!!
THE iDOLM@STER SideM
x1
x2
x3
x6 (video)
Zenryoku Batankyu (全力バタンキュー)
Osomatsu-san
x2
x4
x6
x8 (video)
Alola!! (アローラ!!)
Pokemon Sun & Moon
x2
x3
x4
x7 (video)
Try Everything (トライ・エヴリシング)


Zootopia

x2
x3
x4
x3 (video)
Su・ma・i・ru (ス・マ・イ・ル)
Hana Kappa
x2
x3
x5
x5 (video)
Kimi ni 100 Percent (キミに100パーセント)


Crayon Shin-Chan

x2
x3
x5
x5 (video)
We Can! (ウィーキャン!)
One Piece
x2
x4
x6
x7 (video)
Ikari o Kure yo (怒りをくれよ)


One Piece Film Gold

x3
x5
x6
x6 (video)
Chouzetsu☆Dynamic! (超絶☆ダイナミック!)


Dragon Ball Super

x2
x4
x4
x6 (video)
EXCITE
Kamen Rider Ex-Aid
x2
x3
x5
x7 (video)
Doubutsu Sentai Zyuohger (動物戦隊ジュウオウジャー)
x1
x2
x4
x5 (video)
Tonari no Totoro (となりのトトロ)
x2
x3
x1
x5 (video)
Let It Go ~Ari no Mama de~ (Let It Go~ありのままで~)


Frozen

x2
x2
x2
x4 (video)
Start Line! (スタートライン!)


Aikatsu Stars!

x2
x2
x3
x6 (video)
Kimi no Shiranai Monogatari (君の知らない物語)


Bakemonogatari

x3
x4
x3
x7 (video)
Butter-Fly


Digimon Adventures

x4
x5
x5
x7 (video)
You Got A O-tomodachi (ゆーがらお友達)
Yokai Watch
x2
x4
x5
x8 (video)
Jinsei Dramatic (人生ドラマチック)
Yokai Watch
x2
x2
x4
x7 (video)
Hatsukoitouge de Geragerapo (初恋峠でゲラゲラポー)
Yokai Watch
x3
x4
x4
x7 (video)
Matsuri Hayashi de Geragerapo (祭り囃子でゲラゲラポー)
Yokai Watch
x3
x4
x5
x7 (video)
Dun Dun Doobie Zubah! (ダン・ダン ドゥビ・ズバー!)


Yokai Watch

x2
x4
x5
x7 (video)
Yokai Taizou Dai Ichi (ようかい体操第一)


Yokai Watch

x2
x3
x5
x7 (video)
Geragerapo no Uta (ゲラゲラポーのうた)


Yokai Watch

x3
x4
x5
x7 (video)
crossing field
Sword Art Online
x2
x4
x4
x6 (video)
Hanamaru-biyori! (花丸◎日和!)
Touken Ranbu -Hanamaru-
x3
x5
x7
x8 (video)
Paradisus-Paradoxum
Re:Zero -Starting Life in Another World-
x3
x5
x6
x8 (video)
Hikari Are (ヒカリアレ)
Haikyuu!! Karasuno High School vs Shiratorizawa Academy
x3
x5
x6
x9 (video)
Blood Circulator (ブラッドサーキュレーター)


Naruto Shippuden

x2
x4
x5
x7 (video)
Angelic Angel
Love Live! The School Idol Movie
x3
x4
x4
x7 (video)
Sore wa Bokutachi no Kiseki (それは僕たちの奇跡)
Love Live!
x4
x6
x6
x8 (video)
Bokura wa Ima no Naka de (僕らは今のなかで)


Love Live!

x4
x6
x6
x8 (video)
QUESTION


Assassination Classroom

x3
x5
x6
x7 (video)
Imagination (イマジネーション)


Haikyuu!!

x3
x5
x6
x8 (video)
Hard Knock Days
One Piece
x3
x4
x5
x6 (video)
talking
Subete ga F ni Naru: The Perfect Insider
x3
x5
x5
x8 (video)
Dream Parade (ドリームパレード)


PriPara

x3
x4
x4
x5 (video)
XY&Z


Pokémon XY&Z

x1
x2
x5
x9 (video)
Getta Banban (ゲッタバンバン)


Pokémon XY

x2
x4
x5
x6 (video)
V (Volt) (V (ボルト))


Pokémon XY

x2
x3
x6
x8 (video)
Warera Omou, Yue ni Warera Ari (我ら思う、故に我ら在り)


Kamen Rider Ghost

x3
x4
x5
x7 (video)
Orb no Inori (オーブの祈り)


Ultraman Orb

x3
x5
x6
x10 (video)
Ultraman X (ウルトラマンX)
x1
x3
x5
x7 (video)
Ultraman X (ウルトラマンX)
-
-
-
x10 (video)
Itsumo Nando Demo (いつも何度でも)


Sprited Away

x2
x1
x2
x1 (video)
Sanpo (さんぽ)


My Neighbor Totoro

x1
x1
x4
x5 (video)
Sanpo (さんぽ)


My Neighbor Totoro



-
-
-
x9 (video)
Gake no Ue no Ponyo (崖の上のポニョ)
x1
x2
x1
x2 (video)
Kimi o Nosete (君をのせて)
Laputa

: Castle in the Sky

x2
x3
x4
x6 (video)
Anpanman no March (アンパンマンのマーチ)
x2
x1
x5
x1 (video)
Rocking Heart! (ロックン・ハート!)


Tamagotchi: Yume Kira Dream

x2 (2P video)
x5 (2P video)
x5
x5 (video)
Odoru Ponpokorin (おどるポンポコリン)


Chibi Maruko-chan

x1
x2
x3


x4 (video)
Haru Uta (ハルウタ)


Detective Conan: The Eleventh Striker

x3
x4
x5
x6 (video)
Detective Conan Main Theme (名探偵コナン メイン・テーマ)
x3
x1
x5
x6 (video)
Sousei no Aquarion (創聖のアクエリオン)
x3
x4
x5
x7 (video)
| Title | | | | |
| --- | --- | --- | --- | --- |
| Russian Folk Medley (ロシア民謡メドレー) | x4 | x4 | x7 | x7 (video) |
| O Vreneli (おおブレネリ) | x3 | x3 | x5 | x6 (video) |
Variety

(41+1 songs)
Title
YouTube Theme Song (YouTubeテーマソング)
HIKAKIN & SEIKIN
x3
x4
x5
x7 (video)
Sukatto Bachan no Uta (スカッとばあちゃんの歌)


Tsukai TV Skat Japan

x3
x4
x4
x8 (video)
Asteroid


KORG Gadget Kamata Demo Song

x5
x7
x8
x9 (video)
Ebikanics (エビカニクス)


Keropons

x2
x2
x3
x6 (video)
Doctor X no Theme (ドクターXのテーマ)
x3
x5
x6
x8 (video)
Pen-Pinapple-Apple-Pen (PPAP) (ペンパイナッポーアッポーペン(PPAP))


Pikotaro

x2
x4
x4
x7 (video)
PERFECT HUMAN
x2
x3
x4
x8 (video)
FANTASTIC BABY
x3
x3
x5
x7 (video)
Lassen Gorelai (ラッスンゴレライ)


8.6 Second Bazooka

x3
x5
x5
x7 (video)
Lassen Gorelai (ラッスンゴレライ)


8.6 Second Bazooka

-
-
-
x9 (video)
Honnouji no Hen (本能寺の変)


Egg-splosion

x3
x5
x6
x8 (video)
Yawaraka Sensha (やわらか戦車)
x3
x5
x6
x6 (video)
Yawaraka Sensha (やわらか戦車)
-
-
-
x9 (video)
Heart Slump Futari-bocchi (ハートスランプ二人ぼっち)


Detective! Knight Scoop

x3
x4
x5
x7 (video)
Atatakai'n Dakara♪ (あったかいんだからぁ♪)


Kumamushi

x3
x5
x4
x7 (video)
RAINMAKER


New Japan Pro Wrestling Kazuchika Okada Entrance Theme

x3
x4
x5
x8 (video)
Osakana Mainichi! Sakana-kun (おさかな毎日!さかなクン)
x2
x4
x4
x7 (video)
Katte Rock (買ってロック)


Gurt! CM

x3
x3
x5
x7 (video)
Senshaku Zesshou no Fantasia (仙酌絶唱のファンタジア)


Touhou Project Arrange - Hakurei Shrine Reitaisai Collab Unit

x3
x5
x5
x9 (video)
Eikyoku/Gyouan (郢曲/暁闇)


Touhou Project × NAMCO SOUNDS - Linda AI-CUE

x3
x5
x8
x10 (video)
Kokihi no Shinzou -SCARLET HEART- (深緋の心臓 -SCARLET HEART- )
Touhou Project × NAMCO SOUNDS - kyo feat. Asana (IOSYS)
x3
x5
x6
x8 (video)
Raiko Taiko Disco (ライコタイコディスコ)
Touhou Project × NAMCO SOUNDS - Ryo Watanabe
x3
x5
x5
x8 (video)
Ladystar Wandering
Touhou Project × NAMCO SOUNDS - Junichi Nakatsuru
x4
x6
x7
x8 (video)
Akeboshi Rocket (明星ロケット)


Touhou Project Arrange - Kishida Kyoudan & the Akeboshi Rockets

x3
x5
x6
x8 (video)
Iro wa Nioedo Chirinuru o (色は匂へど 散りぬるを)


Touhou Project Arrange - Yuuhei Satellite

x2
x4
x5
x8 (video)
Tsuki ni Murakumo Hana ni Kaze (月に叢雲華に風)
Touhou Project Arrange - Yuuhei Satellite feat. senya
x4
x5
x6
x8 (video)
WARNINGxWARNINGxWARNING
Touhou Project Arrange - Akatsuki Records
x2
x4
x5
x9 (video)
Futari no Kessho -INNOCENCE- (二人の結晶-INNOCENCE-)
Touhou Project Arrange - Akatsuki Records
x3
x4
x4
x8 (video)
Futari no Kessho -INNOCENCE- (二人の結晶-INNOCENCE-)
Touhou Project Arrange - Akatsuki Records
-
-
-
x7 (video)
Gensou no Satellite (幻想のサテライト)


Touhou Project Arrange - Butaotome

x4
x6
x7
x9 (video)
Scream out! -Tatsujin Edit.- (Scream out! -達人Edit.-)


Touhou Project Arrange - A-One

x3
x5
x6
x8 (video)
Scream out! -Tatsujin Edit.- (Scream out! -達人Edit.-)


Touhou Project Arrange - A-One

-
-
-
x9 (video)
Endless Seeker


Touhou Project Arrange - A-One

x3
x5
x6
x8 (video)
Kero⑨Destiny (ケロ⑨destiny)


Touhou Project Arrange - Silver Forest

x4
x6
x6
x9 (video)
Necrofantasia ~ Arr. Demetori (ネクロファンタジア~Arr. Demetori)


Touhou Project Arrange - Demetori

x5
x7
x8
x10 (video)
Cirno's Perfect Math Class (チルノのパーフェクトさんすう教室)


Touhou Project Arrange - ARM + Yu Yoshimi (IOSYS) feat. miko

x4
x5
x7
x8 (video)
Cirno's Perfect Math Class (チルノのパーフェクトさんすう教室)


Touhou Project Arrange - ARM + Yu Yoshimi (IOSYS) feat. miko

-
-
-
x10 (video)
Cirno's Perfect Math Class ⑨ Anniversary Edition (チルノのパーフェクトさんすう教室 ⑨周年バージョン)
Touhou Project Arrange - IOSYS and Funny ⑨ Anniversary Friends
x3
x4
x5
x9 (video)
Cirno's Perfect Math Class ⑨ Anniversary Edition (チルノのパーフェクトさんすう教室 ⑨周年バージョン)
Touhou Project Arrange - IOSYS and Funny ⑨ Anniversary Friends
-
-
-
x10 (video)
Ganzo! Genius Cirno-Chan☆ (元祖!天才チルノちゃん☆)
Touhou Project Arrange - Yuuya Kobayashi (IOSYS) feat. miko (Alternative ending)
x4
x6
x6
x9 (video)
Grip & Break down!! -Tatsujin Edit- (Grip&Break down!! -達人Edit.-)


Touhou Project Arrange -

SOUND HOLIC feat. Nana Takahashi
x4
x5
x6
x7 (video)
Grip & Break down!! -Tatsujin Edit- (Grip&Break down!! -達人Edit.-)


Touhou Project Arrange -

SOUND HOLIC feat. Nana Takahashi
-
-
-
x9 (video)
NeGa/PoSi*Love/Call (NeGa/PoSi*ラブ/コール)


Touhou Project Arrange - Diao ye Zong

x3
x4
x6
x6 (video)
NeGa/PoSi*Love/Call (NeGa/PoSi*ラブ/コール)


Touhou Project Arrange - Diao ye Zong

-
-
-
x8 (video)
Bad Apple!! feat. nomico


Touhou Project Arrange - Alstroemeria Records

x3
x5
x6
x8 (video)
Help me, ERINNNNNN!!


Touhou Project Arrange - Beat Mario

x3
x4
x7
x8 (video)
Night of Knights (ナイト・オブ・ナイツ)


Touhou Project Arrange - Beat Mario

x4

x6

x7

x9 (video)

Last Brutal Sister Flandre S (最終鬼畜妹フランドール・S )


Touhou Project Arrange - Beat Mario

x4
x6
x7
x10 (video)
conflict


siromaru+cranky

x4
x5
x7
x9 (video)
INSPION
Sound Production Studio INSPION Company Song
x5
x6
x8
x10 (video)
Title
Haikei Doppelganger (拝啓ドッペルゲンガー)


kemu feat.

GUMI

x3
x5
x7
x10 (video)
Charles (シャルル)


Balloon feat.

flower

x4
x5
x6
x8 (video)
+♂ (Plus Danshi)


GigaReol feat.

Kagamine Len

x4
x5
x6
x7 (video)
+♂ (Plus Danshi)


GigaReol feat.

Kagamine Len

x4
x5
x6
x7 (video)
+♂ (Plus Danshi)


GigaReol feat.

Kagamine Len

-
-
-
x9 (video)
Senbonzakura (千本桜)


Kurousa-P feat. Hatsune Miku

x3
x5
x6
x7 (video)
Senbonzakura (千本桜)


Kurousa-P feat. Hatsune Miku

-
-
-
x8 (video)
Roku-Chounen to Ichiya Monogatari (六兆年と一夜物語)
kemu feat. IA
x3
x5
x7
x9 (video)
Roku-Chounen to Ichiya Monogatari (六兆年と一夜物語)
kemu feat. IA
-
-
-
x9 (video)
Ghost Rules (ゴーストルール)
DECO*27 feat. Hatsune Miku
x3
x5
x5
x8 (video)
Ghost Rules (ゴーストルール)
DECO*27 feat. Hatsune Miku
-
-
-
x9 (video)
Noushou Sakuretsu Girl (脳漿炸裂ガール)


Reruriri feat. Hatsune Miku and GUMI

x4
x5
x6
x8 (video)
Noushou Sakuretsu Girl (脳漿炸裂ガール)


Reruriri feat. Hatsune Miku and GUMI

-
-
-
x9 (video)
Alien Alien (エイリアンエイリアン)
Nayutan Seijin feat. Hatsune Miku
x3
x5
x6
x9 (video)
Lost One no Goukoku (ロストワンの号哭)


Neru feat. Kagamine Rin

x3
x4
x7
x8 (video)
Gigantic O.T.N. (ギガンティックO.T.N)
Giga/Reol feat. Kagamine Len
x3
x6
x7
x9 (video)
Gigantic O.T.N. (ギガンティックO.T.N)
Giga/Reol feat. Kagamine Len
-
-
-
x10 (video)
Tokyo Teddy Bear (東京テディベア)
Neru feat. Kagamine Rin
x4
x6
x6
x8 (video)
Yi-er Fanclub (いーあるふぁんくらぶ)


MikitoP feat. GUMI and Kagamine Rin

x3
x4
x6
x8 (video)
Amanojaku (天ノ弱)
164 feat. GUMI
x4
x5
x6
x8 (video)
Juumensou colorful ver. (十面相 colorful ver.)


YM feat. Gumi

x3
x5
x3
x6 (video)
Juumensou colorful ver. (十面相 colorful ver.)


YM feat. Gumi

-
-
-
x8 (video)
Luka Luka Night Fever (ルカルカ☆ナイトフィーバー)
samfree feat. Megurine Luka
x3
x6
x7
x8 (video)
Luka Luka Night Fever (ルカルカ☆ナイトフィーバー)
samfree feat. Megurine Luka
-
-
-
x9 (video)
World's End Dance Hall (ワールズエンド・ダンスホール)
wowaka feat. Hatsune Miku, Megurine Luka
x4
x5
x6
x9 (video)
Kagerou Daze (カゲロウデイズ)


Jin

x3
x5
x7
x7 (video)
Kagerou Daze (カゲロウデイズ )


Jin

-
-
-
x8 (video)
M.S.S. Planet
M.S.S. Project feat. Hatsune Miku/GUMI
x3
x5
x7
x8 (video)
BORDERLESS
ZOLA Project
x4
x6
x5
x8 (video)
Love x Love Whistle (Karemeshi Official Song) (愛×愛ホイッスル(カレーメシ公式曲))
PolyphonicBranch feat. Hatsune Miku, Kagamine Rin
x4
x6
x8
x9 (video)
Bokura no Sekai ni Dance o (僕らの世界にダンスを)
Professor Sakamoto feat. GUMI
x4
x5
x5
x7 (video)
Kohi no Aji to (珈琲の味と)


Harunaba feat. GUMI

x4
x5
x6
x9 (video)
Juukinzou Fugitive (重金属フューギティブ)
Ryuitti feat. GUMI
x4
x6
x7
x10 (video)
Dokidoki Koi no Yokan!? (ドキドキ恋の予感!? )


Noriyuki feat. GUMI

x3
x4
x5
x7 (video)
Ninjin Nin (にんじんにん)


Toyonaga Gonta P feat.GUMI

x3
x4
x5
x8 (video)
Eternal bond


Ryuitti feat. GUMI

x5
x6
x8
x8 (video)
Karamari no Hana (カラ鞠の花)


Harunaba feat. Yuzuki Yukari

x4
x7
x7
x10 (video)
Hanaoto Ura Hyoushi (花オト裏拍子)


Harunaba feat. Hatsune Miku

x3
x5
x6
x9 (video)
Tooriyo (トオリヨ)


Tezuka feat. Kagamine Rin/Kagamine Len

x3
x5
x6
x8 (video)
SstTAarR*


M-O-T-U feat. Hatsune Miku

x5
x7
x8
x10 (video)
Onigiri wa Doko Kashira♪ (おにぎりはどこかしら♪)


Yomii feat. Hatsune Miku

x5
x7
x8
x9 (video)
Ghost Mask (ゴーストマスク)
Harunaba feat. Yuzuki Yukari & Chihiro Ishiguro
x4
x6
x7
x10 (video)
Wanya World (わんにゃーワールド)


feat. Kagamine Rin ・Kagamine Len starring Shimoda Asami

x4
x5
x6
x9 (video)
-EDY- Electrical Dancing Yoga (-EDY- エレクトリカルダンシングヨガー)
feat. Kagamine Rin, Len
x4
x6
x7
x9 (video)
Hatsune Miku no Shoushitsu -Gekijouban- (初音ミクの消失-劇場版-)
x5
x7
x8

x9 (video)
Hatsune Miku no Shoushitsu -Gekijouban- (初音ミクの消失-劇場版-)
-
-
-
x10 (video)
Title
Carmen Prelude (カルメン 組曲一番終曲)


Bizet

x3
x5
x5
x7 (video)
William Tell Overture (ウィリアム・テル序曲)


Gioachino Rossini

x3
x5
x7

x7 (video)
Orpheus in the Underworld Overture (「天国と地獄」序曲)


Jacques Offenbach

x4
x4
x5
x6 (video)

Ruslan and Lyudmila Overture (「ルスランとリュドミラ」序曲)


Glinka

x3
x5
x7
x8 (video)
Excerpt from Symphony No. 7 (交響曲第7番から)


Beethoven

x3
x4
x6
x7 (video)
Ninth Symphony (第九交響曲)


Beethoven

x3
x3
x3
x6 (video)
Flight of the Bumblebee (熊蜂の飛行)


Nikolai-Rimsky Korsakov

x3
x4
x7
x9 (video)
Alborada del Gracioso (道化師の朝の歌)
Ravel
x5
x7
x7
x8 (video)
Nocturne Op.9-2 (夜想曲Op.9-2)
x4
x6
x7
x8 (video)
Etude Op.10-4 (練習曲Op.10-4)


Chopin

x3
x4
x8
x9 (video)
Etude Op.10-4 (練習曲Op.10-4)


Chopin

-
-
-
x10 (video)
Le Tombeau de Couperin (クープランの墓)


Ravel

x4
x7
x8
x8 (video)
Fantasie Impromptu (幻想即興曲)


Chopin

x5
x7
x8
x9 (video)
Pavane for a Dead Princess ~Kimi no Kodou~ (亡き王女のためのパヴァーヌ ~きみのこどう~)


Ravel

x3
x5
x5
x6 (video)
Pavane for a Dead Princess ~Kimi no Kodou~ (亡き王女のためのパヴァーヌ ~きみのこどう~)


Ravel

-
-
-
x8 (video)
Kare Kano Kanon (カレ・カノ・カノン)
x3
x4
x5

x8 (video)
Swan Lake (白鳥の湖)


~still a duckling~

x4
x6
x7
x9 (video)
Swan Lake (白鳥の湖)


~still a duckling~

-
-
-
x10 (video)
Dokadoka (弩蚊怒夏)
x5
x7
x8
x10 (video)
Chikochiko (千鼓千鼓)
x4
x6
x8
x9 (video)
Charlie Dash! (チャーリー ダッシュ!)
x4
x7
x8
x10 (video)
Utsukushiku Isogashiki Danube (美しく忙しきドナウ)
x4
x4
x6
x8 (video)
Utsukushiku Isogashiki Danube (美しく忙しきドナウ)
-
-
-
x10 (video)
Title
Revenge of Meta Knight Medley (メタナイトの逆襲メドレー)
Hoshi no Kirby Super Deluxe
x3
x4
x7
x7 (video)
Revenge of Meta Knight Medley (メタナイトの逆襲メドレー)
Hoshi no Kirby Super Deluxe
-
-
-
x10 (video)
Kirby's Dream Land Medley (星のカービィメドレー)
Hoshi no Kirby Wii
x2
x4
x5
x8 (video)
Angel Dream (エンジェルドリーム)


The iDOLM@STER Cinderella Girls

x3
x6
x7
x8 (video)
Pokemon Sun & Moon Medley (「ポケットモンスター サン・ムーン」メドレー)
x2
x4
x6
x8 (video)
Pokemon X・Y (ポケットモンスターX・Y)


Wild Pokemon Battle Medley (野生ポケモン戦メドレー)

x3
x4
x6
x7 (video)
Pokemon X・Y (ポケットモンスター X・Y)


Trainer Battle Medley (トレーナー戦メドレー)

x2
x3
x6
x8 (video)
Pokemon Omega Ruby/Alpha Sapphire (ポケットモンスター オメガルビー・アルファサファイア)
Champion Medley (チャンピオンメドレー)
x3
x5
x7
x7 (video)
Pokemon Omega Ruby/Alpha Sapphire (ポケットモンスター オメガルビー・アルファサファイア)
Champion Medley (チャンピオンメドレー)
-
-
-
x9 (video)
Dr.WILY STAGE 1


Rockman 2: Mystery of Dr. Wily

x4
x6
x7
x8 (video)
TO MAKE THE END OF BATTLE


Ys I & II Chronicles

x4
x5
x7
x7 (video)
Yubisaki Kara Hajimaru Monogatari (指先からはじまる物語)


Shingun Destroy!

x3
x3
x4
x8 (video)
Chain Chronicle Normal Battle Medley (チェインクロニクル 通常バトルメドレー)
x3
x5
x6
x8 (video)
Chain Chronicle Normal Battle Medley (チェインクロニクル 通常バトルメドレー)
-
-
-
x9 (video)
Chain Chronicle Final Battle Medley (チェインクロニクル 最終決戦メドレー)
x4
x6
x6
x8 (video)
Chain Chronicle Final Battle Medley (チェインクロニクル 最終決戦メドレー)
-
-
-
x9 (video)
Chain Chronicle Total War Medley (チェインクロニクル 総力戦メドレー)
x3
x4
x5
x7 (video)
Chain Chronicle Total War Medley (チェインクロニクル 総力戦メドレー)
-
-
-
x9 (video)
Holding Hands


Puzzle & Dragons

x3
x5
x6
x7 (video)
Unite The Force


Puzzle & Dragons

x2
x4
x7
x8 (video)
Walking Through The Towers


Puzzle & Dragons

x3
x4
x5
x7 (video)
Battle -Denkousekka- (バトル-電光石火-)
Puzzle & Dragons Cross
x2
x4
x5
x8 (video)
Kessen!! (決戦!!)
Puzzle & Dragons Z
x3
x5
x6
x8 (video)
Extreme MGG★★★


Music GunGun 2

x3
x3
x3
x5 (video)
Extreme MGG★★★


Music GunGun 2

-
-
-
x9 (video)
Music Revolver (ミュージック・リボルバー)


Music GunGun 2

x3
x3
x3
x4 (video)
Music Revolver (ミュージック・リボルバー)


Music GunGun 2

-
-
-
x10 (video)
KAGEKIYO


~Genpei Toma Den Medley~ (~源平討魔伝メドレー~)

x4
x5
x7
x8 (video)
KAGEKIYO


~Genpei Toma Den Medley~ (~源平討魔伝メドレー~)

-
-
-
x10 (video) (2P video)
SHOGYO MUJO
Genpei Toma Den Remix - COSIO
x2
x3
x7
x9 (video)

Lightning Dance


Wangan Midnight Maximum Tune

x4
x5
x7
x8 (video)
Wonder Momoi (ワンダーモモーイ)
x4
x5
x7
x9 (video)
Oodain (大打音)
Ordyne
x5
x7
x7
x8 (video)

Diver


Treasure Gaust: Gaust Diver

x3
x5
x6
x9 (video)
Kurae! Butto Burst!! (くらえ!ブットバースト!!)


Yuujou Souchaku! Butto Burst

x2
x2
x4
x6 (video)
Great! Animal Kaiser!! (グレート! アニマルカイザー!!)


Animal Kaiser

x3
x4
x6
x8 (video)
Kinniku no You na Bokura ~Muscle Lover Theme~ (筋肉のような僕ら ~マッスル愛のテーマ~)
Muscle March
x5
x6
x6
x8 (video)
Koi wa Mizuiro (恋はみずいろ)
Mizuiro Blood
x3
x3
x5
x7 (video)
Tales of the Abyss (テイルズ オブ ジ アビス)
The arrow was shot
x5
x6
x7
x8 (video)
Hikaru Yami (光る闇)
Tales of the World Reve Unitia
x3
x5
x5
x8 (video)
Wings Of Tomorrow (Tatsujin Mix)


God Eater 2

x4
x6
x6
x9 (video)
Mujihi na Ou (無慈悲な王)


GOD EATER BURST

x3
x6
x6
x7 (video)
No Way Back


God Eater

x4
x6
x7
x8 (video)
No Way Back


God Eater

-
-
-
x9 (video)
The Windmill Song


Klonoa: Door to Phantomile

x4
x6
x6
x8 (video)
Picopico Mappy (ピコピコ マッピー)
Mappy Medley x Prof. Sakamoto (マッピーメドレー×サカモト教授)
x4
x6
x7
x8 (video)
Pastel Sealane


Blazer

x5
x7
x8
x9 (video)
Assault BGM1 (アサルトBGM1)
x3
x5
x6
x8 (video)
Tatakae! T3 Booei Tai~GDI mix~ (戦え!T3防衛隊 ~GDI mix~)


Tank! Tank! Tank!

x4
x4
x7
x8 (video)
Doom Noiz


Galaga Legions

x5
x6
x8
x10 (video)
IN THE ZONE
Ace Combat X2 Joint Assault
x4
x6
x8
x9 (video)
Soul Calibur II (ソウルキャリバーⅡ)
~Brave Sword, Braver Soul~
x3
x5
x5
x7 (video)
Soul Calibur II (ソウルキャリバーⅡ)
~Brave Sword, Braver Soul~
-
-
-
x7 (video)
Angel Halo


Ridge Racer 3DS

x5
x7
x8
x10 (video)
Venomous
Ridge Racer 3DS
x5
x6
x7
x9 (video)
Venomous


Ridge Racer 3DS

-
-
-
x10 (video)
BLUE TOPAZ
Rave Racer
x4
x5
x7
x8 (video)

EAT'EM UP!


R4 -RIDGE RACER TYPE4-

x3
x5
x6
x8 (video)
Kamikaze Remix


Ridge Racer 2

x3
x6
x8
x10 (video)
Ridge Racer
x4
x7
x8
x8 (video)
Ridge Racer
-
-
-
x9 (video)
RAGE v.self
x3
x4
x6
x8 (video)
BLAZING VORTEX


Critical Velocity

x5
x6
x7
x7 (video)
BLAZING VORTEX


Critical Velocity

-
-
-
x10 (video)
Night And Day


Ace Combat 2

x4
x6
x8
x9 (video)
Sunset Runaway


Critical Access

x4
x6
x8
x9 (video)
Abyss of hell


Tekken Revolution

x5
x7
x8
x8 (video)
Abyss of hell


Tekken Revolution

-
-
-
x10 (video)
Highschool love!


Tekken Tag Tournament 2 Wii U EDITION

x3
x4
x6
x7 (video)
Wasabi Body Blow


Tekken 3D Prime Edition

x3
x4
x6
x9 (video)
Abandoned Temple Final 2nd
Tekken 7 FR
x3
x4
x6
x9 (video)
Good-bye my earth


Dariusburst

x3
x5
x7
x8 (video)
Symphonic Druaga (シンフォニック ドルアーガ)
x4
x6
x7
x7 (video)
THE IDOLM@STER


THE iDOLM@STER

x3
x4
x4
x8 (video)
THE IDOLM@STER


THE iDOLM@STER

-
-
-
x8 (video)
Thank You!


THE iDOLM@STER Million Live!

x3
x4
x5
x8 (video)
Brand New Theater!
THE iDOLM@STER Million Live!
x3
x4
x6
x8 (video)
Star!!
THE iDOLM@STER Cinderella Girls
x3
x4
x5
x6 (video)
Star!!
THE iDOLM@STER Cinderella Girls
-
-
-
x9 (video)
GOIN'!!


THE iDOLM@STER Cinderella Girls

x3
x4
x5
x6 (video)
GOIN'!!


THE iDOLM@STER Cinderella Girls

-
-
-
x8 (video)
Shine!!


THE iDOLM@STER Cinderella Girls

x3
x4
x5
x6 (video)
Shine!


THE iDOLM@STER Cinderella Girls

-
-
-
x9 (video)
S(mile)ING!


The iDOLM@STER Cinderella Girls

x2
x4
x4
x6 (video)
Never say never


The iDOLM@STER Cinderella Girls

x3
x4
x5
x8 (video)
Mitsuboshi☆☆★ (ミツボシ☆☆★)


The iDOLM@STER Cinderella Girls

x3
x4
x5
x6 (video)
Mitsuboshi☆☆★ (ミツボシ☆☆★)


The iDOLM@STER Cinderella Girls

-
-
-
x9 (video)
Tsubomi Yumemiru Rapsodia ~Alma no Michibiki~ (華蕾夢ミル狂詩曲~魂ノ導~)


The iDOLM@STER Cinderella Girls

x2
x4
x5
x8 (video)
Tsubomi Yumemiru Rapsodia ~Alma no Michibiki~ (華蕾夢ミル狂詩曲~魂ノ導~)


The iDOLM@STER Cinderella Girls

-
-
-
x9 (video)
Anzu no Uta (あんずのうた)


The iDOLM@STER Cinderella Girls

x3
x5
x6
x7 (video)
TOKIMEKI Escalate (TOKIMEKIエスカレート)


The iDOLM@STER Cinderella Girls

x2
x3
x5
x6 (video)
TOKIMEKI Escalate (TOKIMEKIエスカレート)


The iDOLM@STER Cinderella Girls

-
-
-
x9 (video)
Tulip


The iDOLM@STER Cinderella Girls

x3
x3
x5
x6 (video)
Tulip


The iDOLM@STER Cinderella Girls

-
-
-
x9 (video)
Mahou o Kakete! (魔法をかけて!)


THE iDOLM@STER

x3
x3
x4
x7 (video)
Mahou o Kakete! (魔法をかけて!)


THE iDOLM@STER

-
-
-
x6 (video)
shiny smile


THE iDOLM@STER Live For You!

x3
x4
x4
x8 (video)
shiny smile


THE iDOLM@STER Live For You!

-
-
-
x7 (video)
Jibun REST@RT (自分REST@RT)
THE iDOLM@STER
x3
x4
x4
x7 (video)
Jibun REST@RT (自分REST@RT)
THE iDOLM@STER
-
-
-
x9 (video)
M@STERPIECE
THE iDOLM@STER
x2
x3
x4
x6 (video)
Machiuke Prince (待ち受けプリンス)


THE iDOLM@STER Shiny TV

x3
x5
x5
x9 (video)
ONLY MY NOTE
THE iDOLM@STER
x3
x4
x6
x6 (video)
Honey Heartbeat ~10 Stars Mix~


THE iDOLM@STER 2

x3
x4
x7
x9 (video)
Honey Heartbeat ~10 Stars Mix~


THE iDOLM@STER 2

-
-
-
x10 (video)
Kyun! Vampire Girl (きゅんっ!ヴァンパイアガール)


THE iDOLM@STER 2

x3
x3
x3
x6 (video)
Nanairo Button (七彩ボタン)


THE iDOLM@STER 2

x3
x4
x4
x7 (video)
SMOKY THRILL


THE iDOLM@STER 2

x4
x5
x6
x8 (video)
The world is all one!!
THE iDOLM@STER 2
x3
x4
x4
x5 (video)
GO MY WAY!!
THE iDOLM@STER
x3
x5
x5
x7 (video)
Kirame Kirari (キラメキラリ)


THE iDOLM@STER

x3
x6
x7
x9 (video)
Majide...!? (マジで…!?)


THE iDOLM@STER

x3
x5
x6
x8 (video)
Ai MUST GO! (アイ MUST GO!)


THE iDOLM@STER

x3
x3
x3
x8 (video)
DRIVE A LIVE


THE iDOLM@STER SideM

x3
x4
x5
x7 (video)
Oshiete Kumatomo (おしえてくまとも)


Kuma-Tomo Theme Song

x2
x3
x5
x8 (video)
Densha de Densha de GO!GO!GO!GC! -GMT remix- (電車で電車でGO!GO!GO!GC! -GMT remix-)


COSIO (ZUNTATA/TAITO) /

Kanazawa City Chiharu
x4
x5
x6
x8 (video)
Fantasy Zone OPA-OPA! -GMT remix- (ファンタジーゾーン OPA-OPA! -GMT remix-)


Hiro (SEGA)

x4
x6
x7
x7 (video)
RIDGE RACER STEPS -GMT remix-
Yuji Masubuchi (BNSI)
x4
x6
x7
x9 (video)
Densha de Densha de OPA!OPA!OPA! -GMT mashup- (電車で電車で OPA!OPA!OPA! -GMT mashup-)


Yuji Masubuchi (BNSI)

x4
x6
x7
x8 (video)
Opa! Opa! RACER -GMT mashup- (オパ!オパ!RACER -GMT mashup-)


COSIO (ZUNTATA/TAITO)

x5
x6
x8
x9 (video)
Ridge de Ridge de GO!GO!GO! -GMT mashup- (リッジでリッジで GO!GO!GO! -GMT mashup-)


Hiro (SEGA)

x4
x6
x7
x9 (video)
VERTeX
hiro / maimai
x5
x7
x8
x10 (video)
FUJIN Rumble
COSIO (Zuntata) / Groove Coaster
x5
x6
x8
x10 (video)
Scars of FAUNA
Nekomata Master / jubeat
x4
x5
x7
x9 (video)
Garakuta Doll Play
t+pazolite / maimai
x4
x6
x8
x9 (video)
Garakuta Doll Play
t+pazolite / maimai
-
-
-
x10 (video)
Got more raves?
E.G.G. / Groove Coaster
x5
x7
x8
x9 (video)
Got more raves?
E.G.G. / Groove Coaster
-
-
-
x10 (video)
FLOWER
DJ YOSHITAKA / jubeat
x5
x7
x8
x9 (video)
FLOWER
DJ YOSHITAKA / jubeat
-
-
-
x10 (video)
Masakari Blade (マサカリブレイド)


REDALiCE / SOUND VOLTEX

x4
x5
x6
x9 (video)
Over Clock ~Kaihou~ (Over Clock~開放~)
NAOKI feat. un∞limited / crossbeats REV
x3
x6
x7
x8 (video)
Kyokuken (極圏)
cosMo VS dj TAKA / SOUND VOLTEX
x5
x7
x7
x10 (video)
Ikazuchi (怒槌)
Takenobu Mitsuyoshi / CHUNITHM
x5
x7
x8
x10 (video)
Scarlet Lance


MASAKI (Zuntata) / Groove Coaster

x5
x7
x8
x10 (video)
Saika


Deemo

x3
x4
x6
x8 (video)
God Ray


Synchronica

x5
x6
x7
x10 (video)
Yoake Made Ato 3-byou (夜明けまであと3秒)


Synchronica

x4
x5
x7
x9 (video)
Canon (Synchronica Remix) (カノン (シンクロニカ Remix))


Synchronica

x3
x5
x6
x8 (video)
New World


Synchronica

x3
x6
x7
x9 (video)
Synchronicity


Synchronica

x3
x3
x6
x8 (video)
Taiko March (太鼓のマーチ)
x5
x6
x6
x7 (video)
Namco Original

(238+17 songs)
Title

Susanoo (須佐之男)

Tatsh a.k.a Zeami

Blessed Bouquet Buskers
x4
x5
x6
x10 (video)
OK I'm blue rat


E. G. G.

x4
x6
x8
x10 (video)
Kawatare-doki no Yuuwaku (彼は誰時の誘惑)


t+pazolite

x2
x3
x6
x9 (video)
Kawatare-doki no Yuuwaku (彼は誰時の誘惑)


t+pazolite







x10 (video)
Future Lab (フューチャー・ラボ)
x3
x4
x7
x8 (video)
Tsunagare! Hinogare! Uchi-agare! (つながれ!ひろがれ!打ち上がれ!)


Taiko no Tatsujin Session de Dodon ga Don Theme Song

x4
x5
x7
x9 (video)

Kaichu Teien o Motsu Shoujo (懐中庭園を持つ少女)

Harunaba feat. Chihiro Ishiguro

R.I.
Yamato x Daisuke Kurosawa
x5
x7
x8
x10 (video)
FooFoo Cassette (FooFooカセット)
Harunaba feat. SaChi (harineko)
x4
x6
x6
x9 (video)
HARDCORE no Kokoroe (HARDCOREノ心得)
DJ Myosuke
x5
x7
x8
x10 (video)
Kokushin Chronicle (黒神クロニクル)
x3
x4
x6
x7 (video)
Hoshikuzu to Rinia to Boku (星屑とリニアと僕)


feat. Yuwa (pLumsonic)

x4
x5
x5
x8 (video)
Go Go Kitchen (ゴーゴー・キッチン)
x5
x5
x7
x7 (video)

Go Go Kitchen (ゴーゴー・キッチン)
-
-
-
x10 (video)
Koi-kurenai (濃紅)
Daisuke Kurosawa x Kanako Kotera
x4
x6
x7
x10 (video)
Kagami no Kuni no Alice (鏡の国のアリス)


Itou Kashitarou

x3
x4
x5
x6 (video)
8OROCHI


REDALiCE

x5
x7
x8
x10 (video)
8OROCHI


REDALiCE

-
-
-
x10 (video)
Usagi no Shippo (うさぎのしっぽ)
x3
x4
x5
x7 (video)
Sanzegawa Ranbu (三瀬川乱舞)
x4
x5
x7
x8 (video)
Sanzegawa Ranbu (三瀬川乱舞)
-
-
-
x10 (video)
Boukyaku no Tirnanog (忘却のティルナノグ)
x4
x5
x7
x9 (video)
Geki-un! Shichifuku Happy Crew (激運!七福ハッピークルー)


Yuuya Kobayashi (IOSYS) feat. Yamamoto Momiji (monotone)

x4
x5
x7
x9 (video)
Kaidan (χ談)


Kaneko Chiharu

x5
x7
x8
x10 (video)
8OROCHI


REDALiCE

x5
x7
x8
x10 (video)
8OROCHI


REDALiCE

-
-
-
x10 (video)
Gunslinger Cinderella (ガンスリンガーシンデレラ)
x5
x6
x7
x9 (video)
Negai wa Esperanto (願いはエスペラント)
x4
x6
x6
x7 (video)
Turquoise Tachometer


AJURIKA

x4
x6
x8
x9 (video)
Sayonara Varga (さよならワーリャ)


Mirai Kodai Gakudan feat. Haruka Shimotsuki

x4
x5
x7
x9 (video)
UNDEAD HEART (Ikari no Warriors) (UNDEAD HEART (怒りのWarriors))


Eizo Sakamoto × Yusuke Takahama

x5
x7
x8
x10 (video)

Ryuu to Kokuen no Himegimi (竜と黒炎の姫君)
x4
x6
x7
x8 (video)
Ryuu to Kokuen no Himegimi (竜と黒炎の姫君)
-
-
-
x10 (video)
Sotsu Omeshiki (そつおめしき)


feat. unmo

x4
x6
x7
x10 (video)
Sotsu Omeshiki 2-ban (そつおめしき2ばん)


feat. unmo

x4
x6
x7
x10 (video)
No Gravity
x4
x6
x7
x10 (video)
VICTORIA


Cranky

x5
x7
x8
x10 (video)
Tabaneito (束ね糸)


Harunaba feat. Chihiro Ishiguro

x5
x7
x8
x10 (video)
Tengu Bayashi (天狗囃子)
x4
x7
x7
x9 (video)
Yume to Genjitsu no Kyoukai-sen (夢と現実の境界線)
x4
x6
x7
x9 (video)
Antonio (アントニオ)


You'll Melt More!

x4
x6
x6
x9 (video)
Time Traveler (タイムトラベラー)
Itou Kashitarou
x2
x3
x4
x6 (video)
Audio de Ka! (オーディオ de カッ!)


From Audio Suspense Drama "Audio Deka"

x4
x4
x6
x9 (video)
Houkago☆Magician (ほうかご☆マジシャン)


Marine Base

x4
x6
x6
x8 (video)
Marionette Pure (マリオネットピュア)
x4
x5
x7
x9 (video)
Love Fantasy (恋幻想(Love Fantasy))


HONOKA

x4
x6
x6
x8 (video)
Kagutsuchi (カグツチ)


Massive New Krew

x4
x6
x7
x9 (video)
KUSANAGI


aran

x5
x6
x7
x9 (video)
Yomi no Izanami (黄泉のイザナミ)
x4
x6
x7
x8 (video)
All In My Heart (オール・イン・マイハート)


Somei Yoshino feat. Takagi Miyu (Wake Up, Girls!)

x5
x7
x8
x9 (video)
Heaven's Rider
x5
x6
x8
x9 (video)
Tenbinza Kyuukou Yoru o Iku (てんびん座急行 夜を行く)
x5
x6
x7
x8 (video)
Kagayaki o Motomete (輝きを求めて)


Versus

x5
x6
x6
x8 (video)
Choco Chiptune.


Ancraft

x4
x6
x7
x8 (video)
Rin (凛)


a_hisa

x3
x4
x6
x9 (video)
Climb! Parfait Mountain (食らいむ!まうんとぱふぇ)


unatra

x3
x6
x8
x9 (video)
Chouzetsu-Gikoukei Shoujo (超絶技巧系少女)


Nekokaburi Cyclone (xi+Nekomirin)

x5
x6
x7
x10 (video)
Kokorobo (ココロボ)


Ujico*

x3
x4
x6
x10 (video)
Netemo Netemo (ネテモネテモ)


☆Shoji☆ feat. Honoka♡Erika

x3
x6
x6
x8 (video)
Hiyokko Fantasy (ひよっこファンタジー)


Tsuyomi

x5
x6
x7
x9 (video)
Asagao (アサガオ)


BTB

x4
x5
x7
x10 (video)
Reitouko CJ ~Amen Taiko Brothers~ (冷凍庫CJ ~嗚呼面太鼓ブラザーズ~)


DJKurara

x5
x7
x8
x10 (video)
Gloria


K. Key

x5
x7
x7
x10 (video)
Shonin YokkQ (承認欲Q)


Kaneko Chiharu feat. Haxchi

x4
x6
x6
x10 (video)
Princess of Donder


MOES feat. Erica Kaibo

x4
x5
x5
x9 (video)
Jotei ~Imbiratuula~ (女帝~インバラトゥーラ~)
x4
x7
x8
x9 (video)
Mahoujin -Summon Delta- (魔方陣 -サモン・デルタ-)
x4
x6
x7
x9 (video)
Evidence of evil


AJURIKA

x5
x7
x8
x10 (video)
Tokyo Soda 8-bit Edit (東京ソーダ 8Bit Edit)


HigedriVAN

x4
x5
x7
x8 (video)
Day by Day!
x3
x5
x7
x8 (video)
Yami no Mahou Shoujo (闇の魔法少女)


Silver Forest feat. Aki

x4
x6
x6
x9 (video)
Mugen no Sora (夢幻の蒼空)


Silver Forest feat. SAYA

x3
x5
x6
x8 (video)
G Ishiki Kajou (G意識過剰)
x5
x6
x7
x9 (video)
Gashadokuro (がしゃどくろ)
x5
x6
x7
x8 (video)
Sacred Ruin (セイクリッド ルイン)
x5
x6
x7
x9 (video)
Sacred Ruin (セイクリッド ルイン)
-
-
-
x10 (video)
Picopico Ruin (ピコピコ ルイン)


Sacred Ruin x Prof. Sakamoto

x5
x6
x7
x9 (video)
Picopico Ruin (ピコピコ ルイン)


Sacred Ruin x Prof. Sakamoto

-
-
-
x10 (video)
Caramel Time☆ (カラメルタイム☆)


Tanqun

x4
x4
x6
x8 (video)
Denshi-drum no Tatsujin (電子ドラムの達人)


Phenotas

x4
x6
x7
x9 (video)
Purupuru Simple (ぷるぷるしんぷる)


Her Ghost Friend

x4
x5
x7
x8 (video)
super star shooter


Blue Marble

x4
x6
x7
x8 (video)
Mahou no Kissaten (魔法の喫茶店)
x3
x4
x5
x8 (video)
Amanda
x3
x4
x5
x8 (video)
Houou Tenbu Mugen Kuzure (鳳凰天舞無限崩れ)
x4
x5
x7
x9 (video)
Shoujo no Kami no Ryuushi (少女の神の粒子)
x4
x5
x7
x9 (video)
Alexander no Theme (アレキサンダーのテーマ)
x4
x5
x8
x8 (video)
Gasshou Stabofe! (合唱スタボーフェ!)
with Tama☆tai feat. Danchinomiya
x4
x6
x6
x9 (video)
Shugaku Travelers (シューガク トラベラーズ)


Yuka Uchiyae

x4
x5
x5
x8 (video)
Natsumono☆ (ナツモノ☆)


Tanqun Democracy

x3
x4
x6
x6 (video)
Yureru Pleats Jikkouin (ゆれるプリーツ実行委員)


feat. Danchi no Miyami-ko

x4
x6
x7
x8 (video)
Tokyo Tokkyo Kyo Kyokakyoku Kyokucho!! (東京特許キョ許可局局長!!)
x3
x4
x6
x8 (video)
Uso-uso Doki (うそうそ時)
x4
x5
x7
x8 (video)
Jikuu Chou Jikuu 1-Ka (時空庁時空1課)


feat. unmo

x4
x6
x8
x9 (video)
Jikuu Chou Sousa 2-Ka (時空庁捜査2課)


feat. Sachi (Harineko)

x4
x6
x7
x8 (video)
Ne~e Oshiete (ねぇ教えて)
x4
x5
x6
x7 (video)
Calculator


M-O-T-U

x4
x7
x8
x10 (video)
Hurtling boys


Sadakichi Ihcikadas

x5
x7
x8
x10 (video)
D's Adventure Note


Dan@Yomii

x5
x7
x8
x10 (video)
Oozora to Taiko no Odori (大空と太鼓の踊り)


paraμ

x4
x6
x8
x9 (video)
Tsundere Cafe e Youkoso☆ (ツンデレCafeへようこそ☆)


Nekojyaga*

x4
x6
x7
x9 (video)
DEBSTEP!


Yaju

x5
x7
x8
x10 (video)
Yozakura Braiders (夜櫻ブレヰダアズ)


Ponkichi

x5
x7
x8
x9 (video)
Aisowarai (愛想笑い)


Kaneko Chiharu

x5
x6
x7
x8 (video)
Bakemono Tsukiyo (化物月夜)


Kunikichi

x5
x6
x8
x8 (video)
Oresama Pirates (オレサマパイレーツ)
x3
x5
x6
x8 (video)
Theremin Rhapsody (テルミン狂想曲)


No. 42 'Pathetique'

x4
x6
x6
x7 (video)
Meena no Oyashiki (ミーナのおやしき)
x4
x5
x7
x9 (video)
Obake no Oshigoto (おばけのお仕事)
x4
x5
x4
x6 (video)
Dream Tide -Yume no Chouryuu- (Dream Tide -夢の潮流-)
x3
x5
x7
x8 (video)
Houjou Yayoi (豊穣弥生)
x4
x5
x6
x8 (video)
Kurukuru Kurokkuru (クルクルクロックル)
x3
x4
x5
x8 (video)
Nightmare Survivor (ナイトメア・サバイバー)
x3
x5
x6
x8 (video)
Nightmare Survivor (ナイトメア・サバイバー)
-
-
-
x10 (video)
Phoenix
x4
x5
x6
x7 (video)
3piece-JazzParty!
x4
x5
x7
x9 (video)
Kaze no Kuni no Ryu to Kishi (風の国の龍と騎士)
x4
x5
x7
x8 (video)
Dokidoki Munekyun Omatsuri Time (ドキドキ胸きゅん おまつりタイム)
x3
x5
x6
x9 (video)
DIMENSIONS
x4
x6
x8
x9 (video)
Carnation (和蘭撫子)
x4
x5
x6
x8 (video)
Koi no Shohousen (恋の処方箋)
x3
x5
x5
x7 (video)
Boku wa Synth (ボクハシンセ)
x3
x3
x4
x8 (video)
junction
x4
x5
x6
x9 (video)
Sword Battlers (ソードバトラーズ)
x4
x6
x6
x7 (video)
Sword Battlers (ソードバトラーズ)
-
-
-
x9 (video)
Kibou e no Melody (希望へのメロディー)


Taiko no Tatsujin V Version Theme Song

x3
x3
x6
x7 (video)
Kimi to Hibiku Harmony (キミと響くハーモニー)
x3
x4
x5
x6 (video)
Kimi to Hibiku Harmony (キミと響くハーモニー)
-
-
-
x8 (video)
Choujikuu Adventure (超時空アドベンチャー)


Taiko no Tatsujin: Don to Katsu no Jikuu Daibouken theme song

x4
x5
x6
x6 (video)
Sekai wa Itsudemo Mystery (世界はいつでもミステリー)
Taiko no Tatsujin Dokodon! Mystery Adventure Theme Song
x4
x4
x5
x7 (video)
Famires Wars (ファミレスウォーズ)
x2
x4
x5
x8 (video)
Phantom Rider
x4
x6
x7
x8 (video)
Phantom Rider
-
-
-
x9 (video)
Fly away
x4
x5
x5
x7 (video)
Ninja wa Saikou (忍者は最高)
x3
x4
x5
x7 (video)
Nagisa no Andromeda (渚のアンドロメダ)
x4
x4
x5
x8 (video)
Danba Danba Din Dan (ダンバ・ダンバ・ディン・ダン)


YMCK

x5
x6
x7
x8 (video)
Jinpuumaru (迅風丸)
x3
x4
x6
x8 (video)
Jinpuumaru (迅風丸)
-
-
-
x9 (video)
Haryu (春竜 ~Haryu~)
x4
x5
x7
x8 (video)
Haryu (春竜 ~Haryu~)
-
-
-
x9 (video)
Karyu (夏竜 ~Karyu~)
x4
x6
x7
x8 (video)
Karyu (夏竜 ~Karyu~)
-
-
-
x9 (video)
Toryu (冬竜 ~Toryu~)
x4
x5
x7
x8 (video)
Toryu (冬竜 ~Toryu~)
-
-
-
x9 (video)
Shiuryu (秋竜 ~Shiuryu~)
x4
x6
x7
x9 (video)
Shiuryu (秋竜 ~Shiuryu~)
-
-
-
x10 (video)
Hayabusa (隼)
x5
x7
x8
x9 (video)
Canadea (カナデア)
x5
x7
x8
x8 (video)
MATSURI D/A
x5
x7
x8
x8 (video)
My Mine
x4
x5
x4
x6 (video)
Growing Up
x3
x5
x5
x6 (video)
Reviver (リバイバー)
x3
x4
x5
x8 (video)
All Night de Indenai (オールナイト de インデナイ)
x3
x4
x6
x7 (video)
Omoi o Te ni Negai o Komete (想いを手に願いを込めて)
x4
x5
x5
x7 (video)
Hey, Mr. Professor (ヘイ、ミスタープロフェッサー)
x3
x4
x6
x7 (video)
Inu Hoeru (犬吠える)
x4
x5
x5
x6 (video)
Kuon no Yoru (久遠の夜)
x4
x5
x6
x8 (video)
Chiheisen no Aeolia (地平線のエオリア)
x4
x6
x7
x7 (video)
The Magician's Dream
x4
x6
x7
x8 (video)
Marble Heart (マーブルハート)
x3
x5
x5
x6 (video)
Zero no Nocturne (零の夜想曲)
x4
x6
x6
x8 (video)
Zero no Nocturne (零の夜想曲)
-
-
-
x9 (video)
Zero no Rhapsody (零の狂詩曲)
x4
x6
x7
x9 (video)
Cross Blue (クロス・ブルー)
x4
x6
x7
x9 (video)
Break Line (ブレイクライン)
x3
x5
x7
x8 (video)
Ao no Senritsu (蒼の旋律)
x4
x6
x7
x9 (video)
Ao no Senritsu (蒼の旋律)
-
-
-
x10 (video)
Aka no Senritsu (朱の旋律)
x4
x7
x8
x10 (video)
Nijiiro Yumeiro Taikoiro (虹色・夢色・太鼓色)
x3
x5
x5
x6 (video)
Taiko Love! (太鼓ラブ!)
x3
x2
x4
x5 (video)
Donko's First Date (どん子のファーストデート)
x4
x4
x3
x4 (video) (2P video)
Donko's First Date (どん子のファーストデート)
-
-
-
x8 (video) (2P video)
Off Rock (オフ♨ロック)
x4
x6
x6

x7 (video)
Sports Digestdon (スポーツダイジェスドン)


~Fill in The Sky~

x4
x5
x6
x7 (video)
Sports Digestdon (スポーツダイジェスドン)


~Fill in The Sky~

-
-
-
x9 (video)
Saturday Taiko Fever (サタデー太鼓フィーバー)
x4
x6
x8
x7 (video)
Saturday Taiko Fever (サタデー太鼓フィーバー)
-
-
-
x8 (video)
Shining 65 (シャイニング65)
x4
x5
x6
x7 (video)
Mekadesu (メカデス。)
x4
x7
x7
x7 (video)
Fuun! Bachi o Sensei (風雲!バチお先生)
x3
x5
x6
x7 (video)
Densetsu no Matsuri (伝説の祭り)
x3
x4
x6
x7 (video)
The Carnivorous Carnival
x4
x6
x7
x9 (video)
Yozakura Shanikusai (夜桜謝肉祭)
x4
x6
x8

x9 (video)
Yozakura Shanikusai (夜桜謝肉祭)
-
-
-
x10 (video)
Ego Ego Atakushi (エゴエゴアタクシ)
x4
x7
x7
x8 (video)
DON'T CUT
x4
x7
x8
x8 (video)
DON'T CUT
-
-
-
x9 (video)
Angel Dream (エンジェルドリーム)
x3
x6
x7
x8 (video)
Angel Dream (エンジェルドリーム)
-
-
-
x9 (video)

Kaze no Fantasy (風のファンタジー)
x4
x6
x6
x8 (video)
Pastel Dream (パステル ドリーム)
x4
x6
x7
x8 (video)
Yuugao no Kimi (ユウガオノキミ)
x3
x6
x6
x7 (video)
Chiriyuku Ran no Tsuduru Uta (散りゆく蘭の綴る詩)
x4
x6
x6

x9 (video)
Yuujou Pop (友情ぽっぷ)
x4
x4
x7
x6 (video)
Many wow bang!
x4
x4
x7
x7 (video)

Many wow bang!
-
-
-
x9 (video) (2P Ura)
Negaigoto☆Puzzle (ねがいごと☆ぱずる)
x3
x3
x6
x8 (video)
Hello! Halloween (ハロー!ハロウィン)
x3
x2
x6
x8 (video)

Metal Police (めたるぽりす)
x4
x6
x7
x9 (video)
Metal Police (めたるぽりす)
-
-
-
x9 (video)
NECOLOGY
x3
x5
x7
x8 (video)
Taiko Time (タイコタイム)
x5
x6
x7

x9 (video)

Taiko Time (タイコタイム)
-
-
-
x10 (video)
Mulberry
x4
x6
x6
x7 (video)
LOVE Ikusa!! (LOVE戦!!)
x3
x5
x7

x8 (video)
Kimi no Akari (きみのあかり)
x4
x4
x5
x5 (video)
Kimi no Akari (きみのあかり)
-
-
-
x8 (video)
Kimi no Planet (君のプラネット)
x3
x5
x6
x8 (video)
Garyoutensei (画竜点睛)
x5
x6
x6
x8 (video)

Shin Garyoutensei (真・画竜点睛)
x4
x5
x6
x9 (video)

Shin Garyoutensei (真・画竜点睛)
-
-
-
x9 (video)

Kurofune Raikou (黒船来航)
x4
x5
x6
x8 (video)
Hyakka Ryouran (百花繚乱)
x3
x4
x5
x8 (video)

Sengoku Sangen (戦国三弦)
x4
x4
x6
x9 (video)

Fuun Shishi (風雲志士)
x4
x5
x7
x8 (video)

Ouka Ranman (桜花爛漫)
x4
x6
x7
x8 (video)

Taiko Ranbu Kaiden (太鼓乱舞 皆伝)
x4

x5

x7

x8 (video)

Dun Aonghasa no Fuefuki (ドン・エンガスの笛吹き)
x4
x6
x7
x8 (video)
Xastur no Madousho (ザストゥールの魔導書)
x3
x5
x6
x8 (video)
Lisdoonvarna no Tasogare (リスドンヴァルナの黄昏)
x3
x5
x6
x8 (video)
Uchuu SAMURAI (宇宙SAMURAI)
x3
x6
x7
x8 (video)
Tsukikage SASURAI (月影SASURAI)
x5
x6
x7
x8 (video)
Tsukikage SASURAI (月影SASURAI)
-
-
-
x9 (video)
Arumujika ac14.0V (アルムジカac14.0V)
x4
x7
x7
x9 (video)
3Q-4U-AC00
x3
x6
x4
x7 (video)
SORA-I Earth Rise (SORA-I アースライズ)
x3
x5
x7
x8 (video)
SORA-II Gliese 581 (SORA-II グリーゼ581)
x4
x4
x6
x7 (video)
SORA-VI Hinotori (SORA-VI 火ノ鳥)
x5
x5
x7
x9 (video)
Kikyoku ~Seasons of Asia~ (季曲 ~Seasons of Asia~)
x3
x5
x5
x7 (video)
Kikyoku ~Seasons of Asia~ (季曲 ~Seasons of Asia~)
-
-
-
x8 (video)
Chikuzei~GEAR UP~ (蓄勢~GEAR UP~)
x3
x5
x6
x7 (video)
Chikuzei~GEAR UP~ (蓄勢~GEAR UP~)
-
-
-
x8 (video)
Zeihen ~transformation~ (蛻変~transformation~)
x3
x5
x6
x7 (video)
Zeihen ~transformation~ (蛻変~transformation~)
-
-
-
x8 (video)
Shunyuu ~happy excursion~ (春遊~happy excursion~)
x4
x5
x6
x7 (video)
Shunyuu ~happy excursion~ (春遊~happy excursion~)
-
-
-
x8 (video)
Tanhou ~Blooming~ (綻放 ~Blooming~)
x3
x5
x6
x7 (video)
Tanhou ~Blooming~ (綻放 ~Blooming~)
-
-
-
x8 (video)
Shokou ~Dawn~ (曙光 ~Dawn~)
x4
x5
x7
x7 (video)
Shokou ~Dawn~ (曙光 ~Dawn~)
-
-
-
x8 (video)
Kayou ~Flourishing Blossoms~ (花漾 ~Flourishing Blossoms~)
x3
x4
x5
x7 (video)
Kayou ~Flourishing Blossoms~ (花漾 ~Flourishing Blossoms~)
-
-
-
x9 (video)
Chouren ~Obsession~(蝶戀 ~Obsession~)
x3
x4
x4
x7 (video)
Chouren ~Obsession~(蝶戀 ~Obsession~)
-
-
-
x8 (video)
Rotter Tarmination
x4
x6
x7
x8 (video)
Rotter Tarmination
-
-
-
x10 (video)
dance storm
x4
x6
x6
x7 (video)
dance storm
-
-
-
x9 (video)
Dodon ga Do~n (ドドンガド~ン)
x4
x5
x7
x8 (video)
Dodon ga Do~n (ドドンガド~ン)
-
-
-
x10 (video)
Rumble Ranbu (らんぶる乱舞)
x4
x7
x8
x8 (video)
Rumble Ranbu (らんぶる乱舞)
-
-
-
x8 (video)
Lightning Passion (らいとにんぐ ぱっしょん)
x4
x5
x6
x7 (video)
Lightning Passion (らいとにんぐ ぱっしょん)
-
-
-
x9 (video)
Samba Alegria (サンバ アレグリーア)
x4
x6
x6
x7 (video)
Samba Alegria (サンバ アレグリーア)
-
-
-
x9 (video)
Black Rose Apostle
x5
x6
x8
x10 (video)
Black Rose Apostle
-
-
-
x10 (video)
White Rose Insanity
x5
x5
x6
x7 (video)
White Rose Insanity
-
-
-
x8 (video)
Red Rose Evangel
x5
x7
x7
x9 (video)
Blue Rose Ruin
x5
x7
x8
x8 (video)
Purple Rose Fusion
x5
x7
x8
x10 (video)
Ryougen no Mai (燎原ノ舞)
x4
x6
x7
x10 (video)
Senpuu no Mai- Heaven (旋風ノ舞【天】)
x4
x6
x8
x10 (video)
Senpuu no Mai- Earth (旋風ノ舞【地】)
x4
x6
x7
x9 (video)
Tenyou no Mai (天妖ノ舞)
x3
x6
x8
x9 (video)
Yuugen no Ran (幽玄ノ乱)
x5
x7
x8
x10 (video)
Souryuu no Ran (双竜ノ乱)


Zeami

x5
x7
x8
x10 (video)
Souryuu no Ran (双竜ノ乱)


Zeami

-
-
-
x10 (video) (2P video)
Shikou no Ran (紫煌ノ乱)


Zeami

x5
x6
x8
x10 (video)
Xa


Tatsh

x5
x6
x7
x9 (video)
Xa


Tatsh

-
-
-
x10 (video)
Amaterasu (天照)


Tatsh a.k.a. Zeami

x4
x7
x8
x10 (video)
Tsukuyomi (月読命)


Tatsh a.k.a. Zeami

x5
x7
x8
x10 (video)
DokuLO CANdy♡ (毒LOCANdy♡)


t+pazolite

x3
x4
x6
x9 (video)
!!!Chaos Time!!! (!!!カオスタイム!!! )


t+pazolite

x5
x7
x8
x10 (video)
Shiny Kung-fu Revival


t+pazolite

x4
x6
x7
x9 (video)
Shiritsu Takama-ga-hara Gakuen Koukou Kouka (私立高天原学園高校・校歌)


D.watt (IOSYS) feat. Np Hiko Inuta & Yamamoto Momiji

x4
x6
x7
x9 (video)
My Muscle Heart


~TV Takama-ga-hara-style Anime [Muscular Magical Girl Takeminakata] Main Theme~ / Yuuya Kobayashi (IOSYS) feat. Yamamoto Momiji (monotone)

x3
x4
x5
x9 (video)
Shotoku Taiko no「Hi Izuru Made Asuka」(聖徳たいこの「日いずるまで飛鳥」)


Yuuya Kobayashi (IOSYS) feat. miko

x4
x6
x7
x9 (video)

Yamatai★Night Party (ヤマタイ★ナイトパーティー)


Yuuya Kobayashi (IOSYS) feat. Chiyoko

x3
x5
x7
x9 (video)
IOSYS Aki no Nikushoku Matsuri 2014 (イオシス秋の肉食祭2014)


D.watt (IOSYS) feat. Np Hiko Inuta & Hakase

x3
x6
x7
x9 (video)
mint tears
x4
x6
x7

x10 (video)
Ignis Danse


Yuji Masubuchi / Taiko no Tatsujin

x4
x7
x8
x10 (video)
SAKURA EXHAUST
x3
x6
x7
x9 (video)
Saitama 2000 (さいたま2000)
x5
x7
x7
x7 (video)

Haya Saitama 2000 (はやさいたま2000)
x5
x7
x8
x9 (video)
Kechadon 2000 (ケチャドン2000)
x5
x6
x8
x9 (video)

Koibumi 2000 (恋文2000)
x5
x7
x8
x9 (video)

Yokuderu 2000 (よくでる2000)
x5
x6
x7
x9 (video)
Taberuna 2000 (タベルナ2000)
x5
x7
x8
x10 (video)
Kita Saitama 200 (きたさいたま200)
x5
x7
x8
x9 (video)
Kita Saitama 2000 (きたさいたま2000)
x5
x7
x8
x10 (video)
Soroban 2000 (十露盤2000)
x4

x6

x8

x10 (video)

Tenjiku 2000 (てんぢく2000)
x4
x7
x8
x10 (video)
X-DAY2000
x5
x7
x8
x10 (video)
Hataraku 2000 (はたラク2000)
x5
x7
x8
x10 (video)
Shimedore 2000 (〆ドレー2000)
x5
x7
x8
x10 (video)
Joubutsu 2000 (万戈イム一一ノ十)
x5
x7
x8
x10 (video)

Mata Saitama 2000 (またさいたま2000)
x5
x7
x8
x10 (video)
Suuhaa 2000 (スーハー2000)
x5
x7
x8
x10 (video)
Donkama 2000 (ドンカマ2000)
x5
x7
x8
x10 (video)
Norudon 2000 (ノるどん2000)
x4
x6
x7
x10 (video)
Mada Saitama 2000 (まださいたま2000)
x5

x7

x8

x10 (video)

Infinite Rebellion
Daisuke Kurosawa - Original Song [Yuugen no Ran/Zeami (Tatsh)]
x5
x7
x8
x10 (video)