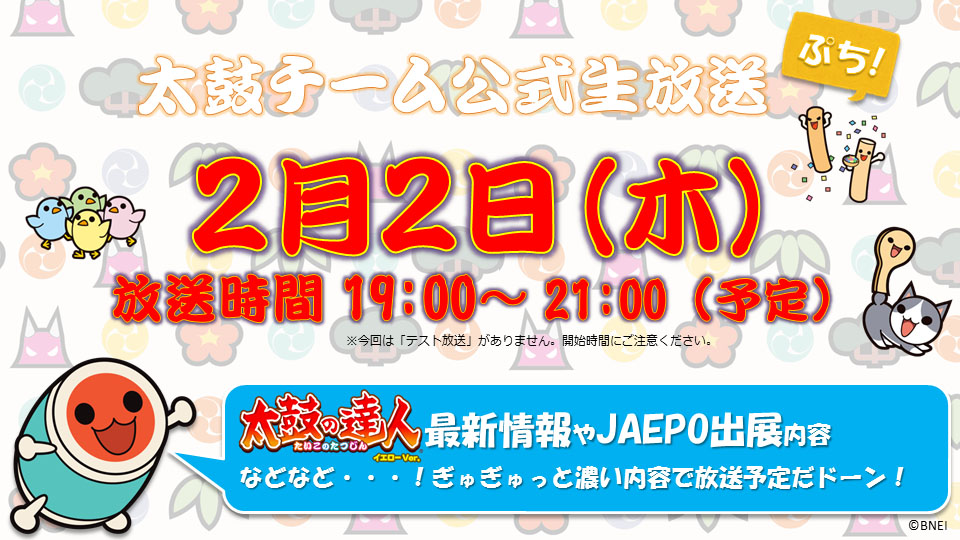 Next Thursday we're having a small dose of Taiko Team livestream magic, but nevertheless it's going to have quite the content selection to back it up! While
this is the link
to the future Nicovideo broadcast, its full time schedule is featured after the jump.
Taiko no Tatsujin Official Broadcast

(Petit)
When
: February 2nd, 2017 - 19:00-21:00 (no test broadcast portion)
Who
: Taiko Team members including Etou, Takemoto, Anne, Daifuku
What
:
-)
Opening & Today's Menu
(~19:00)
A quick live summary before the fun starts! You know, the usual.
-)
Red Version Corner
(~19:10)
This time around it's focused on both the Cinderella Girls event and the Dojo Gaiden implementation! Expect some fancy graphs to see the player reception to the current firmware's new feature.
-)
Yellow Version Corner
(~19:30)
Red Version's firmware successor is already hogging some livestream space, starting with the very first newcomer launch tracks. There will be some Namco Original previews, too!
-)
About the Revamped Rewards Shop Features
(~19:45)
After
yesterday's blog update rush
, see how Yellow Version's new rewarding systems are working before the new color version's release! Who knows, perhaps some of its first new items are going to be shown...
-)
Taiko @ JAEPO 2017
(~20:00)
Wanna know what the Taiko Team is preparing for their yearly return to the fair on
February 10-12
, aside from the 3rd Tenkaichi Otogesai's finals? Then this will be the portion for you!
-)
Other Taiko Notices & Future Story Corner
(~20:15)
Future content notices always have their place during this fmily of broadcasts's running time, but this time around there might be even a behind-the-scene story of a yet-to-be-announced future thing that is related to the Taiko series?
-)
Ending
(~21:00)
Again, the usual.
Due to this broadcast being shorter than usual, there's not going to be a comment challenge this time around. Perhaps with the next one (as hinted by Daifuku herself)?
Link to original post