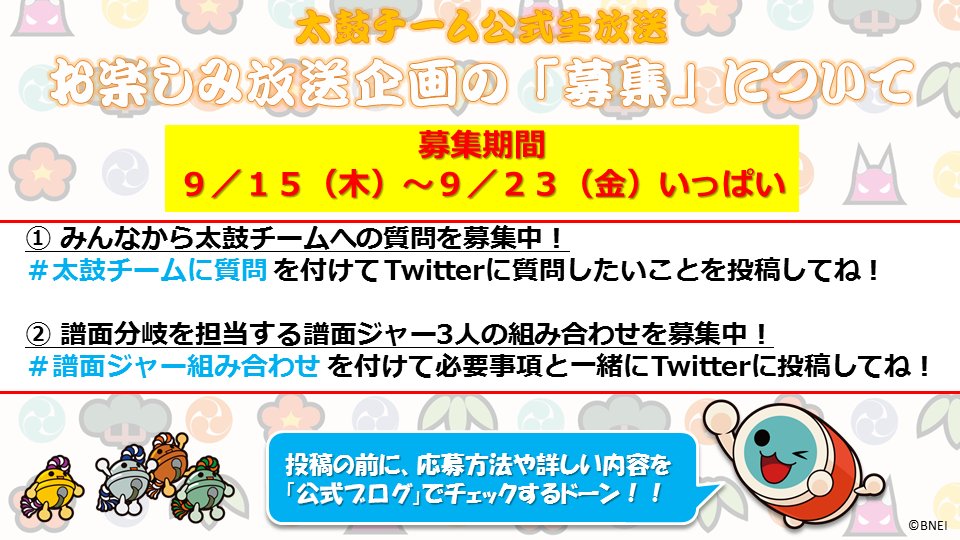 Today, one of the Taiko Team's ladies is at the helm of the weekly blog entry updates for a double dose of posts, concerning the events in schedule for September 30th's livestream and what the header picture you're seeing above is for!
As anticipated by Etou last week
, the next broadcast will have a 'Livestream Fun Time' portion tacked at the end of the run, with the Taiko Team hosts interacting with the audience for a number of activities. Here they are in full detail:
Questions to the Taiko Team
Want to ask something to the big names behind the Taiko no Tatsujin series? Here's a chance for your curiosity to shine! Send a question on Twitter by using the Japanese hashtag
#太鼓チームに質問
(#QuestionsToTaikoTeam), and it might be read and answered live during the livestream! Any number of questions can be sent during the next 7 days, with the only limitations for the Team being stream time constrains, one question per tweet and no negative intentions such as slandering.
Taiko Team vs Donders! Super Hard Quiz Tournament
If you're feeling in the mood of more Taiko trivia action
after our returning blog anniversary challenge
, the Taiko Team is competing against the Nicovideo audience with an harder-than-before quiz! We've better to give a lot of correct answers, this time around...
Namco Original Song Revival Awards
...because the positive endeavors of the streamers will be rewarded with a Namco Original song revival, appearing in both Taiko Red Version and 3DS 3 as a piece of DLC. Up to four song suggestions can be won by succeeding at the Taiko Team's quiz to be balloted live for the decision, with eventual lost picks being decided by the Taiko Team hosts instead.
New Song Six-Hand Notecharting Job! Forked-Path Notecharter Trio Election
The last event on schedule will be about one of the next songs to come out for the series, which will be featuring forked paths being charted by three different people! The Taiko no Tatsujin fans will have a saying on the charters's identity with yet another Twitter campaign, which is actually the topic for today's second blog entry.
Link to original post
★ ★ ★
For the last of the Livestream Fun Time events, there's another Twitter campaign for everyone to join! All the entries have to be labeled with the Japanese hashtag
#譜面ジャー組み合わせ
(#MusicSentaiCombination), specifying the voted member and the favorite song notechart from the selected charter among the ones that have been listed in this 2nd blog entry, together with a supporting message (again, no slander please) for your vote. Both this Twitter campaign and the previously-mentioned #太鼓チームに質問 will run from today to
September 23rd
.
Here are the notecharters that are participating for the election, with their selection of most-recent works:
-) atsu
Gomenasai no Kissing You
Sore wa Bokutachi no Kiseki
Monster Hunter 4 Medley
Pokemon Omega Ruby/Alpha Sapphire Medley
TO MAKE THE END OF BATTLE
Heart Slump Futari-bocchi
Setsuna Trip
Korokoro Cocotama!
Checkmate!?
Shokou ~Dawn~
Often called for collaboration brand-related songs, atsu is used to make notecharts as they could be used as an original score for a Taiko cover of a given song; as such, this notecharter usually approaches licensed works only if he's a fan of said trope's representative song(s), or at least familiar with the story setting/PVs/Game/Anime theme etc.
-) Arihotto (アリーホット)
Ace Attorney 123 Medley
Ladystar Wandering
Shoutoku Taiko no "Hi Izuru Made Asuka"
KUSANAGI
Gigantic O.T.N (Oni/Ura Oni)
Watashi Igai Watashi ja Nai no
SstTAarR*
Help me, ERINNNNNN!! -Cranky remix-
Yume to Genjitsu no Kyoukai-sen
Tonkatsu DJ Agetarou
A muscle player while playing Taiko games for himself, Arihotto is keen on making stamina-based notecharts that will test your muscle endurance and make you feel like you're playing with a real Taiko drum!
-) Kawagen Collagen (カワーゲン・コラーゲン)
Ninjin Nin
Ninjyary Bang Bang
Purupuru Simple
Jikuu Chou Jikku 1-ka
Sotsu Omeshiki
Lassen Gorelai (Oni/Ura Oni)
Love Fantasy
Antonio
Netemo Netemo
Diver
The returning Kawagen's quest to be one with the songs he charts still lives on, with the same individual noticing a rise of quality in his work with lesser tiredness. What is his secret?
-) Kijikiji (キジキジ)
Tabaneito
Gunslinger Cinderella
Ghosts 'n Goblins (Overworld BGM)
Rising
Seishun Satsubatsu-ron
Zero no Rhapsody
Opa! Opa! RACER -GMT mashup-
Yoake Made Ato 3-byou
Karakuri Pierrot
Kijikiji makes his notecharts with the aim of the player imagining the song itself to unfold upon his/her eyes by playing his hybrid time-signatures pieces.
-) Kirakira☆Sakamoto (きらきら☆さかもと)
Dream Parade
Kaitou Miracle Shounen Boy
Jiriki Hongan Revolution
START DASH SENSATION
Angelic Angel
TraBelna ~from Monster Hunter Cross~
Good-bye me earth
Kakushinteki☆Metamaruphose!
Sekai Fushigi Hakken! Opening Theme
Untaka Dance
Already composer of Nightmare Survivor, this Namco SOUNDS musician turned into a recently-prolific notecharter with a nickname that reflects how everyone around him is seeing his eyes as glowing glitter! His charting motto is to never hit the Taiko drum without thinking.
-) KuboKen (くぼけん)
Maji LOVE2000%
Densha de Densha de GO!GO!GO!GC! -GMT remix-
Jibun REST@RT (Oni/Ura Oni)
Onegai! Cinderella
Thank you!
Calculator
Evidence of evil
Audio de Ka!
Lightning Dance
Hiyokko Fantasy
Idolm@ster fan KuboKen is more on the simplicity route for his creations, incentivizing one major charting mechanism to be expressed by Taiko hits for each song.
-) Sasaoka (ササオカ)
Tomo Yo~Kono Saki mo Zutto...
Minna ga Minna Eiyuu
Sekai wa Itsudemo Mystery
Warera Omou, Yue ni Warera Ari
Honnouji no Hen
Choujikuu Adventure
Neh Oshiete
Polyrhythm
Bad Apple!! feat. nomico
Natsu Matsuri
Surprisingly enough, it turns out that Sasaoka is actually one of the eldest still-in-activity notecharters, with his earliest creations being made while he was in charge of the lyrics for household products CMs. Under his belt are the always-popular Natsu Matsuri and Polyrhythm among others!
-) SueP (すえP)
Synchronicity
Canon (Synchronica Remix)
Charlie Dash!
Lost One no Goukoku
Seisou Bakuretsu Boy (Oni/Ura Oni)
Streaming Heart
Let's Kouken! ~Koi no Choueki ha 1,000,000-Nen~
crossing fiels
Diet Fighter
Doubutsu Sentai Zyuohger
And now, here's a notecharter newcomer! The not-Vocaloid-Making-Related SueP crafts with love notecharts that play more on the technical side of difficulty. Being also renowned to be a charter for songs in Synchronica, it's not surprising to see this newbie charter handling their Taiko ports as well!
-) Takemoto (タケモト)
EAT 'EM UP!
...yeah, the main face of the Taiko Team's Twitter account (as well as recurrent livestream host) still has one charting work under his belt, but he's always open to try his skills on other tracks! For EAT 'EM UP, he wasn't being given any limitation outside the 7-8* range, but he'd like to be restricted in the future in order to develop his own style.
-) Shika@ni~San (しか@に~さん)
Renai Saiban
Sengoku BASARA BGM Medley
Umiyuri Kaitei Tan
Donut Hole
Nameko no Uta (Oni/Ura Oni)
Plus Danshi
Himawari no Yakusoku
OLA!!
Try Everything
Zetsubo e no Toccata
Another relatively-new charter, this nick-named fellow admits for this blog entry to be charting songs that are up on his alley to be completed. Will he touch modern 10* Oni songs in the future, too?
-) Masubu・Chuji (マスブ・チュジー)
Houjou Yayoi
Gashadokuro
Mahoujin -Summon Delta-
Jotei ~ Imbiratuula~
Tengu Bayashi
Alexander no Theme
Saturday Taiko Fever (Regular Oni only)
Ra Morena Kumonai
Thinking ~Must Mix~ (Ura Oni only)
(Nearby 90% of the songs composed/performed by himself)
That's right: Masubutchi Yuuji now has his own notecharter Sentai nickname! Being a music-maker for Taiko no Tatsujin songs himself, his notecharts tend to be closer in musicality to the main song's rhythms.
His favorite trait in Taiko playing is how by following a song's musicality the most with averagely-powerful hits will lead to a more precise performance, while hard-hitting raises the chance of 'Good' hits; he himself admits that this is valid to this day, even with the introduction of crazier songs and notechart gimmicks!
-) Marimo Institute (まりも研究所)
Ultraman X (Oni/Ura Oni)
ANTI-HERO (Oni/Ura Oni)
Scream out! -Taiko Edit.-
New World
Ephemeral, Great and Splendid Land of Grief
Shiritsu Takama-ga-hara Gakuen Koukou Kouka
Climb! Mount Parfait
Asagao
Ghost Rules (Oni/Ura Oni)
Abandoned Temple Final 2nd
Marimo Institute likes to play with contradictory concepts while charting songs, as the main preference is to make easy songs to read, but hard to be hit. With a quick paragon to the real-life
Marimo plants
, this charter's first year into Taiko notecharting may have left it to be grown a few millimiters, such as the plants themselves that may grow up to one centimeter in a year!
-) Dark Attribute (闇属性)
Yawaraka Sensha (Ura Oni only)
Eikyoku/Gyounan
Gimme Choco!! (Oni/Ura Oni)
≠MM
BLAZING VORTEX (Oni/Ura Oni)
Angel Halo
Kurenai
Silent Jealousy (Oni/Ura Oni)
Tutti!
Neko Kujira (Ura Oni only)
While caring for the harmony of the basic song, Dark Attribute 'TOMOKI' 's charting formula is to infuse a little bit of dark magic to its charting potentials... All is licit to make players say "This is fun!" about his works!
-) Yamaguchi (ヤマグチ)
Kessen!
LovexLove Whistle
Anata ni Koi wo Shite Mimashita
Sugar Song to Bitter Step
Toori Yo
Raise your flag
Umi no Koe
Shonin YokkQ
Reitouko CJ ~Amen Taiko Brothers~
SAKURA EXHAUST
Commenting for the first time -as well as being the last elegible charter- is Yamaguchi, an individual who is completely dedicated into making a song's charts when being commissioned to, be it a 1* or a 10*! The main style trait is to symmetrically juxtapose base music and notechart as in an axis.
Link to original post