Are you confused with the pre-order antics we have been reporting? We are too, to some extent! Let's try to have them settled with today's V Version main site update! But first...
Trial Version Available Now!

Get a free, first-hand look of the game yourself! Following the trend from 3DS1 and 2, V Version also has a Trial Version available before launch, which can be downloaded from the PlayStation Store right now!
Try out the normal gameplay with
Ridge Racer
and the console debut of
Day by Day!
, as well as console debut for the
Shin-uchi
modifier (
source
)! Test out deck formation and Noise battle in a
Donder Quest taster
! Hook 3 more friends with a PSVita to also download and experience how the
Multi-play trial
feels like!
Addendum:
Gekkabijin
and
Summer Dragon ~Karyu~
in Donder Quest! (
source
)
Pre-order Campaigns: Making Sense of it
Now to the pre-order slash early order slash whatever you want to call it. With all the previous conflicting news, here is the big summary with respect to the additions today to make everything crystal clear.
(A) Outlet-exclusive Special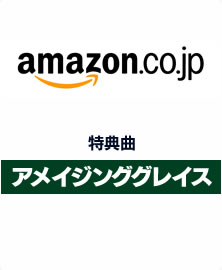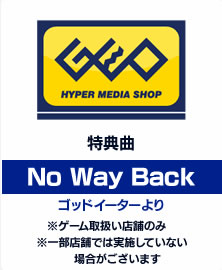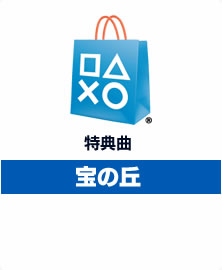 You get one of these songs for free depending on where you order your copy, given in the form of a serial code that you enter into the game. While some locations may also impose time limits, the only determining factor is where you order.
Order from
Amazon Japan
(special only before July 9)
   →

アメイジンググレイス Amazing Grace
Order from
GEO
(selected stores only)
   →
No Way Back
「ゴッドイーター」より from God Eater
Order from
PlayStation Store
   →
宝の丘 Takara no Oka
Order the
Chinese version
from certain vendors
   →

精舞門
羅志祥 Show Luo
or

你是我的花朵
伍佰 Wu Bai
or

920
A-Lin & 小宇 Xiaoyu Song
(randomly one)
(B) Early Order Special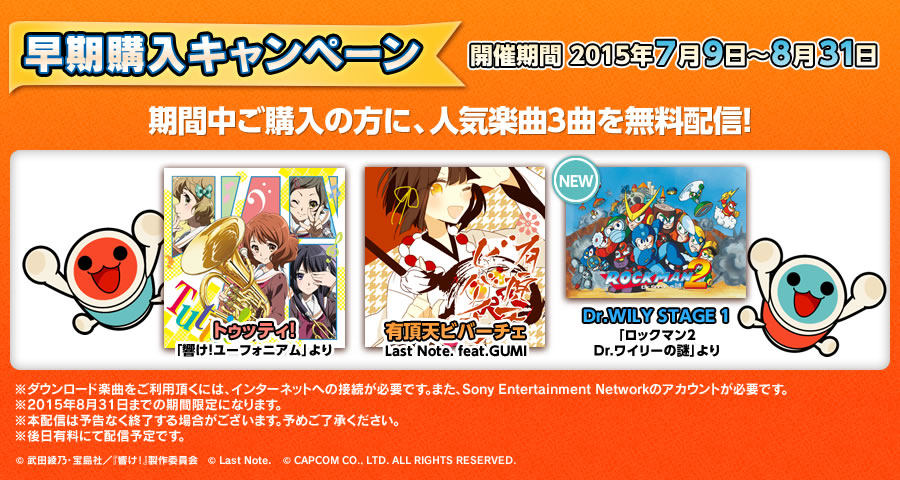 These three songs will be released as free DLC from July 9 until August 31. Regardless of where you order your copy, as long as you can get to the PlayStation Network before it ends, you can download them for free.
トゥッティ!
「響け!ユーフォニアム」より
Tutti!
from Hibike! Euphonium
NEW!
有頂天ビバーチェ
Uchouten Vivace
Last Note feat. GUMI
NEW!
(3rd song coming soon)
Addendum: For the Chinese version, there is a not-so-well titled
Mega Man 2 Theme
as an Early Order Special (
source
).
Addendum (2): Chinese version also comes in a device bundle with other added perks. Also the first printing of the hard copy will come with either a Don-chan or Kat-chan doll. (
source
)