Against contrary belief, tomorrow's promised V Version talk in the next livestream doesn't prevent its website to have a Thursday update! Here's what's new this time around.
New Songs
RIDGE RACER STEPS -GMT remix-
NEW!
Yuji Masubuchi (BNSI)「RIDGE RACER」
ファンタジーゾーン OPA-OPA! -GMT remix- Fantasy Zone OPA-OPA! -GMT remix-
NEW!
Hiro(SEGA)「ファンタジーゾーン」Hiro (SEGA) "Fatasy Zone"
電車で電車でGO!GO!GO!GC! -GMT remix- Densha de Densha de GO!GO!GO!GC! -GMT remix-
NEW!
COSIO(ZUNTATA/TAITO)/沢城千春「電車でGO!」COSIO (ZUNTATA/TAITO) / SawashiroChiharu "Densha de GO!"
白鳥の湖 Hakuchou no Mizuumi
~still a duckling~
In quite an unexpected twist, the Game Music Triangle's Phase 1 songs will all be playable on a Taiko console game for the first time, thus concluding the Ps Vita title's amazing Game Music track selection for the game. Together with the three final GM tracks is also being announced the return of the always-popular Taiko remix of Tchaikovsky's Swan Lake, op. 20.
Pre-Order Bonus Songs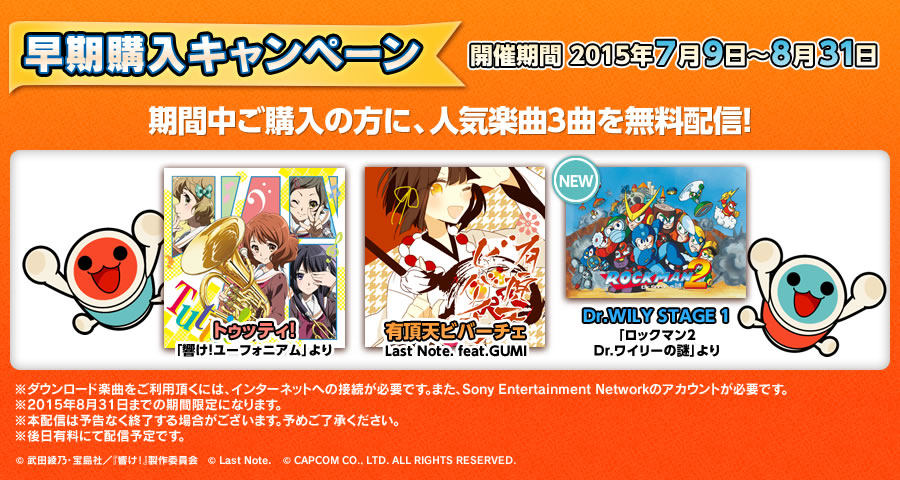 The four songs above are not the only hot news this week, as the V Version website is finally eager to explain to us the whole pre-order fuss about the game!... or one third, at least.
According to the promotional banner above, each of the pre-ordered copies of the game will come with special codes that can be used to redeem three DLC songs at launch, with one of their jacket albums being revealed today. Thus, ending theme
Tutti! (トゥッティ!)
from the anime series Hibike! Euphonium will be the first of the three pre-order tracks, which can be claimed with the promotional codes from
July 9th
to
August 31st
. For those who don't preorder the game, Tutti! and the other two tracks will be available at a later date as regularly-paid DLC tracks.
Now, some of you may ask 'What about Amazing Graze and the Chinese V Version's pre-order content, then?' So far, the situation is shrouded in mystery, as the Amazon.com Japan listing of the game doesn't mention said pre-order DLC anymore. Misleading information or the song is bound to be revealed in a later date?
UPDATE: Chatbox user LefaLefa found out tha the Amazon.com listing of Taiko V Version with Amazing Grace is still available, only now we have a item listing without said song as preorder bonus- Weird...