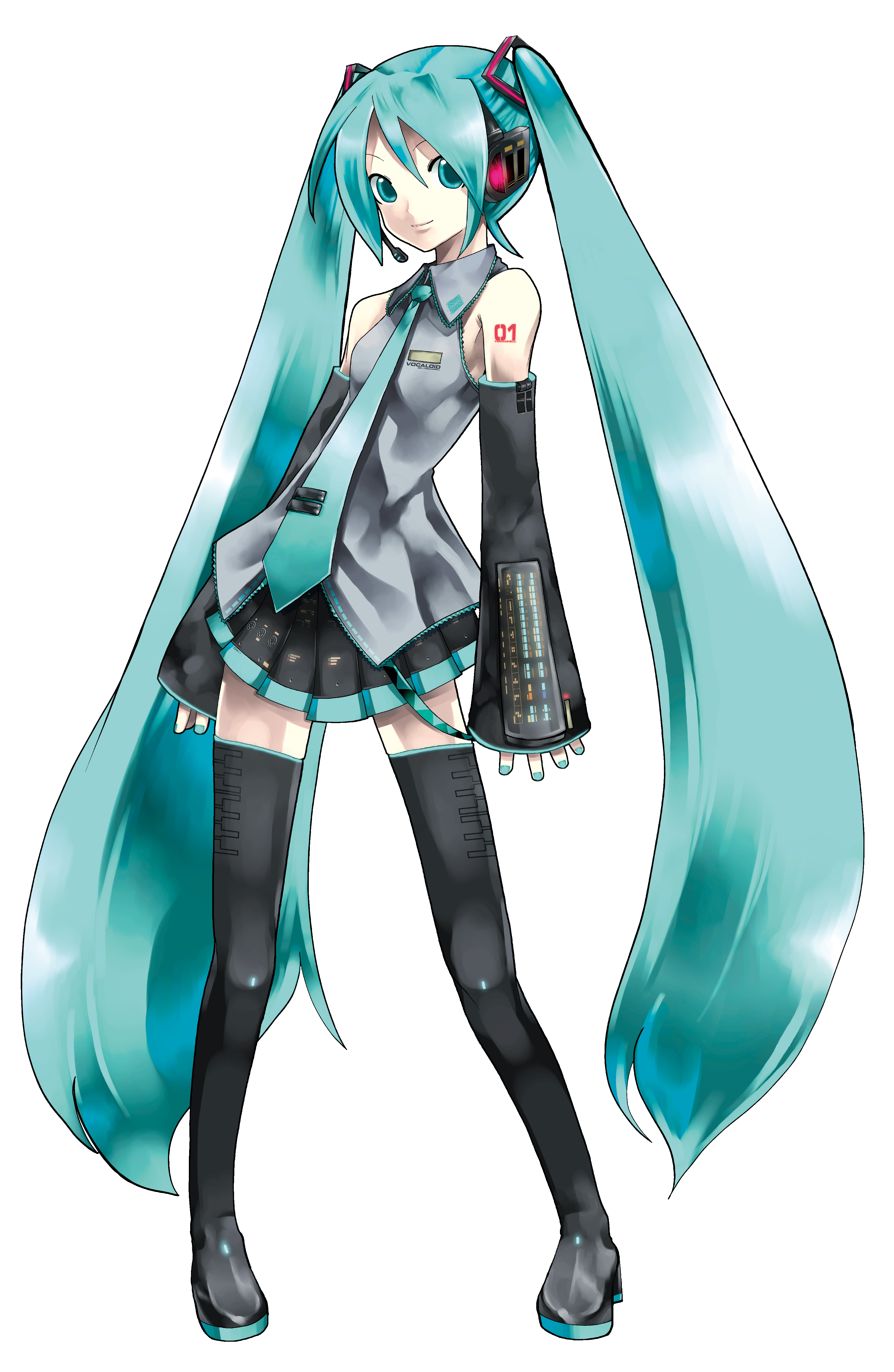 Hatsune Miku (初音ミク) is the first voice synthesizer software made with the Vocaloid 2 engine, and the first to have a human persona associated with it. This character is responsible for turning Vocaloid into the cultural phenomenon it currently is now, with her generally appealing looks. Miku's voice was actually sampled from Japanese voice actress Saki Fujita (藤田咲), who prior to this has been the voice actor for several anime shows.
Like the Vocaloids before it, the original target audience when Miku and Vocaloid 2 as a whole was released, was for professional producers only; the otaku market did not come into play until a little after Miku was released in August 2007; subsequent brilliant creations by fans led to a chain of quality songs coming in for Miku, which only spurned the fanbase even further. She is the main Vocaloid used by Crypton for advertising; kind of like the company mascot. At a stretch, you could say Miku is Japan's first successful cyber-idol. Her popularity is still going strong as the winner of 2014's overall Vocaloid popularity polls, outmatching of 3/4 times the 2nd-place entry, GUMI.
The original few Vocaloid songs on Taiko all belonged to Hatsune Miku, at first limited to one composer, Ryo from supercell, then growing to involve more and more artists as time went by.
Originally a song series on this blog, since the Vocaloid directory is getting larger and larger, the series has been disbanded and this Vocaloid Corner made for Hatsune Miku, along with a list of all the songs she has been in thus far. However, the original series from Melt up to Senbonzakura is preserved to save effort and is shown below. The rest of her songs, as with the rest of the Vocaloid content in Taiko, will be featured in future Song of the Week features.




----------------------------------------------------------------


Hikyou Sentai Urotander
Miku Miku ni Shite Ageru♪ (Shite Yan Yo)
Kagerou Days
World's End Dancehall
Renai Saiban
Streaming Heart
Umiyuri Kaitei Tan
Karakuri Pierrot
Onigiri wa Doko Kashira♪
SsTtAaRr*
Ghost Rules





Melt (メルト)
feat. Hatsune Miku
Version
Taiko 12.5 to 14,
all console
x3 (108)
x4 (165)
x5 (279)
x8 (539)
Taiko 0 onwards
x3 (108)
x3 (165)
x5 (279)
x8 (539)
Taiko 12.5 to 14, Taiko 0 to Taiko 0 R, Taiko DS 3, Taiko PSP DX
170
J-Pop -> Variety -> Vocaloid
Miku's flagship song, composed by Ryo, a member of budding band Supercell, and submitted first to Nico Nico Douga. Besides introducing the world to Miku as a character, Melt was also a significant contribution to Ryo's later successes. The song is a simple love song, with the singer being so in love with her partner that she was about to melt. Miku's voice was elevated to some of her highest pitches here. This song is so iconic of Miku that it still makes occasional trips back to the most viewed Vocaloid songs of the week every now and then, and featured in countless albums and concert performances.
Melt is a very fast and high energy 8* Oni song in Taiko, with lots of note clusters and bears more resemblance to 9* Oni songs like Angel Dream, and just as hard to pass (according to the old difficulty standard). On Taiko DS3 and everything subsequently, Melt has cameos from Hatsune Miku as a dancer on the bottom of the screen, with the other Vocaloid characters, Rin, Ren, Luka, Meiko and Kaito.
World is Mine (ワールドイズマイン)
feat. Hatsune Miku
| Version | | | | |
| --- | --- | --- | --- | --- |
| Taiko 13, 14, all console | x4 (147) | x5 (208) | x6 (339) | x9 (539) |
| Taiko 0 onwards | x4 (147) | x5 (208) | x6 (339) | x8 (539) |
Taiko 13, 14, Taiko 0 to Taiko 0 R, Taiko PSP DX, Taiko Wii 4
165
J-Pop -> Variety -> Vocaloid
World is Mine was also composed by Ryo, and is one of the more popular Miku songs, though not to the same degree as Melt. Instead of a piano melody like Melt, World is Mine is a rock song. In this one, Miku is posing as a selfish princess who wants everyone to serve her, which is a complete antagonist to the character in Melt.
A lower-border 9* Oni song with a mix of three note clusters and two/four note clusters, and due to its slightly slower pace, is actually less intense than Melt. World is Mine shares the same note total as Melt. On its way to Taiko 14, it also gained the Vocaloids dancing in the bottom of the screen.
Black Rock Shooter (ブラック★ロックシューター)
| Version | | | | |
| --- | --- | --- | --- | --- |
| Taiko 14, all console | x4 (131) | x5 (152) | x6 (332) | x8 (639) |
| Taiko 0 onwards | x4 (131) | x4 (152) | x6 (332) | x8 (639) |
Taiko 14, Taiko 0 to Taiko 0 R, Taiko PSP DX, Taiko Wii 3
165
Variety -> Vocaloid
Just like the previous two, Black Rock Shooter is also a Miku song composed by Ryo, however the idea did not come from him, but from a character designed by Japanese illustrator simply called 'huke'. The two of them collaborated, with huke providing character art and Ryo composing the theme song for her. This eventually became the original Black Rock Shooter PV. This character (called Black Rock Shooter, the title of the song was named after her) was black in color with a blue flaming eye, and was shown in intense fighting scenes in the video using her oversized cannon. huke got his big break through the BRS franchise and is currently illustrating for many high profile anime series including Steins;Gate.
The idea and concept was successful. and later an OVA (Original Video Animation) for Black Rock Shooter was produced by Ordet, and directed by Shinobu Yoshioka. (
more info
) The OVA had its own character and plot completely separate from the Vocaloid world, yet intricately tied to it due to the song. Black Rock Shooter has since become something of its own, moving away from being a mere Vocaloid song and spawning a PSP role-playing game and an eight-episode anime series revolving around the events in the original OVA (even the characters are the same) but with complete plot development. For more information and a synopsis of the anime's complicated and abstract storyline, plus details on everything in relation to the media franchise,
click here
.
Now back to Taiko. Just like Melt, Black Rock Shooter has a misleading difficulty rating, being 8* when it could easily be mistaken for a 9* song, featuring lots and lots of note clusters at a relatively quick BPM, even more so than Melt. This is probably the reason why both Melt and this song maintained 8* Oni while World is Mine was dropped by one star on Taiko 0. Is the first Miku song to not be in the J-Pop genre, and marks the movement of all three songs to the Variety genre.
Hatsune Miku no Gekishou (初音ミクの激唱)
Hatsune Miku Project DIVA - 2nd
| Version | | | | |
| --- | --- | --- | --- | --- |
| All | x5 (244) | x7 (338) | x7 (422) | x10 (703) |
Taiko PSP DX
200
none
Hatsune Miku's fourth foray into Taiko no Tatsujin marks her third genre change in as many generations of Taiko games—J-Pop on Taiko 12, Variety in Taiko 13, and now Game Music post-Taiko 14. This specific one was because of Namco including Sega songs in their list, one of them being this one (lit. Intense Singing of Hatsune Miku) from Sega's own Vocaloid-centric rhythm game, Project Diva 2nd. Unlike the first three, Gekishou is not made by Ryo of supercell, but by another immensely popular Vocaloid composer who goes by the alias cosMo, or Bousou P. 'Bousou' means to dash quickly, which fits cosMo very well since many of his songs are extremely high-tempo and have parts where he makes the Vocaloids sing at unhumanly high speeds.
This is also the first 10* Miku song in Taiko, although the first half of the song might not seem like it, being made up of multiple drumrolls and sparsely-placed notes. After the middle a massive deluge of notes bombard the screen, a 1/12 stream and then a 1/16 stream, which are although hard, quite plain in nature and involves clumping red and blue notes instead of mixing the whole bunch up. This makes the song resemble Yawaraka Sensha Ura, but scrolling at 50 whole BPM higher, which is an exercise in stamina and endurance.
The reason for the absurd shift in difficulty is because of Project Diva itself—the notes seen here in the regular Oni mode is an exact replica of the notechart for Project Diva! Don't believe me? Watch Gekishou
being played on that game
on the highest difficulty setting there (at 10 red stars on Extreme difficulty, it is also the toughest song in that game). The drag notes become drumrolls and balloon notes, and everything else is lifted over, even the notes where two buttons have to be hit at the same time, and the Go-Go Time corresponds perfectly with the Chance Time for this song in Project Diva too. The reason why the combo number is different is because the drag notes count into total combo in Project Diva. It is also because of this that Namco is unable to make the combo number for Gekishou to end in '39'.
Hatsune Miku no Gekishou (初音ミクの激唱)
Hatsune Miku Project DIVA - 2nd
| Version | | | | |
| --- | --- | --- | --- | --- |
| All | x5 (310) | x7 (418) | x8 (639) | x10 (999) |
Taiko PSP DX
200
none
As interesting as it was to emulate the chart in Project Diva note for note, the full difficulty potential of Gekishou could not be drawn out for Taiko no Tatsujin using it, and it's probably because of this that a separate Ura Oni was made from the ground up specially for Taiko. Freed from the shackles of making authentic notes, many more were added to the dead spots of regular Oni to create a 10* with tons of clusters. The crazy long streams are still here, with a few switch-ups thrown in this time, and on PSP DX they are pure hell to play through, requiring godly thumb speed, stamina and coordination.
Gekishou Ura is the sixth song in Taiko to reach the maximum limit of 999 notes. And it actually means something to Miku too, in addition to the first one, as 999 is three nines, which is 39 (Miku). And if you were wondering about the number play on '39', it's on Ura Muzukashii, where the note total is 639. Gekishou is actually one of the toughest songs to clear in Taiko PSP DX.
Hatsune Miku no Shoushitsu -Gekijouban- (初音ミクの消失-劇場版-)
Version
Taiko PSP DX
x5 (257)
x7 (326)
x8 (

536

,

486

,468)
x10 (765)
Taiko 0, Taiko Wii 5, Taiko 3DS,
Taiko Wii U, Taiko PS Vita1
x5 (257)
x6 (326)
x7 (

536

,

486

,468)
x9 (765)
Taiko 0, Taiko PSP DX, Taiko Wii 5, Taiko 3DS, Taiko Wii U, Taiko PS Vita1, CD Donderful
100~250
Namco Original -> Vocaloid
Miku is literally jumping through genres at this point, her songs fit into almost every genre offered in Taiko! And this time it's the Namco Original genre. Hatsune Miku no Shoushitsu (lit. 'Disappearance of Hatsune Miku'), like Gekishou, is also made by BousouP, but is a much older song made about 4 years back and was the first reason its composer was able to reach great heights in popularity. Both of them are about Miku disappearing from the world, and they follow a sort of progression from being afraid of death (Shoushitsu), to accepting it happily (Gekishou). cosMo has made a great number of tunes with Vocaloids singing quickly, but the two songs mentioned earlier are his most popular works, with Shoushitsu being the big hit that propelled cosmoP to early stardom.
Announced on Tokyo Game Show 2011 for the new Taiko HD arcade, it was touted as being the king of difficulty and spam streams if it followed in Gekishou's footsteps. Even more so because Shoushitsu was BPM 240, 40 higher than Gekishou. If a similar deathstream were to be made....the world shuddered at the thought.
Deviating away from the obvious, what actually turned up on the new arcade is a completely different remix of the
original Shoushitsu
with a slightly lower average BPM and no legendary deathstream. The question being explored in this song, called 'Gekijouban' or 'movie version', was because Shoushitsu was deemed too long for Taiko no Tatsujin no matter how cosmoP cut the song, and so this entirely different and shorter version was made. Akin to a 'TV sized' or 'theater sized' version of a long song, the name 'Gekijouban' was born. cosMo's characteristic stunt of making Miku sing at high speeds remain however.
On Taiko, Shoushitsu's "Movie version" is an exhausting mixture of both 1/12 and 1/16 note clusters and they alternate from one moment to the next making the rhythm really hard to capture. There are scrolling changes and since the average BPM is 200, there are a few parts of Shoushitsu that resemble the notes of Koibumi 2000. The BPM slowly rises to 250 during the end making for one frantic play. Although fitting for a 10* song, it's still a 9* in the new difficulty standard.
Hatsune Miku no Shoushitsu -Gekijouban- (初音ミクの消失-劇場版-)
Taiko 0+, Taiko Wii 5, Taiko Wii U, Taiko PS Vita1
100~250
Namco Original -> Vocaloid
Etou just loves to go 'let me try!' on the major notecharts and songs in Taiko no Tatsujin, especially the collaboration songs. Where previously he was the person behind the tooth-gnashing 10* Ura Oni of Music Revolver, he then quickly made this Ura Oni for cosmoP's collab effort even more insane.
Gekishou Ura was focused on enriching the Project Diva notechart, but the music for Shoushitsu has an ambiguous rhythm that fits 1/12, 1/16 and 1/24 in a single chart without making any of them seem out of place (as evidenced by the regular Oni), all at an amazingly high BPM, and this was utilized by Etou to create one of the most insane charts in the entire history of Taiko no Tatsujin with mixed streams and clusters everywhere. The mixed stream at the end part of the song at BPM 250 is officially the densest stream in Taiko, ousting Joubutsu 2000 from that record and rivaling it very closely in terms of overall difficulty. Shoushitsu Ura is the eighth song in Taiko to reach the maximum note limit of 999.
Like the song's regular Oni, this Ura Oni has been featured in one of Taiko 0's online tournaments (the 3rd one).
Tell Your World
feat. Hatsune Miku
| Version | | | | |
| --- | --- | --- | --- | --- |
| All | x3 (95) | x2 (117) | x5 (281) | x6 (388) |
Taiko 0.5 to 0 R, Taiko 3DS 1
150
Variety -> Vocaloid
Taking a break from smashing notechart records on Taiko, this Miku song is light and easy, and with quite an interesting background story too! Tell Your World was composed and arranged by Kz (pronounced K-Zet), from the Japanese electro music group Livetune. While all the previous songs were made mainly for musical experiments or for personal expression, Tell Your World was first made and used in an advertisement campaign for Google Chrome in Japan, called 'With Google Chrome, your Internet begins' (Google Chrome で、あなたのウェブを、はじめよう).
A
minute-long commercial
for Google's web browser was spread on Youtube in 2011, showing people from all over the world collaborating to create Miku music videos, from storyboarding to illustration to composition to the actual vocals, then uploading to create the final product and reach out to fans worldwide, who in turn upload their own fanmade stuff and keep the ball rolling infinitely. All with a convenient net browser. This is not limited to Miku however, anything can achieve greatness through a net browser.
The advert featured part of this song and screens from "Mikunopolis in Los Angeles", the first overseas concert of the cyber idol which took part in July 2nd of the same year. Sponsored by the non-profit Society for the Promotion of Japanese Animation (SPJA), it is based on a whole line of previous concert performances in Japan from March 2010 onwards, called "39's Giving Day" (remember, 'Miku' is pronounced '39' and also as 'thank you', with the concert symbolizing Miku's appreciation towards her fans), featuring more songs by different composers and other Vocaloids as well, like Kagamine Rin/Ren and Megurine Luka, and a glass screen to give an almost solid, hologram-like appearance to the Vocaloids as they come out on stage.
Tell Your World made its debut on Taiko 3DS and as with all the Vocaloid songs before it, gets the same special dancers. While all the Vocaloid songs have always had quite a tough Oni notechart, this one is relaxed and simple and not afraid to be, with the song being so slow-paced, and has the lowest Oni difficulty, lowest notecount and the shortest duration of the Vocaloid songs released so far for Taiko. It is quite appropriate as a 6* Oni with sparse notes in the first half of the song, ramping it up a little during the Go-Go Time in the second half adding lots of basic 1/16 clusters and no rest spaces.
This song is also one of the first Hatsune Miku songs to be featured in Bandai Namco's other arcade rhythm game franchise: Synchronica.
Senbonzakura (千本桜)
KurousaP feat. Hatsune Miku
| Version | | | | |
| --- | --- | --- | --- | --- |
| All | x3 (224) | x5 (400) | x6 (576) | x7 (831) |
Taiko 0 S, Taiko Wii 5, Taiko 3DS 2, 3, Taiko Wii U 1, 2, Taiko PS Vita
154
Variety -> Vocaloid
Uploaded to Nico Nico Douga a few months before Tell Your World, on October 17th 2011, Senbonzakura (lit. "A Thousand Cherry Blossoms") is a Japanese-style song composed by Kurousa-P (黒うさP), yet another new face to the Taiko series of Miku songs, and the guitar strums accompanying this piece is by Hajime. The song tells the story of the westernization of Japan after the events of World War II, and is generally very patriotic in nature.
The amazing work done on the original music video and the tense, depressing vocals led to this song gaining ground; so much ground that it was continuously one of the most viewed/listened to Vocaloid songs for six months in a row and counting, with over 4 million views on its original location in Nico Nico. Senbonzakura became KurousaP's greatest hit song (among the very few he composed) and its popularity led to a song novelization and 8 different arrangements by different Vocaloid artists, all included in the September 2011 album 'ALL THAT 千本桜!!'. Just like for Tell Your World, Senbonzakura is also one of the first Miku songs available on Synchronica.
Senbonzakura continues the trend of having very long Vocaloid songs in Taiko after Matryoshka and Juumensou -colorful ver.-, as there was simply no way to cut the song into under two minutes without discarding important portions of the song. And so, a regular 7* Oni was created with one of the highest notecounts for this rating ever. Another notable Max Combo counter is set for the Oni mode, as 831 refers to Hatsune Miku's birthday (August 31st)
Senbonzakura (千本桜)
KurousaP feat. Hatsune Miku
Taiko 0 S, Taiko Wii 5, Taiko 3DS 2, 3, Taiko Wii U 1, 2, Taiko PS Vita
154
Variety -> Vocaloid
Much like Megpoid Gumi's Juumensou -colorful ver.-, Senbonzakura is long and also has a Ura, with the same difficulty standard as the Gumi song at 8*. However unlike Juumensou, this song does not stop at 999 notes; it crosses the limit and has exactly 1000 notes, which fits the song's title of a 'thousand cherry blossoms'. Senbonzakura also takes the record of having the highest notecount in the Variety genre from the same song, and is the third song to break the 999 note limit after Shimedore 2000 and Telecastic fake show.
Back to Vocaloid Corner
Back to Song Series Showcase page