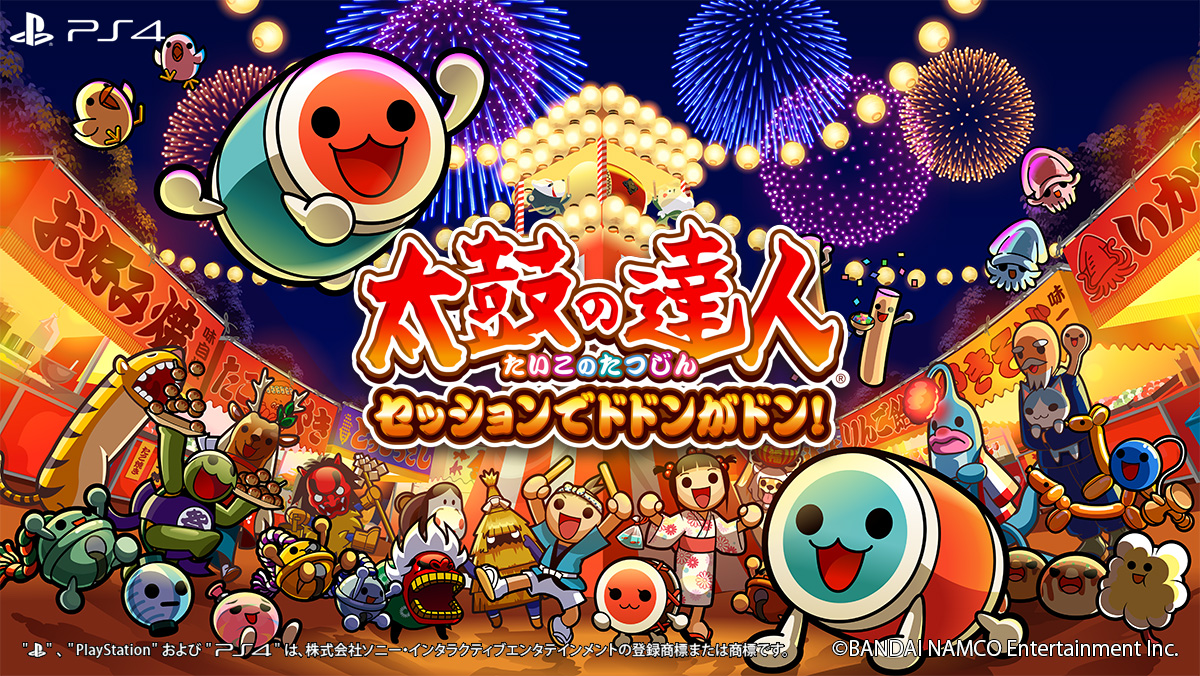 With today's website update, Session de Dodon ga Don's release date has been officially confirmed to
October 26th
this year, as reported in the revamped
Specs sub-section
. Today's main course, however, is the preliminary announcement of DLC content coming to the game, with different offerings and methods to receive them.
First of all, we have the return of shop-exclusive DLC songs, which are available by ordering/pre-ordering any version of the game throughout selected retailers online. This time around, we have a total of six Game Music tracks coming out this way (plus one not advertised on the website yet):
Tower of Babel (from Amazon.co.jp);
Taiko March (from Aeon);
Mojipittan Medley (from GEO);
Tower of Druaga Medley (from Joshin);
Mappy Medley (from Toys 'R' Us);
Dragon Spirit Medley (from Yamada Denki);
Burning Force Medley (from the PlayStation Store).
For what concerns the regular DLC plan, Session de Dodon ga Don will support the purchase of a digital package akin to the Season Pass formula, granting its buyers the early download delivery of the songs so that they can be played right at the Midnight of the official delivery day. Stand-alone DLC packs are also appearing with roughly the same combined price to this formula, but the unique perk that this Season Pass-y system is a bonus song that feel too special to be revealed right now. This digital offering can be purchased on the PlayStation Store, including the first six Donder Packs up to March 2018, for the special pre-order price of 2700 yen (tax inclusive). That's 300 yen off the tax-exclusive 500 yen/pack original!
Again from the same digital store is also possible to download the digital-exclusive "Deluxe Version", which consists in a digital copy of Session de Dodon ga Don with the first six DLC packs reservation and the unnamed bonus song.
Whether you purchase the game from any of the places above (where are you gonna get it though), there is still an incentive of an limited-quantity Early Purchase Bonus of
Ryuu to Kokuen no Himegimi
via product code in all of the first printing, for you to download for free before it is put as paid DLC later.
There's also a new official trailer for the game, released yesterday with new songs and features revealed:
Newly Confirmed Songs
(
Red = NEW
/
Blue = Console debut
)
Pops
  シュガーソングとビターステップ Sugar Song to Bitter Step   
アポロ Apollo
(Porno Graffitti)
  ひまわりの約束 Himawari no Yakusoku
LOSER
(Kenshi Yonezu)
Anime
限界突破×サバイバー Genkai Toppa x Survivor
(Dragon Ball Super)
トライ・エヴリシング Try Everything
(Zootopia)
Vocaloid
エイリアンエイリアン Alien Alien
  ロストワンの号哭 Lost One no Goukoku
Variety
ハローキティ Hello Kitty
Game Music
  EAT'EM UP!   
Heat Haze Shadow2
(Tekken 7)
Newly Confirmed Guest Characters
Hello Kitty
Hatsune Miku
Pac-Man
Tekken 7 (including Heihachi Mishima)
Newly Confirmed Features
Taiko Ranking Match (太鼓ランクマッチ): Play against Donders from around Japan (as the PV says) to test your strength. Winning gets your rank raised while losing may cause you to drop down ranks
Training Performance (トレーニング演奏): Good old practice mode with the usual functions like pause, rewind, speed down and more
Best Replay Performance (ベストリプレイ演奏): Play against your best performance so far and further yourself with yourself as the rival