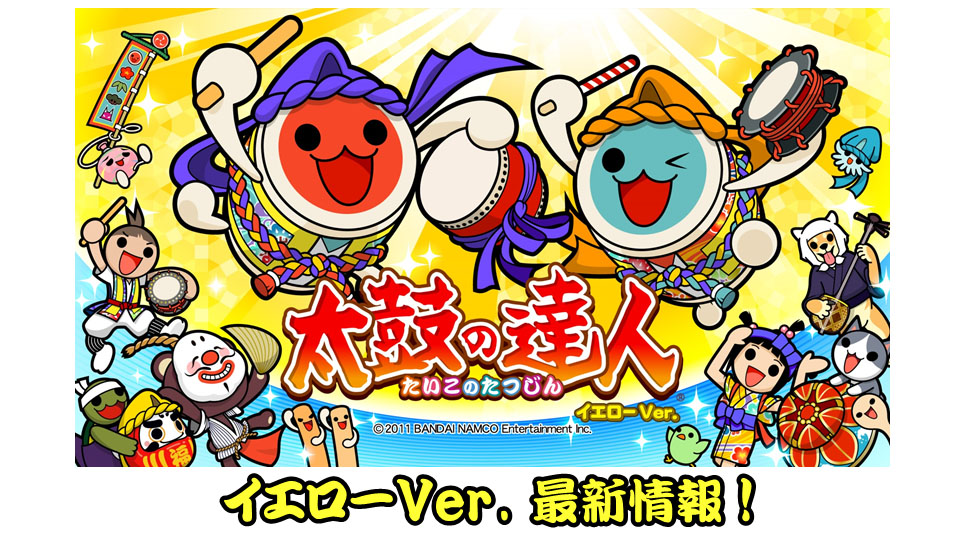 For something a little bit different from our usual formula of spotlighting Taiko Blog updates, in this blog entry we're taking a look at the Summer Rewards Shop songs that have been announced in
today's main post
, featuring both an early clip video from the Bandai Namco Youtube channel (as well as yet another secret blog entry that was posted today) and the song introduction that was provided by either Etou or the song's creator.
With that out of the way, let's get started!
Usagi no Shippo (うさぎのしっぽ)
(3/4/5/7)
Straight from Wii U Version, this seasonal arcade debut is made with the asset of a lighthearted notechart to complement its tones! You can hear the complete song in action with
this link
.
Sanzegawa Ranbu (三瀬川乱舞)
(4/5/7/8 with 10* Ura Oni)
Coming up next is another 10* Ura Oni wielder starring male vocals! The base idea about this track's creation was to make a song that makes the player feel of summer while giving a continuous sense of eeriness at the same time with its ominous tones.
Boukyaku no Tirnanog (忘却のティルナノグ)
(4/5/7/9)
The third song joins the rank of a Namco Original series that's all about traveling in exotic locations enshrouded in magical/mystical surroundings, as YMY's latest creation references in-title the Irish supernatural realm of
Tír na nÓg
. For an otherworldly feel, the artist mixed some tense vibes alongside her usual refreshing style!

Asteroid
KORG Gadget Kamata Demo Song
(5/7/8/9)
The Summer Rewards Shop's 'black sheep' of the lot is actually more Namco Original that you might expect, as this song that was created by Yuji Masubuchi with the KORG Gadget synthesizer app, as part of the 'Kanata' collaboration that occurred between Bandai Namco and KORG in 2016. The base idea behind the instrumental track was to make a musical score that makes players feel in commune with the universe due to its powerful-sounding riffs.
You can already listen to the full version of this song by heading over to the KORG channel on Soundcloud (
or by clicking at this link
)!
Geki-un! Shichifuku Happy Crew

Yuuya Kobayashi (IOSYS) feat. Momiji Yamamoto (monotone)

(激運!七福ハッピークルー)

(4/5/7/9)

The recurring duo of IOSYS artists is back, this time for a brand new God Collection song. The main themes of the track, according to the artists, are 'old age and peaceful casuality', in the way of reaching heaven. Those who'll be in trouble of scoring a Full Combo with the song will have to play it only once in order to learn how to do it!



Chi-dan (χ談)
Kaneko Chiharu
(5/7/8/10)
The last song of the seasonal rewards shop is also from a returning artist! For what it appears to be her first full-instrumental song in Taiko no Tatsujin, Kaneko Chiharu made the song with the idea of Summer in mind, ending up with something that frightened both Etou and Kawagen Collagen!
Link to original post