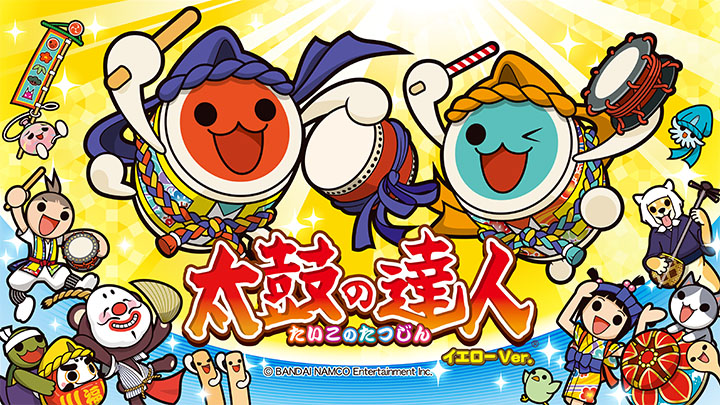 Two days before the next firmware's release, the Taiko Team felt the need of making a couple of blog entries about the element changes that will occur from Red to Yellow, together with what kinds of data recorded in Banapassport cards will be carried over to the new firmware.
Starting up, we have a blog entry about the reworked unlock system -which we were already given a look at some weeks ago as well (
see here!
)- and the Dojo Ranking/Taiko School talk. Here's the skinny of this last news re-iteration:
Yellow Version arcades will have the new Rewards Shop up and running from launch day; it'll require

Don Medals

, which are acquired after every play (100 DM/credit) and upon fulfilling certain conditions, such as playing for the first time in a day/week/month (50/100/300 DM respectively) or through future event-related means.
The Dojo Ranking mode will also be active from Day 1, but only the Gaiden trials will be playable; a future update will add the main Dojo Ranking courses later on.
The Taiko School mode will work temporarily for the Dojo Ranking Gaiden trials; once that the main DR courses are added, the Taiko School song selection will refer to these instead
All song hi-scores registered on the single arcade builds will be reset.
The Donder Hiroba will also see some new additions and changes:
Two new shops are going to be added from Day 1: the Don Medal Shop and the Katsu Medal Shop. While the former is the same season-based one that is directly available from the arcades, the latter offers a permanent list of items unlockable with Katsu Medals, awarded in a fixed number with no bonus increments of sorts (100 KM/play).
Yellow Version's Title Parts Gacha will also be available from the get-go; it requires Katsu Medals to make a pull.
Dojo Ranking and Taiko Private School functions are halted until Yellow Version's main Dojo Ranking courses are added.
All national score ranking boards (by prefecture arrangement) will be reset.
----------------------------------------------------------------------
The second blog entry has been for the individual data that Banapassport users will be able to carry over to the Yellow Version period. It's nearly the same stuff we're used to see, more or less:
All takeover data from the Banapassport accounts are referring to all the data recorded up until Red Version's last official operating day (Mar 14th);
All the data concerning the Taiko Avatar (appearance), played songs (crowns, performance details for each not-removed songs) and unlocked rewards (including the progression recorded for the unlock of special titles such as the old Rewards Shop's closure and Red Ver. Dojo Ranking) will be carried over, as well as most of the Donder Plaza's user profiles and related settings;
Everything about the removed songs (and the related crowns), Don Points, Donder Plaza's Challenge/My News History log and Red Version's Dojo Ranking mode (Kigurumi outfit, ranking history, removed songs as favourite tracks) won't be carried over.
Don Points and Shopping Points won't be carried over.
Both of these posts' content will also be available on the Taiko no Tatsujin arcade series's website in a later date for future referencing.
Below are the links to today's two blog entries: