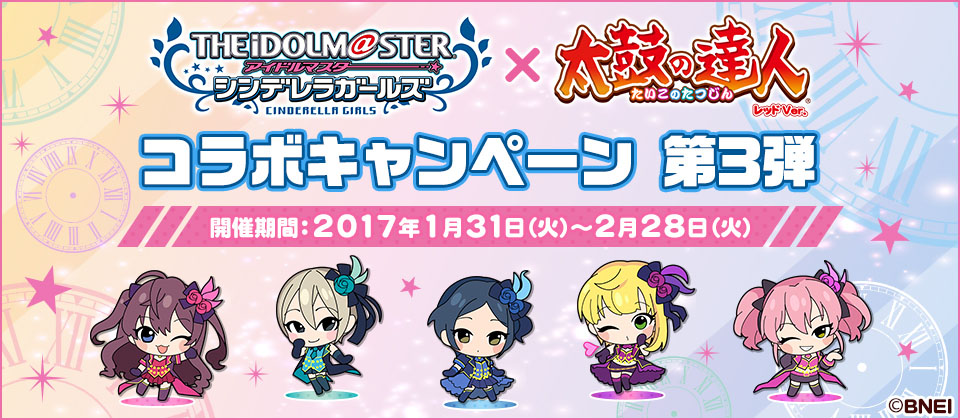 Together with the previously-advertised website launch of the collaboration website for the third Cinderella Girls campaign (
which you can reach with this link
), here's a complementary Taiko Team blog entry about said website's launch and all you need to know about the event's preparation.
For some preliminary news about the event's unlockable content, the website already reports that the newcomer idols from the featured LiPPS unit will be released in separate dates just like the characters from the second Touhou Project collaboration.
Mika Jougasaki (城ヶ崎美嘉)
and
Syuko Shiomi (塩見周子)
are available since the event's beginning (January 31st),
Shiki Ichinose (一ノ瀬志希)
and
Frederica Miyamoto (宮本フレデリカ)
are coming from February 7th and
Kanade Hayami (速水奏)
is unlockable from February 14th onwards.
Both the LiPPS idols and the ones from the former campaigns are unlocked at random with a limited Donder Hiroba gacha by using
3 event tickets
, which can be earned by playing at least one Idolm@ster song during a credit play (maximum simultaneous hold limit of 6 credits per Banapassport user).
The collaboration website will be progressively updated with new content that caters to fans of both series between January and February. One of the features that are catering to iM@S producers the most is the gradual release of promo commemorative videos starring the voice actresses of the LiPPS members with a special message for whoever is going to participate in the event.
These videos are going to be distributed before the collaboration's beginning, with its release schedule being illustrated in the picture below. The first of these special videos is already up on the website, but remember that all videos are private (=watchable only through the links from the event's Internet page) and are going to be deleted after the campaign's end.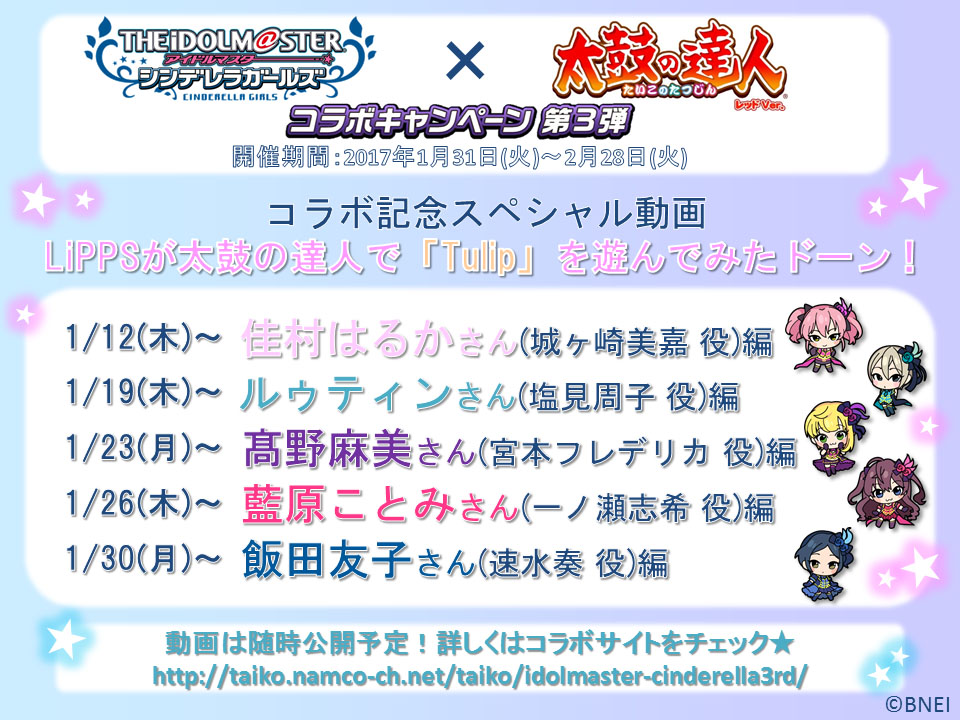 The last aspect to be warned about the collab website is that it will be regularly updated (presumably together with the special voice actresses videos) with the addition of some commemorative art with the LiPPS idols mixed together with some Taiko no Tatsujin imagery, just like for the former iM@S-related arcade campaign. Perhaps this will lead to some future promo card shenanigans for the most avid of producers...?
This is the last pre-campaign update we're going to hear from the Taiko Team blog about this event, as the next one on this topic will be published during
mid-February
. Until then, take care!
Link to original post