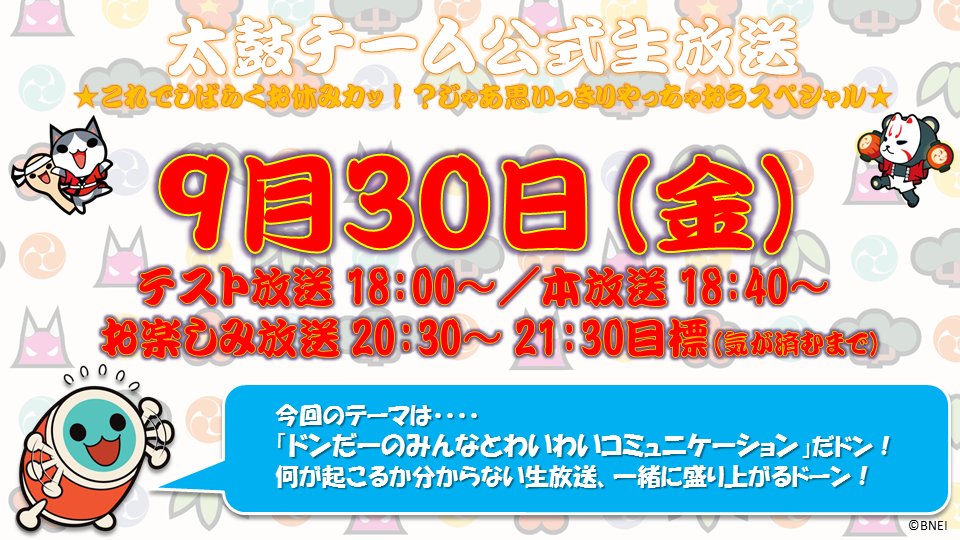 Daifuku is back for a double dose of weekly blog entries! We can quite confidently glance over the first one's full details here, however, as it's just an official recap of what happened during September 30th's livestream (
also see our feature!
).
It's still an enlightening read to have on the original source material, however, as there are the HQ snaps of all the major slideshow screens that have been shown for the run (
including that delicious Engrish misspelling mistake
), comprehensive of the Twitter icon and smartphone wallparer rewards for everyone to enjoy and bring the magic of Red Version everywhere you go.
Link to original post
★ ★ ★
Now on with a full rundown of Game Version 4.05's new features! We remind you that this software update will take place on
October 13th
, together with the
previously-advertised batch of song removals
.
New Songs: October 13th
ウィーキャン! We Can!
Arcade Debut
華蕾夢ミル狂詩曲~魂ノ導~ Tsubomi Yumemiru Rapsodia ~Alma no Michibiki~
NEW!
   The Idolm@ster Cinderella Girls
ミツボシ☆☆★ Mitsuboshi ☆☆★
NEW!
   「アイドルマスター シンデレラガールズ」より The Idolm@ster Cinderella Girls
チェインクロニクル 総力戦メドレー Chain Chronicle Total War Medley
NEW!
あんずのうた Anzu no Uta

NEW!
   「アイドルマスター シンデレラガールズ」より The Idolm@ster Cinderella Girls
合唱スタボーフェ! Gasshou Stabofe!

NEW!
   with たま☆たい feat. 団地ノ宮 with Tama☆tai feat. Danchinomiya
New Songs: October 14
(participating AOU stores only)
毒L0CANdy♡ Doku L0CANdy♡

NEW!
    t+pazolite
Together with the couple of tracks announced in the previous Taiko Team livestream (as well as Taiko gaming's newest Tenkaichi Otogesai song) are making their arcade debut four more songs, with two of the newcomers coming from the Idolm@ster Cinderella Girls spin-off
Starlight Stage
like Anzu no Uta.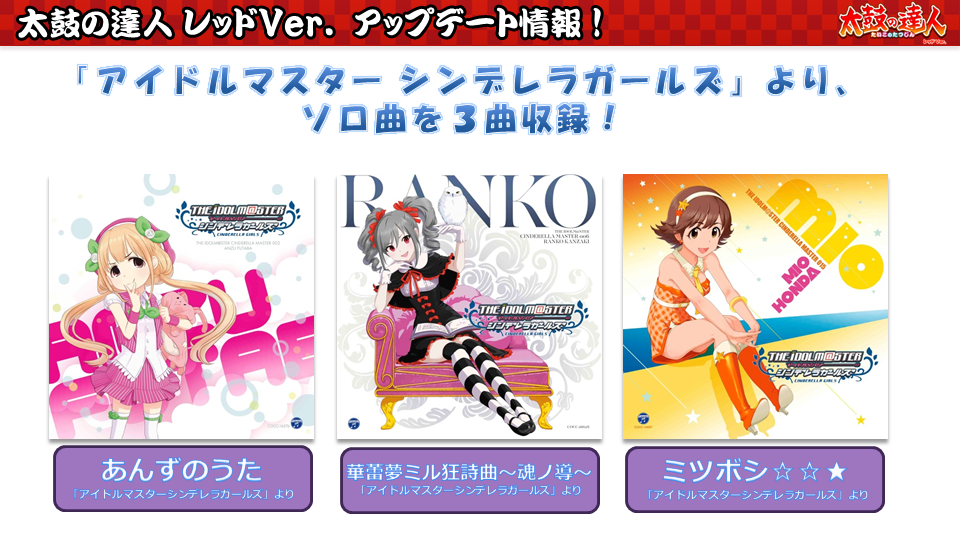 Collaboration: Chain Chronicle
The second of the Taiko collaborations with Sega's ongoing mobile RPG sensation (in Japan, at least) is about to be fully operative in both fronts, with a medley of the titular Total War mode being available for all Red Version cabinets to enjoy.
Players of the CC front have something to keep their fingers busy with as well, with a Taiko no Tatsujin campaign focused on the aforementioned Total War mode and the Master of Taiko Don-Chan himself to be appearing as a recruitable Fighter companion!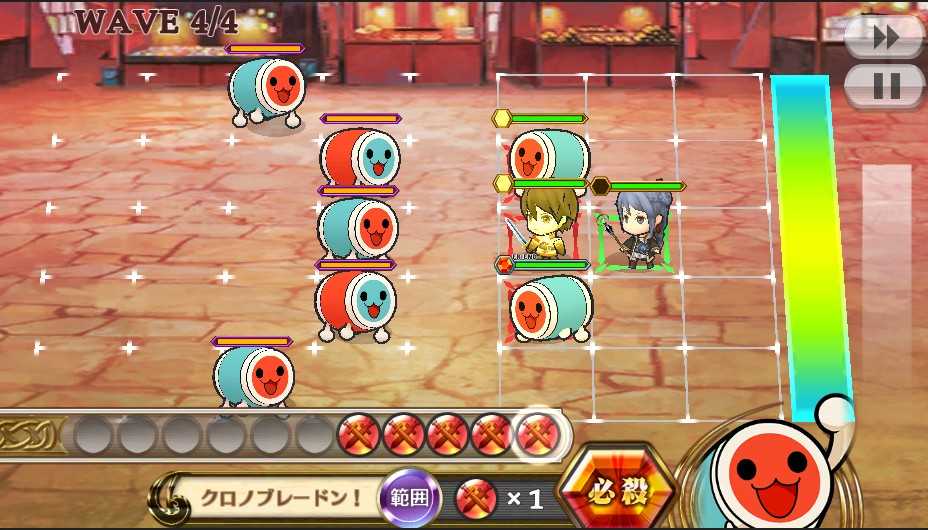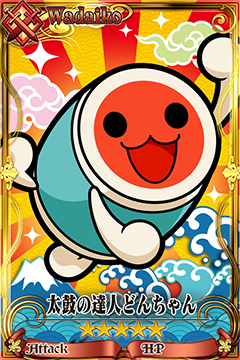 New Special Folder: Popular Karaoke Songs
Together with the other minor tweaks like the returning Red Version Title Parts Gacha and an earlier Tokkun Mode afternoon break setting, this update will also bring in a special folder in which the Taiko Team has grouped the most popular songs in the game to sing, regardless of their genre provenience. Sing with your heart while keeping up with those drum beats!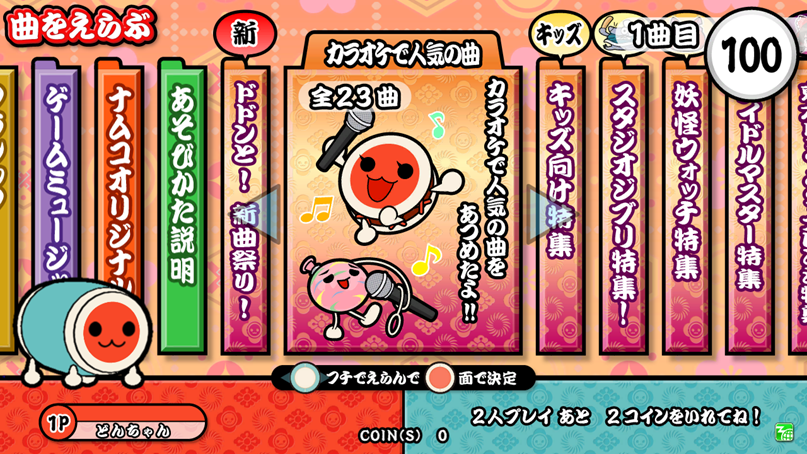 Link to original post