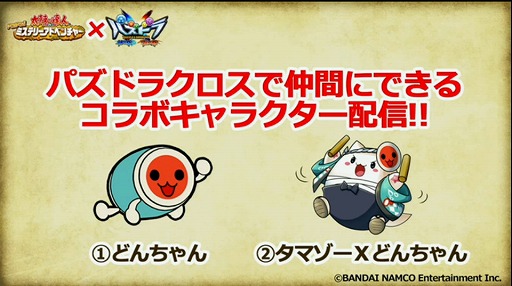 If the multiplayer-oriented songs appearing on White Version and the most recent Taiko Plus/STH score attack event haven't satisfied all of your Puzzle & Dragons collaboration needs, here's yet another course for everyone in the incoming Taiko title for Nintendo 3DS!
Announced during the yearly GungHo Festival, the latest couple of 3DS games in the puzzle-RPG hybrid series has seen collaboration announcements for a number of videogame series, with the Taiko no Tatsujin one among those. As you can see from the first picture, two collaboration characters will appear in both games to give a lending hand to the players: Taiko sibling
Don-Chan
and cross-over character
Tamazo x Don-Chan
(タマゾー×どんちゃん).
In return, Dokodon! Mystery Dungeon is about to receive some P&D love as well, with the aforementioned Tamazo x Don-Chan becoming a recruitable character for the game's Story Mode and the free DLC delivery of (still untitled) songs from the P&D X games! Both the downloadable treats will be available from the twin Puzzle & Dragons X's launch day, which is set on
July 28th
.
Source: [
4Gamer.net
]