With the yearly Niconico Chokaigi event coming and leaving once again, the very next public outing rhythm game fans are looking forward to is this Sunday's yearly Hakurei Shrine Reitasai, chugging in the same limited content that whas also featured at Chokaigi while also crankinking things up to 11 for selected franchises!
We've already seen
what Taiko gaming has in storm for the event
, as well as
the Uta-Matsuri's collaboration song coming to multiple music game franchises at the same time
... but what about the more in-house efforts of the non-Taiko parties? Strap yourselves in, 'cause we're in for a doozy!
— シンクロニカ公式@4/28 新曲追加! (@Synchronica_prj) 27 aprile 2016
Starting from familiar territories, Bandai Namco's Synchronica has had a slight update right before the aforementioned Chokaigi, showcasing the addition to the game of three popular Touhou Arrange songs, with 2 of them already appearing in Taiko games (
Iro wa Nioedo Chirinuru o
/
Last Brutal Sister Flandre S
) and
Marisa Stole The Precious Thing
making its Bandai debut on the touchscreen-based game.
In addition to this trio, there a brand new NAMCO SOUNDS-fueled Touhou arrangement song titled
Sakura Secret
that is going to be playable on public arcades from next Monday, made by Taku Inoue. Wanna know what the song jacket looks like or what it sounds like? The only way now known is to FC/UC on Advanced or above on all five Touhou songs (counts from April 28) to have it unlocked starting
May 9
. Or, you know, you can join the Synchronica team at this year's Reitasai for exclusive previews.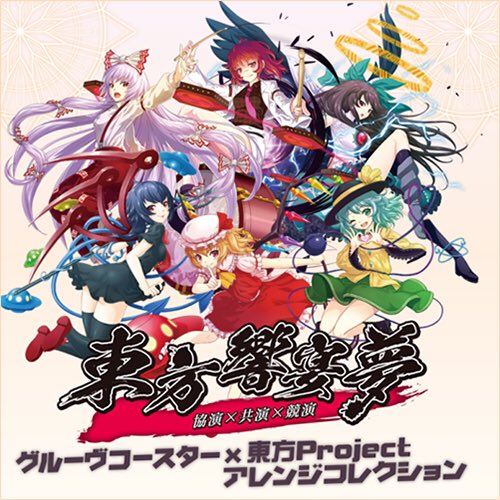 When stepping away from Bandai Namco talk, it's imperative for us to start with the biggest event from the competitors, which this year is deeply linked with the latest installment of Taito's
Groove Coaster
series.
Starting tomorrow on public arcades, the
Touhou Kyoenmu
event will make players face off against each other in a Touhou-related online tournament, with the main twist being the weekly addition of new songs. We're not skimping on artist collaborations here either, as rhythm games personalities and Touhou music doujin members are lending their forces together to make 6 brand new Touhou arrangement pieces! As
the event's main page
also tells us, Reitasai attenders will be able to purchase a limited-edition CD related to the event, featuring the event's new songs and a little few more gems for Groove Coaster fans.
If you want to hear more about this gargantuan event, we kindly forward you to the
Groove Coaster community page on Reddit
, where it's supplied an English translation of the event's scheduled updates and tournament details.
From the news feed of Sega's CHUNITHM series (
link to related tweet
), we come to know that they're also supplying new songs together with a Reitasai-exclusive album, centered around the past (and future!) arranges by Irorimidori (イロドリミドリ) which have been made for the rhythm game series. With long versions, drama re-enactments and sneak peaks to future playable song
Nagi no Heya ni Kori no Yosei-san ga Yattekuru Hanashi
(なぎの部屋に氷の妖精さんがやってくる話), there's something for everyone to enjoy!
— SOUNDVOLTEX STAFF (@SOUNDVOLTEX573) 29 aprile 2016
While not churning another "Bemani All-Stars" Touhou parade like a few years back, the SOUND VOLTEX series is hosting a Touhou-related event with tons of new Touhou arranges heading to the game, with this year's Reitasai being the first place where the new additions can be played.
As a later tweet also points out
, every e-Amusement SDVX player trying out Touhou Arrange songs during the campaign will automatically apply to a lottery that will award 400 copies of a limited-edition album!
Thanks to a tweet from the Hakurei Shrine (
link
), we know in advance that one of these songs is none other than
Help me, ERINNNNNN!! -Cranky remix-
, which also was playable during the past days' Chokaigi. Boy, is that song remix a fast traveler!
— 博麗神社社務所 (@HakureijinjyaS) 28 aprile 2016
To wrap things up for this entry, we already have some early snapshots of the Uta-Matsuri's (still un-named) prototype version on our familiar Taiko White arcades, complete with KFM ratings. Remember that this song might get its actual name with this coming Hakurei Shrine Reitasai before the aforementioned July concert!