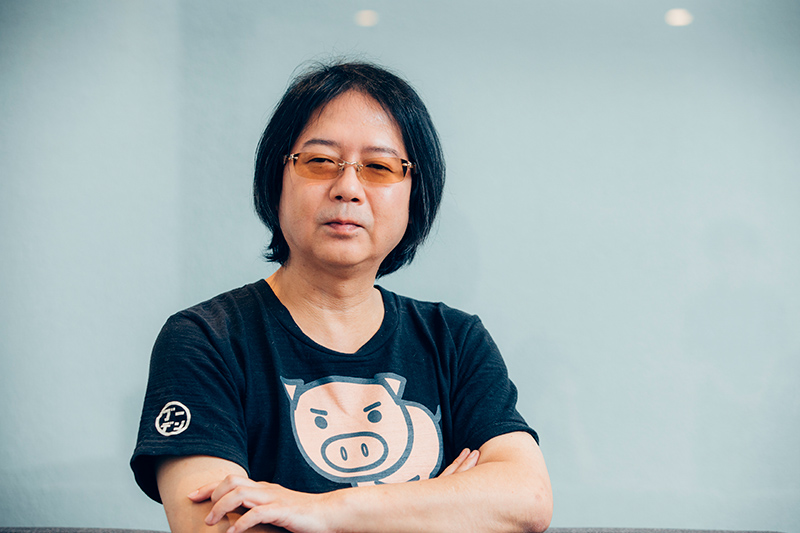 Originally known with the "MEGATEN" art name, Shinji Hosoe (細江慎治) is arguably one of Japan's most influential personality in the videogame music scenario, with his earliest works stretching as far as the late 80ies go. Born February 28, 1967, Hosoe started his career at Namco, where he secretly learnt how to make music for 8-bit games from former employees and put this kind of knowledge on test with many arcade titles, up until becoming a recognizable personalty for the music made for the earliest entries in the Ridge Racer and Tekken series.
After his graduation from Namco, a working period at videogame developer Arika and a few side projects signed under the 1992
Troubadour Records
label, Hosoe is the founder (and current president) of the still-running
SuperSweep Records
label, founded in the year 2000 and aimed to create commission music for any sorts of media, mainly involving the composing efforts of Shinji Hosoe, Ayako Saso and Nobuyoshi 'sanodg' Sano. With the other two aforementioned artists, Hosoe has been closely working together on a wide number of projects since the 90ies, with both NBGI's "Sampling Masters" units and the 1996-2001 "Sampling Masters" album collection being the bases of Hosoe (and Ayako Saso)'s most known nickname.
Shinji Hosoe's contribution in rhythm games spans many different franchises, with the most relevant ones being beatmania IIDX for supplying some of the first gabba/Rotterdam Techno songs for the series and Arika's Pitapat Beat game for i-devices, mostly filled with songs from both Taito gaming and Super Sweep Records musicians.
Game Music
Ridge Racer
Dragon Spirit Medley (ドラゴンスピリットメドレー)
ROTTERDAM NATION(FOO MIX)
Dragon Saber (ドラゴンセイバー)
Metal Hawk BGM1 (メタルホーク BGM1)
DESERT STORM
Assault BGM1 (アサルト BGM1)
Abyss of hell
Namco Original
Rotter Tarmination
dance storm
Dodon ga Do~n (ドドンガド~ン)
Other Music Games
Beatmania IIDX
outer wall
tablets
route 80s
rottel-da-sun
rottel-the-Mercury
1st Samurai
VOX UP
DanceDanceRevolution
Happy in commet
Rocket grooving
KEYBOARDMANIA
EE-AL-K
SENSATION -from SALAMANDER 2
pop'n music
Violently Car
Chat! Chat! Chat!
Technictix/Technicbeat
62-1
Diamond Troll
Sweet Patch
Roteen da Moon
Hard Head
TGM in the Bottle
Stronger
Future TomTom
Music GunGun!
Groove Coaster
Pitapat Beat
Jumping Crash
Good dancers
Welcome Prism
Let's try dance!
Rain dancers one more
Maimai
CHUNITHM