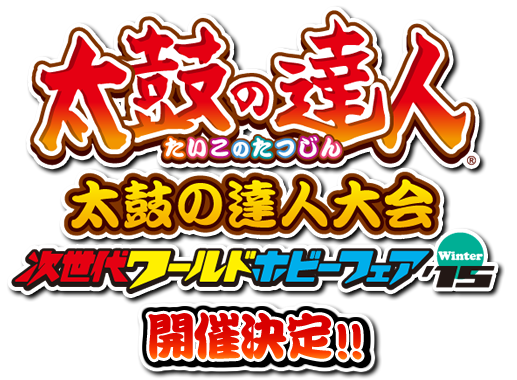 It's not the first time that this happens here, but we forgot again to cover two Taiko-related news that have been advertised on the Donder page's News section. As we apologize for this mistake from our part, let's have a brief look at what we have missed.
Starting from the World Hobby Fair tourney, the website for the current arcade Taiko series has added a new page for this elementary school students-only tourney, defining its phases and songs used. For the tournament, the qualification matches will be held in four different fairs at different times between January and February, always in a Bandai Namco booth. The best players from the qualification will earn a tournament ticked for the finals at Bandai Namco's stage at the World Hobby Fair of this Winter season, with every player being awarded of Taiko goods of any sorts! For more informations about the event, see the tournament's page on
this page
.
Speaking of Taiko Plus, the end of the year is being celebrated for the first time with a multi-parter New Year Campaign, supplying new goods to its players. During the first phase (from last Friday to
January 1st, 2015
), everyone can enjoy for free
Love x Love Whistle
, the newest Taiko addition to the Vocaloid genre. In addition, the in-game Lottery has been gifted of new prizes to match the festive period, such as new costumes and Christmas-related outfits, which instead will be available untile the whole campaign's end. Grab them before they're gone!