Are we gonna go for it? Choo-choo goes the hype train for Wii U2!
Last update:
Nov 20
| No of updates:
26
| No. of songs:
106/100
|
Wii U2 Song List
Key:
Red = series debut
;
Blue = console debut
26. More difficulty changes!
Jigoku no Daiou Oni down to 9* from 10* (new set 4/6/7/9)
Future Lab Oni down to 8* from 9* (new set 3/5/7/8)
25. We also forgot to report the video for Taiko Tokumori's theme song,
Morimori☆Tokumori Rhythm♪
(600 notes on Oni). NOW we are positively sure there aren't any other new songs and/or videos to talk about on launch day!
24. Apparently we missed
Mirai e no Kagi
. Now we don't.
103+3/100
23. With the Oni video -muted for copyright issues- of Sekai no Owari's
Honoo to Mori no Carnival
(352 notes), we have finished to cover all the brand-new songs brought by this console Taiko game. The songlist page will be updated soon with all the unlockable tunes, with the addition to the related Unlock page for all the content.
22. Video collection blast! HQ recordings are blooming for almost all the new leftover songs on this game, including the freshly-released Day 1 DLC content. Enjoy!
21. From the Youtube user who uploaded the Sunset Runaway video, here's a
5-minute clip
that shows each and every song unlockable through the Mekadon Gacha machines. Watch out though, as not every roll will necessarily result in a song unlock!
20. First HQ video of the Oni mode of
Sunset Runaway
, Taiko Tokumori's new Game Music track from Critical Velocity. 610 notes.
19.
Turkish March Ura Oni video on Youtube
for the Youku-ularly impaired. 832 notes!
18. A
video on Youku
(think it
one of
China's YouTube equivalents) of the 9★ Turkish March Ura. Streams galore of lengths once only native to Sotsu Omeshiki and Dokadoka, now on a 9★, but the patterns are not complex and are very true to the piano.
(Personally I think it might have a 2P because of the awkward nothingness in the middle but hey no game in hand to prove. -tetsu)
17. More on Sunset Runaway, with the help of this shot from
Guraloid Room
: the source game is Critical Velocity (I wonder
when we last heard this name
). No free sample is available (flags of DMCA, not gonna risk it for now) but it is being sold on the iTunes as part of
the game's OST
(Track 1).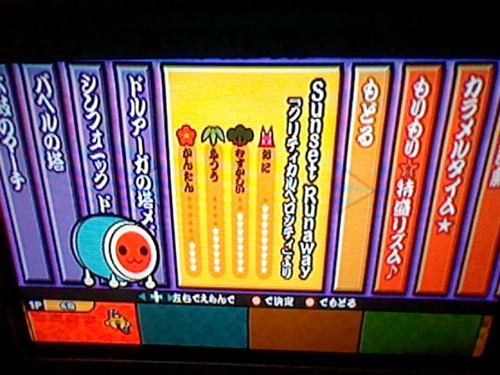 16. First Oni video of
Labrador Retriever
, the latest AKB48 song on Taiko games. 426 notes.
15. From the same Youtube user we also get the first video of
Go Go Kitchen's Ura Oni mode
. And for those who are curious of the spelling change for the song on this blog, here's why:
now the song features its lyrics for the first time in a home console Taiko game
! As the revealed lyrics feature actions and items more kitchen-related, Go Go Kitchen will be the name we're going for, instead of Go Go Kicchin.
Anyway, 940 notes for this Hakuchou no Mizuumi-like Ura Oni challenge. Watch out for those speed-ups!
14. Early bird copies of the game are spreading faster and faster! Another pre-release user has posted a video on Youtube about the
starting songlist of the game
, revealing great part of the rating changes in effect for both old and new songs (highlighted in bold):
Honoo to Mori no Carnival is rated 3/4/6/7
Labrador Retriever is rated 3/4/5/7
HERO is rated 3/4/6/8
March of the Toy Soldiers has Futsuu/Muzukashii modes downgraded (new set 3/2/4/8)
Holdiridia has Futsuu/Oni modes downgraded (new set 3/3/5/7)
Thunder and Lightning Polka has its Futsuu mode downgraded (new set 4/4/7/8)
Babel no Tou has Futsuu/Muzukashii modes upgraded (new set 4/6/6/8)
Tower of Druaga Medley has Kantan/Oni modes downgraded (new set 4/6/7/8)
Morimori☆Tokumori Rhythm♪ is rated 3/5/6/8
13. Lightning round of Ura news from
Baidu Tieba
! Ordered by the surprise factor.
Senbonzakura Ura
Rokuchounen to Ichiya Monogatari Ura
Ridge Racer Ura
Taiko Time Ura
Rotter Tarmination Ura
dance storm Ura
Rumble Ranbu Ura

Mori no Kuma-san Ura

Tsukikage SASURAI Ura

Honey Heartbeat ~10 Stars Remix~ Ura

Chouren ~Obsession~ Ura (8★)

Go Go Kitchen Ura

(10★)

Turkish March Ura

(9★)
12. Before we go into the list, here's how Uras are unlocked in this game, according to
Baidu Tieba
: After you run out all the unlockable songs from the gasha, Mekadon will replenish the Songs machine with Ura notecharts, now costing 7 coins per roll.
11. Let's close with the Regular songs before we step into the Ura notecharts.
Baidu Tieba
gives us
Kaze no Kuni no Ryu to Kishi
,
Sotsu Omeshiki
and
Donkama 2000
, bringing the song count over 100.
102/100
10. The 100-songs mark draws closer and closer, with another trio of songs being reported on
Baidu Tieba
:
The Magician's Dream
,
Takara no Oka
and
Tsundere Cafe e Youkoso☆
, finally closing the circle of the Codename Katsu-Don CreoFuga songs for this home console game.
99/100
9. Closing in on the 100 mark,
Baidu Tieba
reports
junction
and
Shojo no Kami no Ryushi
and
Uso-uso Doki
.
96/100
8. Round 3 from
Baidu Tieba
!
93/100
Kimi no Planet
Jikuuchou Jikuuichika
Mata Saitama 2000
DIMENSIONS
Oozora to Taiko no Odori
Bakemono Tsukiyo

Summer Dragon ~Karyu~
7. Another round from
Baidu Tieba
!
86/100
Toccata and Fugue and Rock
Marble Heart
Reviver
Karui Zawameki
Uchuu SAMURAI
Aisowarai
Yumeiro Coaster
6. The furagetter from the last
Baidu Tieba post
continues to report the following.
79/100
Go Go Kitchen
D's Adventure Note
Oranda Nadeshiko/Carnation
Shiro Neko Caramel Mugen no Wataame
Dokadoka
Kurukuru Kurokkuru

Houou Tenbu Mugen Kuzure
5. Location change! A
Baidu Tieba post
confirms
Dokidoki Munekyun Omatsuri Time, Future Lab, Jigoku no Daiou and Yozakura Braiders
with pictures.
72/100
4. From the
same Plurk
we also know that Namco Original
Nijiiro Yumeiro Taikoiro
is coming back as an unlockable song.
68/100
(+16 unnamed)
3. Still the
same Plurk
. Woolala further testifies by text that
Densetsu no Matsuri, Calculator, Hurtling Boys, DEBSTEP!!, KitaSaitama 2000 and Joubutsu 2000
among others are all unlockable, after a run of 25 rolls in the Songs gasha.
67/100
(+17 unnamed)
2.
Same Plurk
. From the gasha you might get this new song named
Chouren~Obsession~
(蝶戀~Obsession~), possibly a new installment of the Kikyoku series? Notecount 445 on Oni.
61/100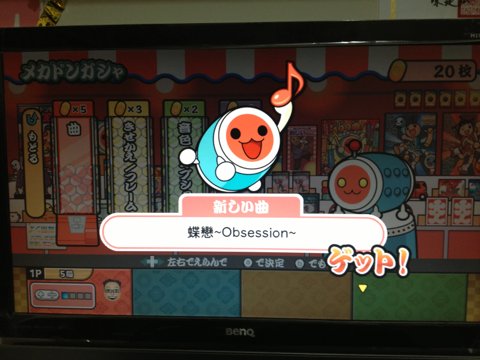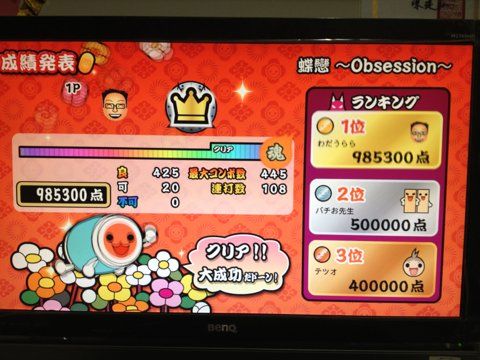 1. We start from Woolala's
furage Plurk
. A shot of the results screen for a new Game Music named
Sunset Runaway
is available. Notecount is 610 on Oni.
60/100
0. Starting with the
59/100
songs currently listed at the
Wii U2 official site
.