In which we interrupt the hype for a Taiko game with RPG elements with
another
Taiko game with RPG elements.
The game is the iOS-exclusive
Taiko no Tatsujin RPG da-don!
. If you consider all those collabs with Puzzle & Dragons having an influence on Taiko, it would have boiled down to this.
The story begins with our beloved Don-chan setting out for an adventure to seek the Sacred Instrument. With the company of musical fairies Mini Dons and other new and familiar characters, you and Don-chan creates the best team there is! Many familiar faces in Taiko will be made available in this game, including Tetsuo, Hana-chan, Dokon, Kodama, Fuuga and Mirai.
The gameplay is radically different from the classic rhythm game. You hit a drum on the screen and send Mini Dons flying into a pachinko board. Going through the pins, the Mini Dons will drop into the pockets of your team members, allowing them to attack. More Mini Dons, more power!
Special pins are sometimes available on the board. The blue ones makes the stronger Mini Mekadons appear, the green ones makes skill orbs and the red ones makes recovery orbs. Special skills and conditions can also help in your quest, like by providing a deadly strike with a small classic Taiko session, or a slot machine to grant you extra items.
The game will be open for download this summer, but now you can pre-register with Namco and get the super rare
Holy Hero Don-chan
(聖☆勇者どんちゃん) character first hand! (requires Bandai Namco ID to pre-register)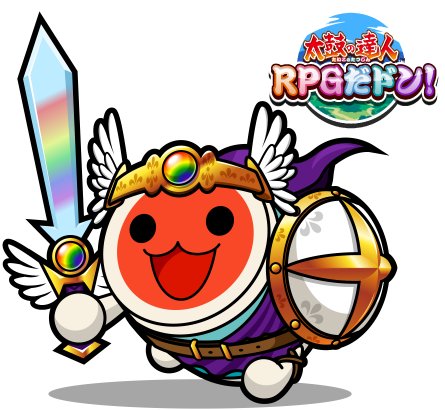 Teaser site