For those who haven't got this concept earlier, Namco loves to make collaborations all over the place! The latest smartphone-oriented one involves Sega once again, to promote both the Taiko franchise and the puzzle game series Puyo Puyo.
Though the puzzle franchise is pretty much dead overseas, the color-matching challenge brought by Puyo Puyo games is still alive in Japan, with their latest iteration being
Puyo Puyo Fever Touch
, a remake of the eponymous game for smartphones. From today until
August 5th
, the Taiko Tori Houdai game will bring some of the Puyo magic to the table, and vice-versa!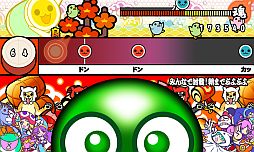 Much like the Kumatomo collab, a new limited-edition song is available to download, called '
Minna de Taisen! Asamade Puyopuyo
' (みんなで対戦!朝までぷよぷよ), and it will add all the playable characters of the Puyo Puyo game as dancers! During the promotional period, the sound effects of the game will change into Puyo Puyo's, as well, as replacing the Taiko drum with a giant green Puyo!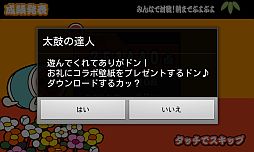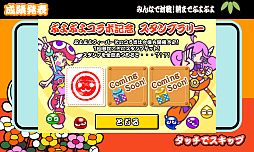 This collaboration will extend further in the future, as a set of three stamps can be acquired in-game during this promo period! These can be achieved by playing or downloading wallpapers related to the collaboration, and will allow the download of extra limited stuff. Grab it while it's hot!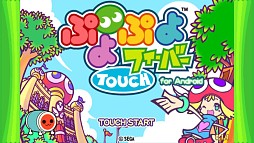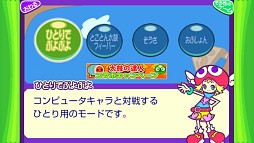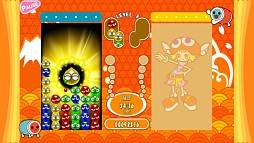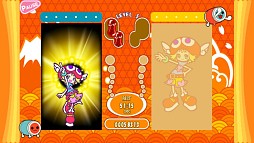 This event works the other way round as well, as the smartphone port of Puyo Puyo Fever will feature a large array of Taiko elements during the game, such as custom backgrounds, SFX and even some Taiko music!
The last thing to mention about this collab is the issue of a double contest between the two games! Whoever plays Taiko Tori Houdai has the chance to win one of the 20 Taiko-related gadgets, while Puyo Puyo players have the chance to win either one of the 20 custom 3DS cover kits (in July) or one of the 20
Puyo Puyo 20th Anniversary
3DS videogames (in August). More details are available on
this page
!